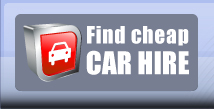 OUR PRICE ADVICE:
You can currently also find very competitive offers from
AUTO EUROPE.
Top Rent A Car - Bulgaria car rental deals
Top Rent A Car is the major Bulgarian car hire company. It was funded in 2003 and currently operates all across Bulgaria, as well as in a few foreign destinations in the Balkans. Top Rent A Car offices can be found in Sofia, Varna and Burgas airports and in most major Bulgarian cities, towns and tourist resorts, as for example Golden Sands, Sunny Beach and Balchik. It is also possible to rent cars from the supplier in Bucharest, Romania and Thessaloniki Greece.
TOP Rent A Car offers a modern and diverse fleet of vehicles from economy to luxury class, including also the specialty cars, such as SUVs, minivans and minibuses.
Cheap car rental Bulgaria
Use the search engine below to compare currently available deals from Top Rent A Car and other car rental companies in Bulgaria.
---