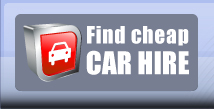 Articles about the topic
vathy
The Greek Island of Samos is a popular cruise destination in the Aegean Sea. Although the island is served by an airport offering a wide selection of domestic and international routes, a great number of...
Topics: greece,samos,vathy,karlovassi,pythagorion,samos-ferries,kusadasi,auto-union
---

Find cheap car hire at the main port of Samos Island in Greece. Car hire at the Greek island of Samos is available in several popular tourist locations, including the airport and the ferry ports of Samos...
Topics: greece,samos,vathy,ferry-port,hertz,sixt,europcar,auto-union,kusadasi,piraeus-vathy
---