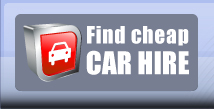 Articles about the topic
valencia
After landing at Alicante Airport, car rental desks are one of the first things you will encounter in the arrivals hall. Sixt, Hertz, Car Hire Spain, Avis Rent A Car, Europcar, Enterprise Rent A Car, Avis...
Topics: alicante-airport,costa-blanca,valencia,alc,elche,el-altet,centauro,sol-mar,record-go
---
Benidorm is a seaside town located approx. 25 miles north of Alicante, on Costa Blanca, in the autonomous community of Valencia in southern Spain. Together with Alicante and Torrevieja, Benidorm is one...
Topics: spain,valencia,costa-blanca,benidorm,alicante,balcon-del-mediterraneo,playa-del-levante,mundomar,a7
---
Compare car hire deals in Torrevieja in Costa Blanca, Spain On the southern coast of Spain there is an abundance of beach holiday resorts sought after by both Spanish and foreign tourists. One location...
Topics: spain,valencia,murcia,torrevieja,costa-blanca,orihuela,aquapolis,alicante
---

Find cheap car hire in Torrevieja with Cartrawler Spain. Torrevieja is a coastal town in Costa Blanca - the coast of the Mediterranean in the Spanish province of Valencia. Located approx. 30 miles south...
Topics: spain,valencia,costa-blanca,torrevieja,larsen-rent-a-car,dickmann-rent-a-car,sol-mar,goldcar
---

Get quotes for Alicante car hire with Cartrawler Spain. The internet search engine, available below, compares prices of car hire from major rent-a-car suppliers at Alicante Train Station. Car hire offers...
Topics: spain,valencia,alicante-train-station,alicante,ave,madrid-alicante,atesa,goldcar,costa-blanca
---

Visit Valencia, the city of modern architecture signed by Santiago Calatrava and unique historic monuments, inscribed on the list of UNESCO World Heritage. Valencia, the 3rd largest city in Spain (after...
Topics: spain,valencia,estacio-del-nord,atesa,ave-madrid-valencia,calatrava,valencia-train-station
---
Compare prices - Find cheap car hire in Valencia Airport Valencia Airport - VLC is in the top ten of Spain's busiest airports. The historical city of Valencia, founded over 2100 years ago, is the...
Topics: spain,valencia,vlc,manises,furgo,pepecar,avis,hertz,autovia,autopista
---
Using Cartrawler's search engine below it is quick and easy to compare prices and offers from many different car rental companies in Valencia, Spain. Cheap car hire in Spain – Valencia Airport...
Topics: valencia,spain,pepecar,atesa,goldcar,sol-mar,victoria
---