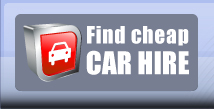 Articles about the topic
panek

Cartrawler Poland, the search engine of car hire, available below, makes it quick and easy to find the best car hire deals in Bydgoszcz. Situated in Kuyavia-Pomerania region of northern Poland, Bydgoszcz...
Topics: bydgoszcz,poland,kuyavia-pomerania,panek,rentis,bydgoszcz-airport
---

Use Cartrwler search engine below to book cheap car hire in Zielona Gora Airport in Western Poland. The airport, also referred to as Zielona Gora-Babimost Airport (IEG) is located approx. 22 miles northeast...
Topics: zielona-gora,babimost,zielona-gora-airport,ieg,panek
---

Car hire Warsaw Chopin Airport – compare prices online Warsaw Chopin Airport – WAW is the main international airport of Poland and one of the two airports serving Polish capital, Warsaw. The...
Topics: warsaw-chopin,warsaw-airport,online-booking,panek,rates,terms-and-conditions,excess-insurance,cartrawler,voucher,rental-conditions
---
Car hire Modlin Airport - best car rental deals in Poland The Irish low cost carrier Ryanair has announced opening two domestic routes at Warsaw-Modlin Airport in Poland. From March 2014 daily connections...
Topics: poland,warsaw,modlin-airport,ryanair,warsaw-gdansk,warsaw-wroclaw,express-rent-a-car,panek
---
Travel low-cost in south-eastern Poland and take advantage of cheap flights and economy car hire available at Rzeszow Airport. Toyota Aygo - one of the cheapest hire cars available at Rzeszow Airport Ever...
Topics: rzeszow,mercato,rzeszow-jesionka,sagra,rzeszow-airport,panek,pro-rent,lancut
---
Wroclaw Airport, the 5th busiest Polish airport, serves the region of Lower Silesia in southwestern Poland. Find Wroclaw on a general map of Poland . The airport in Wroclaw is considered to be one of the...
Topics: wroclaw,copernicus-airport,express-rent-a-car,panek,awos24,wroclaw-starachowice
---
Lublin Airport is a fairy new destination in Central Europe. Compare low cost car hire in Lublin Airport in Poland Located approximately 6 miles east of the city of Lublin, in south-eastern Poland, the...
Topics: poland,lublin,swidnik,wizzair,ryanair,majdanek,panek,sixt
---

Lublin Airport is an low-cost airport in southeastern Poland. Two major European budget airlines, Ryanair and Wizzair, operate in Lublin Airport, with routes to London-Luton, Oslo-Torp (Wizzair), London...
Topics: poland,lublin,ryanair,wizzair,fleet-center,panek,express,autocash,sixt,europcar
---

Find cheap car hire at Rzeszów Airport in Poland. ( Wynajem samochodów Polska ) Rzeszów Airport, also known as Rzeszów-Jasionka is a small but modern and rapidly growing international...
Topics: poland,rzeszow,jasionka,ryanair,lot,panek,express-rent,prorent,abc-partner
---

Find cheap car hire in Warsaw Airport The international Chopin Airport in Warsaw – WAW is the main airport of Poland. Warsaw's airport is internationally known as Fryderyk Chopin Airport, or...
Topics: warsaw,poland,euro2012,ge-car,panek,okecie,modlin
---

Poland's main airport, the Warsaw Airport is also known as Okecie, or, F. Chopin Airport. It is located approx. 10 km south from Warsaw city centre and in the very heart of Poland, in a convenient...
Topics: poland,warsaw-chopin,warsaw,panek,gt-cars,lot,wizzair,rentis
---