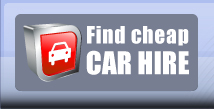 Articles about the topic
moscow

The Russian capital, in many ways, is much more organised than Western perception suggests. Car hire in Moscow Airport (Domodedovo-Moscow - DME) The Russian capital has grown into a metropolis on par with...
Topics: moscow,domodedovo
---

Moscow Sheremetyevo Airport is one of three major international airports serving the capital of Russia. The airport is located around 18 miles north-west of Moscow city centre. Sheremetyevo Moscow Airport...
Topics: moscow,sheremetyevo,aeroflot,avis,europcar,sixt,hertz,russia
---

Moscow-Vnukovo International Airport is the third biggest airport in Russia, after two other Moscow Airports, Domodedovo and Sheremetyevo. Vnukovo Airport is often mistakenly taken for a domestic airport...
Topics: moscow,russia,vnukovo,domodedovo,sheremetyevo,prokat,biracs,hertz,sixt
---
Compare car hire prices in Moscow Airport Moscow Domodedovo Airport - DME is the biggest airport in Russia. Domodedovo is one of the three major airports serving the city of Moscow, together with Sheremetyevo...
Topics: moscow,domodedovo,russia,vnukovo,sheremetyevo,karhirskoye,alfa-car,biracs,prokat
---

Find cheap car hire at Simferopol Airport, Ukraine. Simferopol is the capital of the Autonomous Republic of Crimea in Southern Ukraine and an important political, economic and academic center in Ukraine...
Topics: simferopol,crimea,ukraine,kiev,avis,hertz,wizzair,moscow,belarus,aerosvit
---

Moscow Domodedovo International Airport is the largest airport in Russia and the main one for the city of Moscow as well. It is located 26 mi southeast of Moscow´s city centre. Given this distance...
Topics: moscow,russia,domodedovo,europcar,budget,avis,russian
---