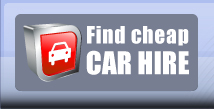 Articles about the topic
maranhao
Compare offers of car hire São Luís Airport Discover the fascinating state of Maranhão in the Brazilian Northeast in a hire car picked-up from São Luís Airport serving...
Topics: maranhao,sao-luis,tirirical-airport,slz,localiza,unidas-rent-a-car,guaras,ponta-da-areia
---

The main airport serving the Brazilian state of Maranhão is located approx. 6 miles south-east of the state capital, São Luís. The airport is officially known as Marechal Cunha Machado...
Topics: maranhao,sao-luis,tirirical-airport,localiza,sao-luiz-airport,unidas-rent-a-car
---