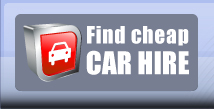 Articles about the topic
ieg
Cartrawler search engine of car hire helps you find the best prices of car rental in a large number of city and airport destinations across Poland. Compare rates for car rental from Zielona Gora Airport...
Topics: zielona-gora,lubuskie,zielona-gora-airport,ieg,sprintair,wine-festival-poland
---

Use Cartrwler search engine below to book cheap car hire in Zielona Gora Airport in Western Poland. The airport, also referred to as Zielona Gora-Babimost Airport (IEG) is located approx. 22 miles northeast...
Topics: zielona-gora,babimost,zielona-gora-airport,ieg,panek
---