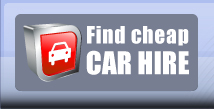 Articles about the topic
hawaii
Enhance you Hawaii holiday experience by renting a car at Lihue Airport on Kauai Island. With your own means of transportation you will be able to explore the island independently and at your own pace...
Topics: lihue-airport,lih,kauai,hawaii,kauai-lagoons-resort,puakea-golf,hawaiian-airlines,convertible-kauai
---

Lihue Airport (LIH) is the main airport on Kauai, the fourth largest island of Hawaii. It serves several routes to the United States and Canada (including Denver, Los Angeles, San Francisco, Vancouver...
Topics: lihue-airport,kauai,lih,hawaii,kauai-car-rental-companies
---
In the United States the concept of national holiday (or public holiday) is slightly different to what is common for other nations, where there are statutory work-free days for public sector and businesses...
Topics: united-states,federal-holidays,state-holidays,public-holidays,thanksgiving-2014,black-friday,hawaii
---
Find cheap car hire in Honolulu Airport with Cartrawler Hawaii Honolulu Airport – NHL, the busiest airport of Hawaii serves the capital of the archipelago, Honolulu, on the island of Oahu. See map...
Topics: hawaii,oahu,honolulu-airport,waikiki,aulani-disney,pearl-harbor,hanauma-bay
---

Cheap car hire Hawaii. Compare rates from all the major car rental providers at Kona Airport with Cartrawler search engine below. Cartrawler quotes prices from Alamo, Avis Rent A Car, Budget, Dollar, Enterprise...
Topics: hawaii,kona-airport,kailua-kona,big-island
---

Find cheap car hire at the island of Hawaii, also referred to as the Big Island, for being the largest of the Hawaii archipelago. The island is served by two commercial airports: Hilo International Airport...
Topics: hawaii,hilo-airport,kona,hawaiian-airlines,big-island,hilo
---

Honolulu International Airport, serving the island of Oahu is the main airport of Hawaii and one of the busiest airports in the United States. A wide selection of domestic and international flights is...
Topics: honolulu,oahu,hawaii,honolulu-airport,advantage,a1-rent-a-car,hawaiian-airlines,us
---

Cheap car hire Hawaii - compare offers of car hire in Maui Kahului Airport. Maui, the second largest island of Hawaii is served by a small airport, located near the island's capital. Kahului Airport...
Topics: united-states,hawaii,maui,kahului,honolulu,kahului-airport
---