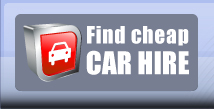 Articles about the topic
amsterdam
Easter 2014 falling in late April, together with optimistic weather forecasts for Europe, prompts British tourists to book last minute holidays or city breaks in not too far destinations. According to...
Topics: easter-2014,city-break,easter-destinations,paris,amsterdam,rome-airport,last-minute-holidays
---

A new, fun sightseeing option is available in Amsterdam now. The giant of car hire industry Hertz Corp., in partnership with a Dutch company Boot Amsterdam, has launched Hertz Rent a Boat service, offering...
Topics: hertz,amsterdam,boat-hire,schiphol,maastricht,hertz-ryanair,holland,netherlands
---
Holland's largest airport is Amsterdam Airport Schiphol – AMS. Compare car hire prices in Shiphol Airport Schiphol airport is about 13 miles south west of Amsterdam in an area covered by an...
Topics: schiphol,holland,amsterdam,klm,leeds,budget,mercedes
---
Find cheap car hire in Amsterdam Airport Schiphol Holland. Schiphol Airport is located approximately 12 miles southwest of Amsterdam City. Cartrawler Holland - Find cheap car hire in Amsterdam Using the...
Topics: schiphol,amsterdam,holland,thrifty,national,budget,klm
---