Rental VW Golf - info and advice about the VW Golf rent a car (new Golf VII model year 2012-)
The introduction of the new VW Golf 7 in late 2012 saw the class leader in the compact rental car class in yet another shape.
As the new Golf was released in Europe in November 2012, nearly all VW Golf 7 (Golf mk. VII) are registered in year 2013, year 2014 or later.
When the new VW Golf VII was introduced in Japan in 2013, it won the prestigious Car Of The Year In Japan award - which was the first time ever that this award had been given to a car produced in Europe.
Profile VW Golf © Photo: Find-Cheap-Car-Hire.co.uk.
How to recognise the new VW Golf VII - 2013 model
The design of the VW Golf is one of solidity and quality. Volkswagen knows that it has a commercial gem in its product line, which it plans to nurture and keep as long as absolutely possible.
In other words, the VW Golf car is an icon in its own right, and you do not really want to change an icon much.

There will be a new VW Golf every 5 years or so. This time round, the design developments were hardly noticeable from the outside on the new VW Golf 7.
Only the trained eye would spot the slightly changed Golf 7 headlights (they look quite a lot like a VW Polo). From the rear, the Golf 7 light clusters were given a more dynamic appearance - perhaps the easiest way to recognize the new VW Golf VII introduced in late 2012.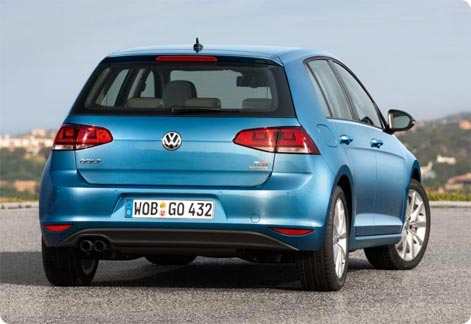 The new VW Golf - rear.
The new VW Golf VII, however, is bigger than the Golf VI and can be classed as a full 5-seater.
Inside it is evident that VW Golf 7 has more space and there is a noticeable lift in quality which sets the Golf 7 much more apart from the previous Golf 6; itself a quality car in its day.
With the slightly larger VW Golf 7, VW engineers managed to reduce the weight with about 100 kilos compared to previous model.
The weight loss together with the advanced XDS electronically controlled differential (all 2WD models) allows for a much more refined and enjoyable steering of the front-wheel-drive car as power is distributed to the wheel with the most grip.
To sum the new Golf 7 up as a rental car, it is probably one of the very best available in the compact car hire class.
Inside the VW Golf rental car (VW Golf 7 from 2012-forward)
Materials are mainly 'upmarket' hard plastics in the new VW Golf.
Dials and switches are slightly better than in the previous VW Golf 6 (2008-2013). The biggest difference in the new car, perhaps, is that the centre console instruments are angled towards the driver in the new Golf.
There is a new steering wheel and everything works well - as expected in a VW Golf; a car which in many markets carries a premium price at the dealer forecourts compared to competitors Ford Focus, Peugeot 308, Renault Megane and Opel/Vauxhall Astra.
Luggage space/size of trunk in a VW Golf rental car
The boot is bigger in the new VW Golf. Luggage space increased from 350 to 380 liters and much more if you fold the rear seats.
For rental car purposes, the VW Golf 7 is a fairly large car.
The boot is easy to stove with suitcases and unless you are going away for a lengthy time, 5 people can comfortably gather all their holiday belongings into the spacious luggage compartment of the new VW Golf.
Ample cargo space for most people in the new VW Golf 5-door hatchback.
Is VW Golf the best rental car in the compact class? (choice of cars in the rental compact class)
The ever more competitive rental car class of small family hatchback cars with 5 doors consists of quite a number of high quality new or nearly new car rental models.
VW Golf TDi Bluemotion 5-door - front © Photo: Find-Cheap-Car-Hire.co.uk.
Amongst the best in class (rental car class 'C') as per summer 2014 are:
Ford Focus (introduced in 2011)
Peugeot 308 (introduced in 2013 - as 2014 model)
Seat Leon (introduced in 2013)
VW Golf (introduced late 2012 - as 2013 model)
In the same class, but sometimes slightly less popular, the follow car rental 'C-segment' models are available:
Chevrolet Cruze (mostly found as rental car in Germany and USA/Canada)
Citroen C4
Hyundai i30
Opel Astra
Renault Megane
Toyota Auris
Please note that as from 2015, Chevrolet is no longer sold in Europe.
Less popular, but still available in some destinations, the following cars may be found in the same rental class as the VW Golf, Ford Focus, Opel Astra etc.:
Alfa Romeo Giulietta
Fiat Bravo
Honda Civic
Kia Ceed
Lancia Delta
Mazda 3
Skoda Octavia
VW Golf 7 engines - new frugal diesels from late 2012 onwards
All rental VW Golf cars have 5 doors.
The typical rental car VW Golf is equipped with either the TSi gasoline 1.2 engine (available with 85 or 105 horsepower) or a diesel engine.
More commonly available due to better resale value and in some countries lower car taxes (due to extremely good fuel economy) is the TDi 105 horsepower diesel engine.
The VW Golf is a very reliable and spacious car with sufficient power for carrying 5 people with holiday luggage. The diesel versions are by far the better choice. In for instance Spain, hire car companies will frequently offer VW Golf diesel version.
In late 2013 the 1,6 engine was introduced in a TDi-110 Bluemotion version which gives the car a little extra punch and a 6 speed gearbox was added. In some rental fleets you will mainly find the Golf 1.6 TDi-90 or the Golf 1.6 TDi-105 versions with 5 speed gearbox.
The new Golf 1.6 diesel has been reported to average some 88 miles per gallon (equal to 3,2 liter diesel per 100 km).
A few rental companies offer the 2,0 TDi-140 Bluemotion version, but this car will usually be more expensive to hire. A hint about the new Golf 2.0 TDi-140: It seems like this car/engine combination results in far worse fuel consumption figures - even compared to previous TDi 2.0 models (Golf VI 2009-2013).
Advice for renting a VW Golf - guarantee for having a VW Golf rental car
The VW Golf is hugely popular as a hire car.
In some countries the Golf is, unfortunately, quite expensive to buy and car rental companies tend to go for cars that are A) cheap to purchase B) reliable and C) have good resale values.
With the new VW Golf, car rental companies can tick the boxes B) and C) - but the purchase price may sometimes prevent fleet operators from buying the prestigious VW product.
For all rental companies including the ones with new rental VW Golf's in their fleets, you can only be guaranteed your VW Golf rental car if the offer specifically says 'guaranteed model' on the Cartrawler search engine. Otherwise, the rental companies are entitled to supply a similar vehicle (please see list above).
Frequently when arriving at the rental counter with your booking, it is possible to choose from which ever car models in the specific rental class booked that the company may have available and quite often a VW Golf diesel is in fact available - mostly due to its excellent resale value.
Key facts VW Golf 5-door (hatchback VW Golf mk 7 model 2012-forward)
The most common rental VW Golf cars as of year 2014 are:
VW Golf 1,2 TSi petrol (either 85 or 105 bhp)
VW Golf 1,6 TDi diesel (nearly all 105 bhp/110 bhp versions, which may be called Bluemotion)
VW Golf 2,0 TDi diesel (usually 140 bhp version or the new 150 bhp version)
The latter more powerful VW Golf, rarely, is bought for rental car purposes in the standard compact class. More frequently the 2 litre Golf diesel, in some countries, is purchased for the prestige compact class where small Volvo cars, Audi A3, BMW 1-series and Mercedes A-class also can be found.
Fuel economy petrol VW Golf versions: 50-58 mpg
Fuel economy diesel VW Golf versions: 65-88 mpg
(for 2 litre versions the miles per gallon may not be as good)
Luggage space VW Golf rental car with all seats in use: 343 litres
Luggage space VW Golf rental car with only front seats in us: 1270 litres
Euro NCAP safety rating: 5 stars (maximum 5 stars)
Fuel tank: 50 litres
The VW Golf is a common rent-a-car in countries like Spain, Germany, Denmark, Sweden, Norway, United Kingdom and can, in fact, be found as a rental car in most countries in Europe.
---
---
Article: Rental VW Golf - info and advice about the VW Golf rent a car (new Golf VII model year 2012-)
Topics: vw-golf,luggage-space-golf,rent-a-vw-golf,rental-car-class-c,vw-golf-versions