New VW Sharan as hirecar - Hire MPV for 7 people
One of the most popular hire cars in the 'Full-size' segment is the VW Sharan.
Because of good reliability and decent residual value, many European car hire companies choose the VW Touran, VW Sharan and VW Caravelle for their hire fleet. These three models are typically also to be found on top of the wish list, when larger families book their hire car for their holiday.
In fall 2011 the all New VW Sharan was introduced and many car hire companies have already started the replacement process of the predecessors such as, SEAT Alhambra, Citroen C8, Ford Galaxy, Renault Grand Espace and of course the old version of the VW Sharan
Car hire with room for 7 people and luggage – rent an MPV
VW Sharan has got room for 7 adults and a respectable amount of luggage in addition (please see below fact sheet), whilst for longer journeys, the smaller VW Touran making use of all 7 seats, only will accommodate 5 adults and 2 children with very limited luggage space.
The difference in size on VW Sharan and VW Touran may seem insignificant at first glance from the outside. However the interior is remarkably more spacious in VW Sharan.
The all New VW Sharan MPV (7 Seats) does in many ways resemble a small people carrier where as the VW Touran MPV (5+2 seats) characteristics seems more like a normal estate car with a couple of added seats.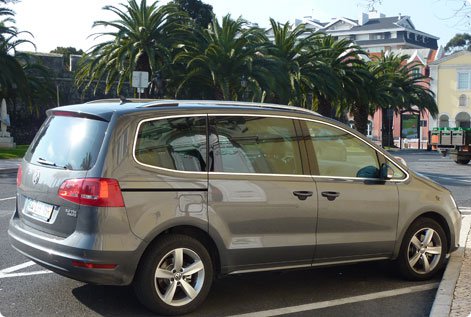 VW Sharan 2010 model the closest you will get to a minibus
Purely taking the size into consideration, it wouldn't be unfair to consider the new Sharan next in line to lift the inheritance from the original 1960s T2 minibus as Volkswagens most popular people carrier.
When VW created the Type-2 it was revolutionary as it was one of the very first minibuses. It claimed fame for its high reliability, excellent use of interior space and not least because of its rustic character with the fairly noisy "Beetle" derived air cooled flat four engine, situated behind the rear axle.
The new VW Sharan MPV is as spacious as a minibus, has modern front wheel drive, benefits from a range of powerful yet fuel efficient diesel engines and driving dynamics are very close to those of a normal sized estate.
Unlike the old T-2 which in some versions could accommodate 9-12 people, there is only room for a maximum of 7 people in the new VW Sharan MPV. However, even with 7 people in the car you are most certainly going to enjoy a more comfortable journey in the Sharan. If more than 7 seats are required, the larger Carvelle People carrier or alternatively the Mercedes-Benz Vito has got seats for at least 9 people.
Modern VW Sharan Features
In the all new version of the VW Sharan the noise levels almost compares to a limousine. There are no reasons for choosing the petrol version as interior sound insulation has been improved to such a degree that the otherwise noisy 2.0 VW diesels seem quiet as a petrol. Even though there are sold petrol versions of the Sharan you are most likely be offered the 140 BHP diesel version by the car hire companies.
Refined engine management including star/stop technology which shuts the engine down whislt stationary is part of the standard features on the New VW Sharan MPV. Another contributor to better fuel economy is that the weight of the car has been reduced compared to its predecessor which dates back to 1995.
Improved aerodynamics, start/stop function, battery recuperation during braking and not least diesel efficiency makes the all new VW Sharan surprisingly fuel efficient considering the size of the vehicle.
The New VW Sharan MPV is a large car
Depending on whether you choose to hire a full size minibus (9-seater) or the VW Sharan be aware the driving dynamics will be significantly different on these two types of cars. On longer motorway journeys the Sharan benefits from lower noise levels, better road stability (lower centre of gravity) and better interior comfort thanks to clever interior details refined German interior quality.
Though for some the VW Sharan might pose a challenge parallel parking as the size is closer to a people carrier than a normal hatchback.
Volkswagen's new family bestseller measures 485 cm which is 22 cm longer than its predecessor and just as important 9 centimetres wider than the previous Sharan
Features in the New Sharan
VW's latest bestseller in the "large family" segment will in some markets be fitted with electric sliding side doors on both sides as standard. This improves access for backseat passengers particularly at car parks where you are parked side by side.
Though the Volkswagen group is German, the VW Saharan is actually manufactured in Pelmela Portugal south of Lisbon. The Seat Alhambra which is essentially is based upon the same vehicle platform is, however equipment and cosmetic quality is different to the Sharan.
A model year 2010 (and onwards) VW Sharan or Seat Alhambra will always be factory fitted with Air condition, two sliding doors and CD/MP3 Connectivity.
Sharan's third row of seats easily folds down flat in one simple movement which increases the size of the already generously proportioned luggage space. If needed it is actually possible to fold down the second row of seats as well, which makes the loading area 210 cm long and makes room for 2.3 cubic metres of cargo – it will easily swallow 4-5 bicycles.
The Sharan is also manufactured as a five seater, however as a hire car you will only be supplied with the seven seat version as the 5 seat version defeats the purpose of such large car with the same amount of seats as a small hatchback.
You will sometimes find that the Hire car Sharan's windows are fitted with integrated sun blinds in the rear. In some countries you might even find that child booster seats integrated in the seats as part of the standard equipment.
Generally you will not see the Sharan hire car fitted with Satellite navigation from factory. The simple reason for this is that the hire company would not be allowed to charge extra for this added factory if the customer hasn't ordered a sat nav.
Instead of paying (too much) for satellite navigation when renting an MPV or minibus, it is recommendable bring or even buy your own TomTom or Garmin navigation if you are renting for several days. It can easily be connected to any 12v socket in the hire car. There are plenty of 12v power outtakes for phones, Navigation and other mobile devices in the in the VW Sharan.
Child seats and safety in a hire car
In the new VW Sharan you will of course find child safety locks and ISOFIX child seat anchors are standard. However, any child seat can easily be secured to the seats without the use of ISOFIX. However, research shows that ISOFIX mounted child seats are the safest option especially in relation to side collision.
The VW sharan prides itself with highest number (5) of Eurocap stars possible. The large hire car weighs 1.8 metric tonnes without passenger; hence the bodywork is strengthened to improve chassis rigidity which not only improves handling but also benefits the driver and passengers in the event of an accident.
VW Sharan Fact Sheet (Model Year 2010 Onwards) - Hire 7 Seater
Vehicle Definition; MPV, Full-Size MPV, Minivan, Large MPV
Fuel consumption 1.6 TDI Diesel, 115 BHP approx: 59 MPG (introduction late 2011)
Fuel consumption 2.0 TDI Diesel, 140 BHP 50.4 MPG combined
Fuel consumption 2.0 TDI Diesel, 170 BHP 48.7 MPG combined
Fuel consumption 2.0 TDI Diesel, 140 BHP 50.4 MPG combined
Fuel consumption 1.4 TSI Petrol, 150 BHP 39.2 MPG combined
Fuel consumption 2.0 TSI DSG Petrol, 200 BHP 33.2 MPG combined
Please note: If there is a selection of different vehicles available from the hire company, it is usually possible to choose your preferred vehicle as long as it's within the group of vehicles you booked. On some occasions it will even be possible to do it upon collection.
In the period 2010-2012 the VW Sharan will be available as both the new and older model depending on your location and availability.
---
---
Article: New VW Sharan as hirecar - Hire MPV for 7 people
Topics: vw-sharan,touran,7-seater,mpv,caravelle,vito,galaxy