Evaluating the new VW Polo rental car – how big inside? - boot size?
In terms of cheap runabouts, the VW Polo has effectively grown out of this market segment. The Polo is no longer a cheap car and aims at more quality conscious buyers.
Volkswagen has replaced its cheapest offering with the VW Up and sister cars Seat Mii and Skoda Citigo. These cars are certainly cheap and cheerful with good safety equipment, but lack in space and comfort.
The ever so popular VW Golf has grown in size leaving more space in the economy class/supermini market for the VW Polo, which is no longer a small car.

One of the best rental cars in its supermini rental class (economy class)
New VW Polo
Not since 2010, when the then new VW Polo Mk5 (6R) was awarded with the European Car of the Year title, has Volkswagen sold as many Polos to consumers in Europe and the UK; unless going way back to the previous century.
The German car manufacturer, naturally, would like to return into yearly sales figures of 350-400.000 units of its supermini, which now looks like a 'mini-Golf'.
China has been a huge success for the VW Polo with sales figures in good months reaching 50% of European sales. The Chinese produced Polos are, however, not as advanced nor as profitable as the European model.

The much larger size 2018/2019 model is hard to distinguish from the previous model
The new VW Polo Mk6 (built on the MQB A0 platform in Europe) has been very well received and praised in particular for the large cabin space and its good boot size. In order for the car to succeed compared to previous models, it has to sell extremely well. See more about yearly sales figures below.
Testing the new VW Polo
How big is the new VW Polo inside? – and outside?
The exterior measurements are as follows:
Lenght: 4.05 meters
Height: 1.45 meters
Width: 1.78 meters
These figures mean that the Polo has grown 8 cm in length and increased with a colossal 7 cm in width. The height of the car is slightly reduced by a few millimetres. The result is a visually more low-slung car which comes across more dynamic and less boxy.
With its new dimensions, the Polo is half a class larger than the previous model. In fact, the VW Polo Mk6 is exactly as long a car as the VW Golf Mk2 with 5 doors produced 1983-1992 – and a few cm wider.
The much wider car has done wonders for the interior space. The new vehicle can seats 3 people in comfort in the rear seat, and still the boot size is massive.
VW Polo – boot size?
All Polo models, equipment level: Trendline, Comfortline and Highline have received an upgrade in interior material quality.
The luxury starts to become visible in Comfortline versions of the car which are equipped with much better materials, more possibilities for adjustments (passenger seat height, adjustable armrests with storage, split-folding rear seat) and more gadgetry as well (for instance multi-function steering wheel, USB connections) and comfort and storage details like retractable trays under the front seats, rear electric windows and more.
Highline adds advanced air condition (climate control), leather steering wheel, sport-comfort heated front seats, park-distance control front/rear and more.
The VW Polo boot size is a class leading 351 litres. In a larger and considerably more expensive VW Golf-7, the boot size is only slightly better at 380 litres.

Massive improvement in boot space – Polo boot size 351 litres
Amazingly, the boot size increased by 70 litres compared to the previous VW Polo model.
This is truly a bigger car. 5 adults can travel in comfort on shorter trips. Driving longer stretches is possible with 3 kids or 3 smaller grown-ups in the back utilizing the increased space to its potential.
The exterior of the car varies with the equipment level, but in a much more subtle way compared to the interior. Trendline and Comfortline both come with steel wheels and hub caps as standard; although many private customers choose to order the optional alloy wheels. Highline versions of the new Polo always will have alloy wheels and additional chrome details in the front grill as well as standard front fog lights.
For rent-a-car purposes, the Comfortline with standard air condition is the most likely version to encounter. Some rental car companies choose the Trendline with optional air condition. Lower resale prices for basic cars, however, is pushing more and more fleet buyers to go for the Comfortline version. Highline VW Polo cars are hard to find in rental fleets.
VW Polo as rental car
After supplying the markets with the first cars of which many were pre-ordered by customers, in the course of 2018-2019, most rental car companies in Europe will take delivery of the new Polo.
Discounts for Avis, Hertz, Sixt, Europcar etc. are available, but car renters may not obtain bargains, as usually is the case with outgoing models. The alternatives in this rental class are Nissan Micra, Renault Clio, Citroen C3, Peugeot 208, Ford Fiesta and Opel Corsa all of which are cheaper or very much cheaper.
Where are VW Polos built?
When production capacity allows, the discounts will get better and more cars will join the large hire car fleets.
The European VW Polos are built on the VW-factory in the Spanish city of Navarra in the Basque Country close to France.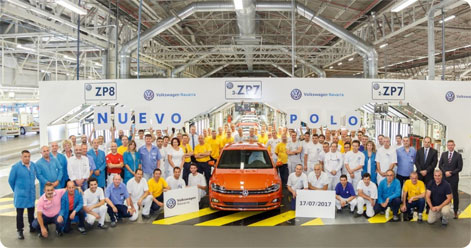 VW Polo production – first batch were orange Polo Comfortline
Pros and cons – evaluation of the new Polo Mk6 (AW)
This car is one of the best around in its class.
Polo evaluation – pros/plusses:
A remarkably large boot size
Cabin space above average in class
Good basic equipment
High level of standard safety equipment (also in basic Trendline models)
Well executed design – the car 'looks like a Golf'
A modern construction gives a refined ride.
High quality materials (except for some cheaper looking Trendline details)
No longer any problems with 3 cylinder engines (all rental car Polos have 3-cylinder gasoline engines with or without turbo)
Video – VW Polo production in Spain
Polo evaluation – cons/potential problems:
65 or 75 brakehorsepower when transporting 4/5 people is too little – and this is always the engine you will get from Hertz, Europcar, Sixt eller Avis etc. The 95 bhp version is much better, but expensive.
Often, the rental car company may want to give customers another type of vehicle (Renault Clio, Opel Corsa or similar) until a sufficient number of VW Polos have entered the fleet. Look for guaranteed car model when you book your vehicle!
Risk of getting a Trendline equipment version which is rather modestly kitted out. The latest innovative safety equipment features like front collision detection/warning, blind spot assist and emergency stopping are included even in the Trendline versions, which is great. Lots of comfort equipment is not included in Trendline versions, which is not so great. The Comfortline cars do tend to keep values better, so most likely, it will be a popular purchase with Enterprise, Sixt, Europcar, Avis etc. in most European countries. Air condition, in general, will be standard in all cars unless otherwise noted.
Rear drum brakes on cheaper 65/75 bhp versions. Not a problem as such, but disc brakes, as standard on the front wheels are better.
It is hard to recognize the new Polo from the old model unless you see them next to each other. No doubt some rental car companies will 'try their luck' offering 'new' cars from unsold stock of old models. We can think of Hertz in Greece, Goldcar etc. which might try something like this.
More information about the VW Navarra factory.

Sales figures - VW Polo sales in Europe including the UK
In Europe the revolutionary car introduced in 1975 has sold tremendously well.

Starting off in a modest way – first model VW Polo
The sales figures for the last 20 odd years are the following:
2018 (August inclusive) – 210.000
2017 – 271.000
2016 – 307.000
2015 – 301.000
2014 – 279.000
2013 – 264.000
2012 – 286.000
2011 – 356.000
2010 – 360.000
2009 – 289.000
2008 – 276.000
2007 – 289.000
2006 – 295.000
2005 – 288.000
2004 - 306.000
2003 – 344.000
2002 – 357.000
2001 – 335.000
2000 – 364.000
1999 – 351.000
1998 – 426.000
1997 – 456.000
---
---
Article: Evaluating the new VW Polo rental car – how big inside? - boot size?
Topics: vw-polo,volkswagen-polo,vw-polo-mk6