New rental cars 2018-2019 in Heathrow, Milan and Malaga
Lots of new rental cars are available in the most popular destinations.
We have picked out a few of the latest offers for new models available in some of the biggest airports for business and tourism.
Cheapest car rental in Heathrow Airport
At Hertz, London-Heathrow Airport, the new Kia Picanto is available.
This vehicle is a small, but very well put together and with a finish that is impressive for such a cheap runabout. All 5 doors in the Picanto including the hatch close with almost Mercedes-like feeling.
If you are looking for the cheapest rental car in Heathrow Airport, this is the one to go for in 2018-2019.

Kia Picanto at the Geneva Motor Show – Photo ©: Find-Cheap-Car-hire.co.uk
Should you wonder if the Picanto is big enough for your luggage, take a look below. The total capacity of 225 liter trunk may not be class leading, but the car has a standard 60/40 split rear seat.
Check car rental rates in London Heathrow Airport

Luggage-capacity in the new Kia Picanto
What makes this little gem the best small rental car 2018-2019 is that despite its size, it will be comfortable for up to 5 people (4 adults) and it is, surprisingly, fun to drive.
We have seen the Kia Picanto at Hertz, Heathrow Airport and with guaranteed new model too. Other cars in this 'Mini' rental size of cars include Peugeot 108, Toyota Aygo and VW Up. The Kia Picanto is better!
For a business limousine in Heathrow Airport, look no further than the new Vauxhall Insignia (Opel Insignia on the European mainland). If you choose the estate version (Sports Tourer), you will have almost 5 meters of car waiting for you.
In this class, the trend is moving away from diesel cars, and the Insignia is perfectly suited with its new and extremely frugal 1.5 litre turbo gasoline unit with either 140 or 165 horsepower.
Avis, Europcar, Easirent and Enterprise in Heathrow Airport have the comfortable and well equipped Insignia rental cars at very interesting rates.

Opel Insignia Sports Tourer rented from Europcar in Denmark - Photo ©: Find-Cheap-Car-hire.co.uk
Lots of new rental cars 2018-2019 in Malaga Airport
In the tourist hub of Costa del Sol, customers will experience a range of new rental cars 2018-2019 which will match the needs for holiday makers.
Most popular car size at Malaga Airport is the 'super-mini' Ford Fiesta/VW Polo.
The new offerings for exactly this car size are plenty. In 2018, Volkswagen has already introduced the new VW Polo, which is slightly bigger than its predecessor.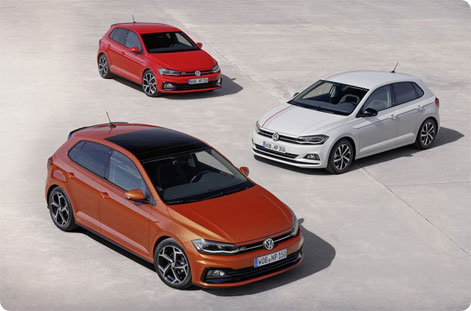 New VW Polo – recommended car hire in Malaga Airport
Also new is the Ford Fiesta. The previous model was considered best in class and the new one looks to battle for the title with, especially, the improved and enlarged VW Polo.
As a new hire car in 2018-2019, you will also find Seat Ibiza, which is a favourite amongst car rental companies in Spain. Expect to see the Ibiza at almost all car renters in Malaga Airport / Costa del Sol.

New Seat Ibiza - Photo ©: Find-Cheap-Car-hire.co.uk
No doubt, the Polo, Fiesta and Ibiza are some of the best offers for car hire in super-mini class.
Check current offers for car hire in Malaga Airport
If luggage space is a concern, the Seat Ibiza and VW Polo are the winners. See comparison below:
Largest boots in super-mini class – Polo and Ibiza have the best luggage capacity
Seat Ibiza (new model) – 355 litres
VW Polo (new model) - 351 litres
Skoda Fabia – 330 litres
Hyundai i20 – 326 litres
Kia Rio – 325 litres
Renault Clio – 300 litres
Citroen C3 – 300 litres
Ford Fiesta (new model) - 292 litres
Opel/Vauxhall Corsa – 285 litres
Peugeot 208 – 285 litres
City-cars and sports cars in Milan Airport (Bergamo, Malpensa or Linate)
Hertz in Milan offers the Insignia large car at low rental rates.
One of the best offers for a fun car in Milan-Bergamo or Milan-Malpensa airports is the Italian ever-green Fiat 500 Convertible.
Check prices for car rental at Milan-Bergamo Airport
Strictly speaking, it is a coupe with a folding roof, but the fun-feeling is very much on convertible level.
Driving with the electric roof folded back is great – if you are 2 or maximum 3 people on holiday in Italy. The luggage space is, well, modest. 185 litres is what you get, so you might need to pack in soft bags and use the rear seat as a double for trunk space.
The roof, actually, only folds in the centre section, so you are not so affected by wind in the Fiat 500C as in most other Convertible cars.

One of the most charming small cars – Fiat 500C (C for Cabriolet)
In the family friendly department, Sixt in Milan-Bergamo offers the BMW 2-series Active Tourer.
The BMW SUV-crossover vehicle is very practical when travelling with kids – and prices for rentals start below €200/£180 for a week at Sixt Milan-Bergamo. It's a fun vehicle for mum and dad to drive as well – based on the new Mini Clubman as it is.

BMW Active Tourer 2-series – lots of space for small money in Milan Airports

Sports and Luxury cars in Milan-Bergamo – rental offers at King Rent
The ultimate driving experience awaits in Milan-Bergamo.
King Rent offers Porsche 911 Carrera S Coupe or Cabriolet from €430 / £380 per day in a number of locations in Italy. The King Rent Porsche 911 is, of course, the latest 991-model.
The Porsche 911 Carrera S Cabriolet & Coupe
Prices for sport car rental in Milan airport are relatively high, but the choice is good.
The Porsche is by no means the only option. King Rent also has Jaguar F-Type, Ferrari 458 (Spider & Coupe), Ferrari 488, Lamborghini Huracan and Audi R8 sports cars for rent.
More information about the 911-range on Porsche.com.
If going for one of the sports and luxury brands, please note the requirements for credit cards.
---
---
Article: New rental cars 2018-2019 in Heathrow, Milan and Malaga
Topics: rental-cars-heathrow,sports-cars-milan