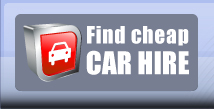 Mercedes V-class and Vito Tourer minibus rental – standard 9-seater or luxury 8-seater minivan
In Europe and the UK, the number of seats in a minibus is limited by law to 9 seats (8 passenger seats + drivers seat).
Check current prices for the cheapest minibus rental

Mercedes V-Class – the ultimate minibus hire. © Photo: Find-Cheap-Car-Hire.co.uk
When the new Mercedes V-class minibus was introduced in 2014, it was available in the long wheelbase (LWB) version only.
Driver's license for minibus rental
If the number of seats exceeds 9 in total, the rental minibus is not permitted to be driven by customers with a standard driver's license.
In other words, anything with more than 9 seats, in the UK requires a category D1 minibus driver's license (up to 16 seats) to carry passengers. In Europe, the regulation is similar.
With up to 9 seats, everybody with a valid driver's license can be placed in the driver's seat and legally ferry up to 8 passengers around as long as the transport is a private matter.
Sometimes, however, restrictions are in place on the age of the driver/renter of minibus vehicles, but in general, most companies allow customers at 25 years of age to rent a minibus.
In the US, the max number of passengers is higher, and you will frequently see 11 pax minivans – and in some states even minivans described as 15 or 17 seaters available for anybody with a standard driver's license and a certain age to hire.
In the following description of the Mercedes V-Class, only rental cars and minibuses/minivans in Europe and in the UK are discussed.
Minibus with loads of space – the Mercedes people carrier
In late 2014, the most luxurious and most expensive Mercedes minibus to date was introduced to the British public.

V-class minibus rental in Portugal – black limo-like people carrier. © Photo: Find-Cheap-Car-Hire.co.uk
The vast majority of Mercedes V-class are sold to professionals in the transport industry or to rental car companies.
The Mercedes-Benz brand has a certain air of affluence about it – mostly because of the more expensive passenger car offerings like the Mercedes E-class, the Mercedes CLS-class and, of course, the German limousine par excellence: the Mercedes S-class.
In the standard configuration, the Mercedes V-class features 7 seats including driver's seat. Most rental cars of the Mercedes minibus type, however, will be 8 seater versions with two rows of rear seats additional to driver's and front passenger seats.

The typical V-class Mercedes minibus rental car configuration
Luxury ground transportation and hotel transfers
Quite a number of ground transportation companies are keen to be known for quality and maybe even luxury transport.
So if a serious player in the ground transportation business wants to offer customers 'the ultimate brand' of style, at least one Mercedes V-class minibus in the fleet is a must – a bit like having the Moet champagne in stock in your bar next to the more accessible champagne brands. The Mercedes minibus V-class car is like the Moet. It is not particularly better than the competition, but everybody think it is.
Black or white cars, heavily tinted windows and an impeccable suited driver is a must in this business. And as an added bonus, the ground transport companies also do the more down-to-earth airport transfers of holiday makers in flip-flops and panama hats from the airport arrival terminal to the hotel resorts.
Mercedes minibus engines – diesels with lots of torque
The new V-class has been somewhat restricted in the range of engine offers.
Two engines are available and both are diesels:
a 2.1 diesel with 4 cylinders producing 163 bhp – the V 220 d with 380 Nm torque
a 2.1 diesel with 4 cylinders (basically same engine block as the V 220 d) with 190 bhp. In Mercedes language, this is the V 250 d – with powerful 440 Nm torque
Both versions of the Mercedes V-class minivan come with automatic transmission only.
When introducing the V-class, Mercedes discontinued both the Mercedes Viano and the Mercedes R-Class. The new minibus does come close to the previous Mercedes Viano/Vito minibus produced from 2003 to 2014, but with a more upmarket feel.

The Mercedes minibus as ski holiday vehicle
Problems in the German car industry
The word 'blue', for a long time, seemed to be a favorite amongst large scale passenger car diesel engine manufacturers. Most of them are based in Germany.
Since the major break of trust in Volkswagen diesel engines (referred to as 'VW Diesel-Gate' and giving VW an enormous image problem in 2015), competing manufacturers may shy away from using any word close to the infamous 'Bluemotion' used on VW cars which, before the revelations of major VW-cheating with pollution restrictions, seemed to be the best diesel engines in the world.
As of late 2015, Mercedes has not been affected, but many industry observers are holding their breaths with Daimler-Benz and BMW, but most are maybe not so suspicious with Opel and Ford.
Mercedes Vito Tourer minibus – cheap 8 or 9 seater for minivan rental
In 2015, Mercedes introduced the poor man's V-class – the Mercedes Vito Tourer.
The new Vito is basically the same car as the V-class, but with far less goodies in terms of equipment.
The V-class owner will miss the electric sliding doors, the passenger car luxury dashboard, the luxury trim and fittings, the advanced suspension and lots of other comfort equipment, but the Vito minibus is still a spacious vehicle and drives to a large extent in the same manner as the V-class.

Marek Drives the Mercedes Vito Tourer – and is mildly impressed
Mercedes chose to offer the entry level Vito Tourer minibus with a smaller (and cheaper) engine. This particular version is the popular choice for many rental car companies, although, it is not exactly the most powerful power plant for the 2 ton-plus minivan.
In fact the Renault-supplied Mercedes Vito Tourer minibus engine does a good job, but it still only has 87 bhp. The Mercedes Vito Tourer 109 BlueTec, therefore, is slow, but since the 2,1 litre engine is flexible, it will be adequate for most – just don't expect fast and effortless motorway cruising. This version has front wheel drive.
Moving up to the Mercedes minibus 114 BlueTec version, you get a 2.1 diesel from Mercedes with 134 bhp – and surprise, surprise: the same rear wheel drive standard in the Mercedes V-class.
All versions of the Vito Tourer come as Compact Wheel Base - length 4895 like the size of a Ford Mondeo or a VW Passat. More regular as rental cars will be the Long Wheel Base (LWB) Mercedes Vito Tourer which measures 5.140 meters and sometimes you will find at rental car companies the extra long version of the Vito Tourer (8 passengers usually) with the impressive length of 5.340 meters – and basically close to impossible to park, so maybe good it is a rare beast.
How much luggage can you fit into a minibus?
The short answer is "an awful lot", but say you are 8 or 9 passengers including driver with extensive ski-holiday equipment, it may actually be better to order a roof box or 'ski box' instead of pressing the load into the cabin of the car.
Minibusses, in general, are very spacious, but the difference between using the 8th and 9th passenger seat in minibuses can, in terms of luggage space, mean a lot.
The Mercedes V-class/Vito will hold an enormous 1410 litres in the LWB 8-seater version and 610 liters in the 6 or 7 seater versions standard length vehicle.
The luggage capacity for both versions, however, depend on how far back you need to place the rear seat row for passenger comfort.
All V-class and Vito minibus vehicles have sliding rear doors for easy access.

At the beach in the 6/7 seater version of the Mercedes minibus introduced in 2015
How much does it cost to rent a minibus?
Depending on destination/location the minibus rental rates vary considerably.
In high season in Southern Europe, you are likely to pay up to 3 times as much as in low season if you book a minibus rental car on short notice.
However, if you process your booking online just a few weeks before your arrival, the price for renting a minibus; even in high summer season, might be very reasonable. Nothing will beat the prices available out of season in tourist destinations.
If hiring a 9-seater minibus in a city location or in a major city airport, prices tend to be more stable.
The cheapest minibus rentals around start from some £200 per week if you book well in advance. In many locations, however, £300 per week is still a very fair rental rate.
If you book for the summer-holiday season in Southern Europe, prices range from £350 to £800 per week depending on location and how early you manage to make your reservation of your vehicle.
Compare prices for minibus car rental and book online
How to find cheap car hire
Take advantage of the cheap car hire search engines and special offers which often pop up.
You will want to avoid booking a rental car just before travelling. In general, offers for minibuses tend to be more subject to availability than is the case of, for example, small passenger cars. If the rental companies sense short supply, like with airlines, prices go up.
It is rarely an advantage to book directly with the rental company. For cheap car hire, you must compare rates – and the rates offered on search engines are usually lower than at Avis, Hertz, Sixt, Europcar or similar large rental car companies.
---
Article: Mercedes V-class and Vito Tourer minibus rental – standard 9-seater or luxury 8-seater minivan
Topics: minibus,8-seater,people-carrier,mercedes-v-class,vito-tourer