Discounts in Spain, Italy, Portugal – book your cheap hire car by November 8th
The month of November, traditionally considered low season in the travel industry, is one of the best times of the year to take advantage of low priced offers.
It is custom for companies like Interrent, Thrifty, Del Paso, Enterprise, Green Motion, OK Rent-A-Car, Hertz, Avis, Europcar and Sixt to reduce rates on selected destinations.
Check out the car rental discounts at your destination
In November, costumers are saving for Christmas and leisure travel activity is less. The low season starts with the passing of Halloween and continues through to the middle of December, where the Christmas holidays kick in with an increased demand.
If you are able to book your cheap hire car before November 8th, interesting offers are available. See examples below!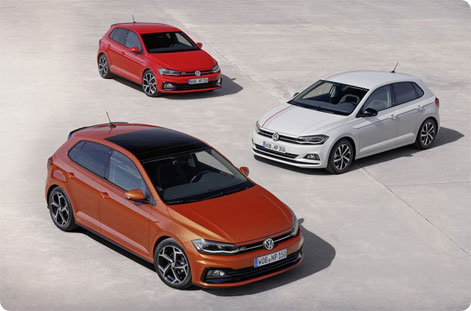 The new VW Polo is available when booking hire car in Spain
Cheap hire cars in Spain – 20% off in Malaga and Alicante with Cartrawler
The never ending popularity of Spain maintains a basic demand even in winter time. Malaga and Alicante airports are obviously less busy and good offers can be found. Also the much more popular winter destinations of the Canary Islands have cheap hire cars available.
On the islands of Tenerife, Gran Canaria, Lanzarote and Fuerteventura, the following discounts are available (examples):
10% off normal rates at Orlando Rent-A-Car (rentals completed before Feb. 28th)
10% discount at Interrent (only rentals completed before Feb. 28th and blackout period (no special offers) for rentals taking place between Dec. 17th and January 1st
In Malaga Airport/Alicante Airport in Southern Spain (on The Iberian Peninsula), the following discounts are available (examples of good offers):
20% discount when booking at OK Rent-A-Car (only cars described with full-full fuel policy). Please note rental period must be before December 31st and rentals with OK Rent-A-Car in Malaga Airport are excluded. Included discounted destinations are Alicante, Barcelona, Madrid, Murcia and more.
20% discount when booking with Del Paso – Please note only in Malaga Airport. The Del Paso discounted rentals with Cartrawler must be completed by February 28th 2018.
Other offers can be found in Malaga and Alicante airports, but the above are some of the most advantageous. Especially the Cartrawler deal with Del Paso in Malaga Airport looks like a good value.
When renting in Southern Spain, it is worth remembering that the offers from Goldcar and Rhodium may seem cheap, but beware! Goldcar/Rhodium are known for high additional charges and a rip-off culture when it comes to customer service. Read terms & conditions thoroughly before booking with these two companies.
Book car in Malaga Airport

Portugal car hire discounts
In Madeira (from Funchal Airport) and in Lisbon Airport; the two main winter destinations in Portugal, the following offers are available:
25% Cartrawler discount when booking with Drive-On-Holidays – BEST OFFER
This deal only available as long as cars are available and only available on rentals completed by Feb. 28th..
15% discount with Thrifty – rentals must be completed by February 28th.

Lots of savings when booking with Drive On Holidays in Portugal. ©Photo: Find-Cheap-Car-Hire.co.uk
Italy car hire discounts
Tourists will be happy to visit Italy all year long. In some parts of the country, the weather is slightly more humid at winter-time – which in turn means good deals are available for holiday makers who want to avoid the big crowds and heat of the summer.
The following Cartrawler discounts are available when booking by November 8th:
20% discount at Green Motion – for rentals completed by December 15th.
20% discount at Keddy Rent-A-Car – at Italian destinations until 28th February (cars dropped off by this date). Blackout period in winter peak demand period from December 20th to January 1st apply.
Poland car hire discount – e.g. from Warsaw-Chopin Airport
For discounted Cartrawler bookings in Poland, Warsaw-Chopin Airport is one of the busiest places. Check out the following discounts:
20% off already low list prices when booking with Green Motion – booking must take place on November 8th at the latest, rentals with discount are to be completed by December 15th.
Check rates in Warsaw Airport (Chopin)
…………………………………………………………………………………................
All the above mentioned Cartrawler discounts with specific companies in the car hire industry are available for online bookings placed from November 2nd to November 8th (both days inclusive). Although we take care to avoid mistakes, please note that errors and/or mistakes may occur in the above description of discounts and offers. Please also note that cars on sale (discounted cars) are subject to availability and that the rental companies can change the blackout periods (where the offer is not available) without notice.
---
---