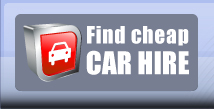 Car rental news about car hire and car rental agencies:
Despite the frail financial condition and losses reported in the recent years, the Polish flag carrier LOT has announced that in August 2014 it managed to make its core business, which is passenger...
---

In order to reduce the use of private vehicles in favour of public transportation in the Spanish capital, Madrid limited traffic zone, also known as APR (Área de Prioridad Residencial...
---
The Irish carrier Ryanair announced new services to be added to its Lisbon Airport route network. The new low-cost destinations available from Lisbon Airport (LIS) in the summer 2015 schedule...
---
Compare prices of car hire in Madrid Barajas Airport with Cartrawler Spain Ever since entering the Spanish market in late 2002, the leading European low-cost carrier Ryanair has made Madrid and...
---
The Polish regional carrier Eurolot announced new routes in its 2014 schedule. The new additions to the network of rapidly growing airlines include services from Warsaw Airport to Stuttgart ...
---
The battle for rent-a-car customers is fierce in Europe, where many car hire companies face 10-20 competitors in the same destination. Hertz, one of the world's leading car hire brands...
---

The Hungarian low-cost carrier, Wizzair is strengthening its position at the main Polish airport, Warsaw-Chopin. The airline announced it will station an additional aircraft, an Airbus 320, in...
---
Polish flag carrier LOT envisions brighter future as the European Commission approves a state aid for the airline facing, in the recent years, the risk of bankruptcy. Apart from the infusion...
---

The safety vest (also referred to as reflective or fluorescent vest) has been a part of a vehicle's mandatory equipment for a long time now. In many European countries, however, the efficiency...
---
The sunny island of Majorca has long been one of the most popular destinations for holidaymakers from northern Europe and Brits in particular. The largest of the Spanish Balearic islands has...
---