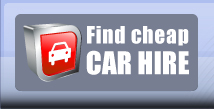 Car rental news about car hire and car rental agencies:
Since June 2015, the use of all forms of headsets for drivers is forbidden while driving the car in France . The ban on earphones, Bluetooth or other kind of headsets is a response to the growing...
---

As per summer 2015, there are no new general regulations regarding the size of luggage allowed in the cabin. Each airline determines the cabin luggage allowance and the differences in the policies...
---
A recurring favourite - London, has once again taken the top position at the 2015 MasterCards Global Destination Cities Index, a ranking for the most popular business and city break destinations...
---
On 3 April, Cabforce, a Finnish company with headquarters in Espoo, Finland was acquired by the Irish Cartrawler which focuses primarily on online car rental. Cabforce markets itself as the world's...
---
Get quotes for Gdansk Airport car hire online Spring and summer 2015 are busy seasons for Gdansk Lech Walesa Airport, in Poland. The third busiest Polish airport (and the busiest one in northern...
---
Get quotes for Lisbon Aiprort car hire with Cartrawler Portugal New regulations at the Portuguese airports of Lisbon, Porto and Faro, in force from 1 April 2015, are likely to raise the cost...
---

One of the world's leading vehicle rental brands Avis Budget Group Inc. has announced the plans to acquire the oldest Italian car and van rental company, Maggiore Group. Founded in 1947...
---
The global online car rental platform Cartrawler has announced partnership with Poland's national flag carrier LOT. Cartrawler's search and booking engine will from now be made available...
---
Polish state-controlled airline Eurolot facing serious financial difficulties is destined for liquidation. The decision has been taken by the Polish treasury, the airlines main shareholder, after...
---
Compare Heathrow Airport car rental deals online According to the recently released traffic statistics, London Heathrow Airport served 73.4 million passengers in 2014, which represents a 1.4...
---