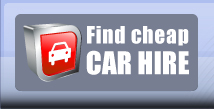 Car rental news about car hire and car rental agencies:
It's a legitimate and simple question: am I allowed to bring pets, like dogs and cats, along with me in the cabin, when I fly? The answer, however, is not a clear yes or no . Some airline...
---
Scandinavian Airlines, or SAS, the major carrier of the Nordic countries, has announced 8 new direct routes to be introduced in the summer 2016 schedule. The new routes available from Scandinavian...
---
Flying low-cost between UK and Poland will become even easier in May 2016. Especially for budget-savvy travellers. The Hungarian low-cost carrier Wizzair has announced new additions to its summer...
---
While United Kingdom is one of the most desired emigration destinations in Europe, a substantial number of Britons - over 5 million - themselves have chosen to relocate to other countries. Work...
---
A new direct route has been added to British Airways summer schedule from London-Heathrow. San Jose International Airport (SJC) will become the carrier's fourth destination in California...
---
Post Office Money, a financial services brand of Post Office Ltd in England, has revealed the cheapest and the most expensive European countries for hiring a car - and you are going to be surprised...
---
In terms of passengers, Budapest Airport in Hungary has seen an increase to a record all time high 9.1 million passengers going through the airport in 2014 and the growth is expected to continue...
---
The low-cost airline Norwegian announced new domestic routes from mainland Spain to the Canary Islands. Starting 25 October 2015, the carrier will offers flights to Gran Canaria, Tenerife and...
---
Since June 2015, the use of all forms of headsets for drivers is forbidden while driving the car in France . The ban on earphones, Bluetooth or other kind of headsets is a response to the growing...
---

As per summer 2015, there are no new general regulations regarding the size of luggage allowed in the cabin. Each airline determines the cabin luggage allowance and the differences in the policies...
---