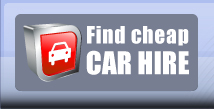 Car rental news about car hire and car rental agencies:
The Irish low-cost carrier strengthens its presence in Poland by introducing in its 2016 winter schedule a direct route to one of the country's newest airports: Olsztyn-Mazury Airport ...
---
The two largest Danish cities - Copenhagen and Aarhus - have become connected by a seaplane route. The new service has taken a considerable amount of time to become viable due to the need of...
---
The world's best known publisher of travel guides, Lonely Planet, has recently released a list of Top 10 most interesting destinations to visit in 2016. For as surprising as some of the...
---
One of the international liders of the rent-a-car market, Europcar, has extended its network of rental stations to the Portuguese archipelago of the Azores on the Atlantic Ocean. The car rental...
---

Book between 21st and 29th of April to benefit from up to 20% discounts on car hire via Cartrawler. The search and booking engine on www.find-cheap-car-hire.co.uk offers reduced rates for car...
---
Warsaw Modlin Airport, despite the considerable distance separating it from the Polish capital is becoming increasingly more accessible for passengers. Kolej Mazowiecka, the regional railway...
---

No-frill airlines are enjoying an unfading popularity amongst travellers despite the fact that the supposedly low-cost deal may easily turn out to be only insignificantly cheaper than an offer...
---
The recently released winter schedule of Ryanair in Glasgow airports contemplates several leisure destinations in sunny Spain and Portugal. As it is already a tradition, the launching of the...
---

Benefit from up to 20% discounts on car hire by booking through Cartrawler on www.find-cheap-car-hire.co.uk in January. The promotional sale applies to offers in selected destinations in Europe...
---
Much like anywhere else in the world, at Warsaw airports booking in advance is the best guarantee of getting the best rates on car hire for Christmas 2015 season. Compare Warsaw-Modlin Airport...
---