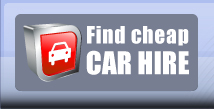 Car rental news about car hire and car rental agencies:
The low cost airline Easyjet has its eyes on Stockholm-Arlanda and on Croatia in general. By March 2017, the 3 rd route from Stockholm-Arlanda will be Milano-Malpensa MXP. And surprisingly, Easyjet...
---
One of the world's largest new car exhibitions, the Paris Motor Show, is held every other year in Paris Expo Porte de Versailles. At the October 2016 edition of the show, a large number...
---
In the spring 2016, Nordic Seaplanes operator launched a route between two largest Danish cities, Copenhagen and Aarhus. More seaplane departures between Copenhagen and Aarhus were made available...
---
One of the leading car rental providers on the American market, Fox Rent A Car, has recently widened its network of rental offices to new locations outside the US. 13 new FOX affiliate stations...
---

Acquiring a used car from a rent-a-car company's fleet has just became easier for prospective buyers with a signing of a partnership agreement between two large players of the American...
---
Alghero Airport, one of the three serving Sardinia, was chosen to welcome the 150 th station of InterRent car rental company. InterRent is the low-cost operation of Europcar, targeting primarily...
---
Aware of the impact of social media on marketing, the European leader of car rental segment, Europcar, has launched an innovative competition available for the users of the most popular social...
---

One of the largest American car rental brands, Enterprise Rent A Car has launched its first operation in New Zealand. Since mid-July 2016 it is possible to rent Enterprise cars at Queenstown...
---

Hertz Rent A Car is the first car rental company to offer hybrid car rental in Mexico. Hertz Green Collection, which in the United States is known as Green Traveller Collection made available...
---
Ryanair, one of the major carriers at Newcastle Airport (NCL) has announced its new, expanded schedule for summer 2017. The low-cost airline, which currently operates only three routes from Newcastle...
---