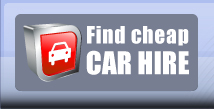 Car rental news about car hire and car rental agencies:

Even in the high season month of August, it is possible to find special offers for car rental. The best deals, usually, will include free extras and/or discounts from standard rates. For August...
---
While the large majority of airlines and airports have adopted strict (and each time stricter) rules on transporting liquids in the carry-on luggage, one Italian airport has made an interesting...
---
The Post Office Money has released a survey on the price of holidays in the most popular beach resorts in Europe. The already 11 th edition of the Holiday Cost Barometer focuses on the cost of...
---
The largest European low-cost carrier Ryanair strives to offer an each time more comprehensive product to their customers. While when booking a cheap flights with Ryanair it is also possible...
---
Two giants of the travel industry – Europcar car rental brand and the German national carrier Lufthansa - teamed in offering a more complete travel experience, especially for those preparing...
---
In the largest airport in Scandinavia, the rental car offices have moved out of the main terminal. Compare car hire rates in Copenhagen Airport Copenhagen Airport – CPH is the largest airport...
---

The winter sale is back! From January 5 th to January 18 th , car rental is cheaper from a number of suppliers. Bookings made within these two weeks for pick-up before June 30 th 2017 are available...
---
The new year brings new travel opportunities for passengers using London Heathrow Airport. The greatest number of new routes is delivered of course by the flag carrier, British Airways. The majority...
---

The number of tourists visiting the Southern province of Portugal is soaring. By the end October 2016, the record from the entire last year had already been beaten. Algarve businesses are set...
---

The main airport of Poland served in September the highest numbers of passengers in its history for this month of the year. Several factors contributed for the record result of 1.3 million passengers...
---