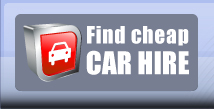 Car rental news about car hire and car rental agencies:
The French Transport Minister Frederic Cuvillier has announced the estimated date for launching a new express train link between Paris city centre and Charles de Gaulle Airport. The long awaited...
---
The leading European low-cost carrier Ryanair has welcomed the year of 2014 with a long-awaited reduction of luggage fees and relaxing its strict and controversial luggage policies. Find below...
---
The leading European low-cost carrier Ryanair which finished 2013 with a record number of over 80 million passengers, welcomes the 2014 with a significant reduction of fees for the checked luggage...
---
Two of Europe's most iconic tourist destination, Paris and Barcelona, are now connected by a direct high-speed train service. Starting from 15 December the first non-stop railway service...
---
Get price quotes for car hire from London Stansted Airport Europe's leading low-cost carrier, Ryanair is launching new routes from London-Stansted airport where the airline already holds...
---
Ryanair announces the second, after Brussels-Charleroi, Belgium base. The location chosen for the new base of Europe's leading low-cost carrier is Zaventem Airport situated approx. 7 miles...
---
The giant of the car rental segment, Hertz, announced introducing its discount brand, Firefly into the U.S. market. Below you can see the logo of the new low-cost car hire company owned by Hertz...
---
Find car hire in London Exhibition Centre (ExCeL) London Exhibition Centre, abbreviated to ExCeL, is an exhibition and convention centre located on the northern bank of River Thames in East London...
---
A new winter route from London to Gran Canaria is now available from British Airways. The flights to Gran Canaria Las Palmas Airport (LPA) will depart weekly, in Saturdays, between 26 October...
---
The Portuguese flag carrier TAP inaugurated two new routes from Lisbon Portela Airport (LIS). As from 27 October it is possible to fly from Lisbon to Boa Vista Airport (BVC) in Cape Verde and...
---