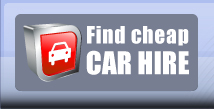 Car rental news about car hire and car rental agencies:
A new name has emerged on the market of low-cost flights in Europe. Level is a Spanish carrier, soon to be known overseas as its main focus are long-haul, transatlantic routes. Airbus A330-202...
---
KEF is the IATA code short for Keflavik Airport. Located on the outskirts of Reykjavik, the Icelandic capital, KEF is the main airport in Iceland. You might have also heard about the much smaller...
---
Hundreds of passengers at Lisbon Airport or heading to the Portuguese capital saw their plans altered as the national carrier, TAP Air Portugal cancelled nearly 50 flights over the past weekend...
---
For the second time the airline TAP Air Portugal was considered to be one of the best carriers in the world due to the quality of its services by the ranking, organized by the eDreams portal...
---
Dubai International Airport – DXB beats a lot of world records. Car hire Dubai Airport - compare deals and book online It has been acknowledged as the third largest airport in the world...
---
The Polish national carrier has announced the launch of a direct connection between Warsaw and the Danish city Billund. Find cheap car hire in Billund Airport The connection will be available...
---
With bookings completed from February 25th to March 3 rd , a wide range of car rental offers from Warsaw-Chopin Airport can be found. The majority of offers are available on all Polish destinations...
---

It is not unusual to find good offers for car rental in Portugal, but in most cases, the best offers are on the smallest and cheapest vehicles. Check current car rental rates in Porto Airport...
---
Portugal has been a popular destination for British tourists for year, both for city break and beach holidays. The capital, Lisbon, and the sunny Algarve region in the south offer a wide variety...
---
The John Paul II airport in Krakow (Cracow in English and Kraków in Polish) has added a new direct connection, this time from Eastern Europe. The Ukrainian state company, Ukraine International...
---