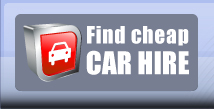 Motorhome hire - cheap rental rates in different countries for autocamper, RV and campervan
The advantages of renting an autocamper or motorhome; a large vehicle that can double as holiday accommodation, are many.
Renting a modern motorhome, autocamper, RV or campervan mean space for 2,3,4,5 or up to 6 or 7 people depending on model. In some countries, hire of even larger motorhomes is possible.
How to rent a motorhome or campervan?
In the US and Canada, the RV vehicles, motorhome and campervan rental cars are extremely popular. Also Australia and New Zealand cater for camping in your own vehicle over vast distances.
The most common type of motorhome for hire is a vehicle with a length of 5-6 metres which can be driven by individuals with a normal category B drivers licence (weight up to 3500 kilos in Europe and the UK). In some countries, in particular in the USA, large motorhomes – often referred to as RV's (Recreational Vehicles), may require a bus driver's licence.

Cheap autocamper / motorhome hire
The cheapest autocamper types of mobile homes are, usually, 7-seater MPV or minivan/minibus vehicles that have been converted for camping use (campervan).
Please check competitive rates for hiring a campervan or motorhome in your holiday location in the motorhome search engine above.
---