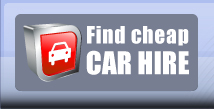 OUR PRICE ADVICE:
You can currently also find very competitive offers from
AUTO EUROPE.
Can you use a car in Moscow? – Yes, and the selection of vehicles is wide
The Russian capital, in many ways, is much more organised than Western perception suggests.
Car hire in Moscow Airport (Domodedovo-Moscow - DME)
The Russian capital has grown into a metropolis on par with London, Berlin and Paris. It is possible to book a vehicle for hire from almost any major Moscow location.
When searching for Moscow car rental (in the city), you will be given a map with locations, where pickup of rentals are available. In Moscow, usually, you will find car hire companies close to well-known large hotels.
Rental rates will range from approx. 120 GBP for a week's rental. If only for a few days, Moscow car hire can be much cheaper.
In Moscow, the offers are available from a range of international companies, such as Dollar-Thrifty. The majority of choice, however, consists of local Moscow Rent-A-Car services such as I-Drive, JIS Car, and more.
Find cheap Moscow car hire (city) with Cartrawler below.

---