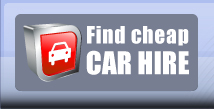 OUR PRICE ADVICE:
You can currently also find very competitive offers from
AUTO EUROPE.
Melilla Airport car rental – transportation in a Spanish enclave
Melilla is a Spanish autonomous city located on the northern coast of Africa, having Morocco as its only neighbour. Part of the Malaga Province, Melilla became an autonomous territory in 1995 and together with Ceuta remains an object of the territorial dispute between Spain and Morocco. The enclave with an area of 4.7 sq mi and a population of 78 thousand is connected to Europe by sea and by air. Melilla Airport offers regular flights to several Spanish destinations, amongst them Malaga, Granada and Madrid. Air Europa, Iberia and Melilla Airlines are the main carriers.
Rent a car Melilla
Despite the fairly small area of the enclave, there is some demand for rental cars in Melilla. It is possible to rent a car directly at Melilla Airport. Enter the dates of your stay in Melilla in the fields below to see currently available offers from major car hire providers in Melilla, amongst them OK Rent A Car.
---