Zurich Airport car rental with Cartrawler Switzerland
Find competitive car rental rates at Zürich Airport on Cartrawler Switzerland search engine.
Zurich Airport car rental online price comparison
Compare prices and rental conditions from a wide range of international and local Zürich rent-a-car providers in order to find the best deal.

Compact class car rental in Zurich – Ford Focus often available to rent at competitive rates. In the fleet of Thrifty, Dollar and Budget amongst other rent-a-car companies in Zurich Airport.
Zürich Airport – ZRH is also referred to as 'Kloten Airport' due to its location in the municipality of Kloten, in the canton of Zurich.
In the past, after its privatization in 1999, the airport was branded as 'Unique Zurich Airport', having this name been replaced by 'Flughafen Zürich' in 2010.
Zurich Airport car rental companies
Rent a car services at Zurich Airport are provided by a variety of suppliers, the majority of which partners with Cartrawler search engine.
Alamo, Avis, Budget, Enterprise Rent A Car, Hertz, National, Sixt, Thrifty are the main international rent a car brands present at Kloten Airport. During searches on Cartrawler you will also come across offers from local suppliers, amongst them Nomadcar, Unirent and a company specialized in premium and luxury cars, King Rent.
Best rates on Zurich Airport rental cars – book online
Although Switzerland is commonly perceived as an expensive destination, car hire can often be surprisingly affordable.
Even in the summer season, a small city car, in Zürich often an Opel Adam, a Fiat 500 or a Hyundai i10, or even a car in economy class, is usually available from about £220 for a week.
Outside the summer months, the prices drop usually in about 30%.
Being an important destination for business travels, Zurich Airport offers a comprehensive choice of rental cars in the executive class. The cheapest premium cars, for example Mercedes E Class, Audi A6 or similar are often available here from about £450 for a week.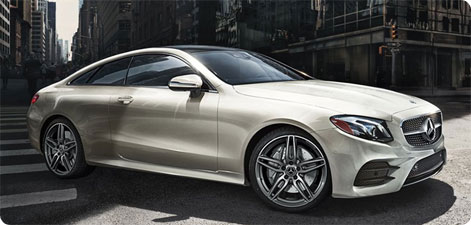 Mercedes E Class – comfort and elegance at frequently affordable price and sometimes with a new model guarantee.
On the opposite end of the range, in the luxury class, are very costly cars, such as Audi R8, Ferrari California or Porsche Panamera 4, which mean an expense of a few thousand pounds on a week's rental.
Please note that for the rentals of the most expensive cars, often more than one credit card is required to secure the hefty deposit.
Explore Europe in Zürich Airport rental car
Located approx. 8 miles north of the Swiss capital, Zürich Airport is frequently used for traveling not only to Switzerland, but also to the neighbouring countries, Germany and France. The dense network of motorways in this part of Europe, allows to travel relatively quickly from Zurich Airport to, for example, Mulhouse in France or Freiburg in Germany.
A large majority of Zurich car hire deals allow cross border travels, although restrictions may apply to certain countries. If you are planning to drive you Zurich rental car outside Switzerland, do confirm in rental conditions of each Cartrawler offer which travel restrictions apply, before booking.
Below are approximate road distances between Zurich Airport and major destinations in the region:
Zurich Airport to Basel: 92 km / 57 mi
Zurich Airport to Bern distance: 130 km / 80 mi
Zurich Airport – Mulhouse: 120 km / 74 mi
Zurich Airport – Freiburg: 150 km / 93 mi
Zurich Airport – Stuttgart: 215 km / 133 mi
Distance from Zurich Airport to Lucerne: 70 km / 43 mi
Zurich Airport to Konstanz: 62 km / 38 mi
Zurich Airport to Davos distance: 155 km / 96 mi
UK routes to Zurich Airport - ZRH
Direct flights from the UK to Zurich are available from both Swiss and British national carries. Swiss International Air Lines fly to Zurich from Birmingham, Manchester and London (Heathrow and City), while British Airways provides regular service from London (also Heathrow and City).
It is also possible to fly low-cost to Zurich with Easyjet, from London-Gatwick and London-Luton.
The Circle – a new feature of Zurich Airport
The main Swiss airport is soon to be known also in the context of the Circle, a new multi-purpose facility located within a walking distance from the terminal. This impressive architectural complex is designed to serve a variety of uses standing a chance to soon become an important reference for business, culture and entertainment in Zurich.
On the area of over 180 000 m2, The Circle offers flexible office space, a convention centre with capacity for 2.300 visitors, 550 hotel rooms, retail space as well as restaurants and cafes.
The Circle promotional movie:
The exciting, modern and versatile complex can be reached by foot from the airport and is only about 20 minute drive away from Zurich city centre.
In advanced stage of construction, The Circle is scheduled for completion by the end of 2019.
---
---