Växjö Airport car rental – find the best prices with Cartrawler Sweden
Benefit from the most competitive Sweden car rental deals available through Cartrawler search engine. Cartrawler partners with most major rent-a-car companies operating at Växjö Airport allowing you to compare prices and book car rental online.
Vaxjo Airport car rental – get quotes online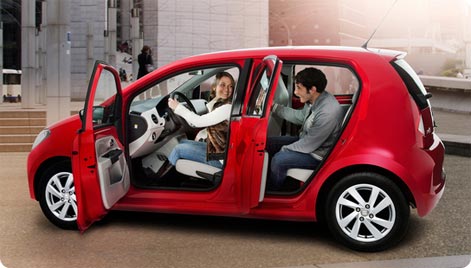 VW Up in the fleet of most car rental companies at Växjö Airport. The smallest rental car is not always the cheapest.
It is possible to rent a car at Växjö Airport from large, international rent-a-car providers, such as Avis, Budget, Sixt, Hertz Sweden and Europcar, as well as from the Swedish car rental company Mabi. With the exception of Sixt, which operates on a meet & greet basis, the desks of the above car rental companies can be found directly at the airport. Look for rent-a-car or, hyrbil (in Swedish) signs.
Car rental Sweden - compare rates
In general, car hire services in Sweden, much like in the rest of Scandinavia, are not cheap, compared to the rest of Europe and especially Southern Europe. It is possible, however, to find reasonably priced offers online, with the help of the internet search engines.
The prices may fluctuate considerably depending on the location. At large international airports, where there is a greater competition between rent-a-car providers, the cost of car hire is usually slightly lower than in city locations or in less popular destinations.
At Växjö Airport it is usually possible to rent the cheapest cars from around £150 for a week. For this price economy cars (for example Skoda Fabia, Toyota Yaris or Ford Fiesta) are often available. Curiously enough, the smallest cars in the mini class (i.e: VW Up) are usually slightly more expensive.

Estate cars are common in Vaxjo Airport car rental fleet. Above Opel Insignia Estate.
There is a great offer of estate cars to rent at Växjö Airport: Opel Insignia Estate, Toyota Avensis Etate, Skoda Octavia Stationwagon are popular models, often priced from around £250 for a week. Premium class models, as for example Aud A6 Estate or Volvo V70 Estate are also available, at higher rates.
Minivans and minibuses are not commonly found in Växjö Airport car rental fleet.
Vaxjo Airport location
The only airport of the Smland province, Växjö Airport is located approximately 6 miles northwest of Vaxjo town centre. Vaxjo Smaland Airport is the official name.
Road distances from Växjö Airport to major destinations in southern Sweden:
Växjö Airport to Karlskrona: 120 km / 75 miles
Växjö Airport to Kalmar: 116 km / 72 miles
Växjö Airport to Kristiansand: 125 km / 78 miles
Växjö Airport to Malmo: 200 km / 125 miles
Växjö Airport to Halmstad: 130 km / 81
Flights to Växjö, Sweden
Växjö Airport – VXO is a minor airport, with a limited selection of routes, the majority of them seasonal flights to popular tourist destinations of Southern Europe. Year round flights to Växjö are available from Gdansk, Tuzla and Skopje. Ryanair, Wizzair and the Danish charter carrier Jet Time are the main airlines at Vaxjo Airport.
---
---