Rent a car Castellon Airport – best car rental at Costa del Azahar, Spain
Find the most competitive car rental deals at Castellon Airport in Spain on Cartrawler search engine.
Get quotes for Castellon Airport car hire
Cartrawler partners with many major and local car rental companies allowing you to compare prices and to book online.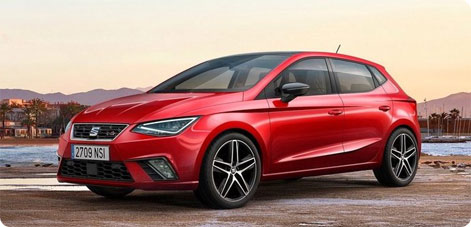 Seat Ibiza is one of the most popular economy rental cars in Spain.
Amongst all of the Spanish costas, one of the least known, yet unjustly, is the fragment of the Mediterranean coast known as Costa del Azahar, meaning the Coast of the Orange Blossom. It stretches between the towns of Vinaros and Almenara, in the province of Castellon de la Plana, approximately 40 miles north-east of the city of Valencia.
See a general map of Costa del Azahar:
Although the southern coast of Spain is well connected by air with UK, recently a new international airport has been inaugurated here, offering direct flights to London; Castellon-Costa del Azahar Airport – CDT provides a low-cost route between London-Stansted and Castellon de la Plana, operated by Ryanair.
Castellon Airport car hire – Costa del Azahar rent a car companies
Due to the still fairly limited choice of flights available at Castellon Airport, car hire services here are also limited. Amongst the major Castellon (or Castelló) car rental providers are currently the Spanish Goldcar / Rhodium group and Malco Rent A Car.
Castellon Airport car rental deals are available primarily in the most popular classes of small city cars as well as economy and compact vehicles. When booking well in advanced, people carriers, mostly 7-seater minivans can also be found.

Seat Alhambra, a minivan with comfortable space for 7 people and luggae.
In the summer season, however, this type of vehicles is highly sought after; do remember to book as early in advance as possible.
It is to expect that if growing number of carriers and routes at Castellon Airport will attract more car hire companies in this location in the near future.
Should Castello Airport car hire offer not meet your expectations, a much larger choice of car rental providers, and possibly more competitive prices, can be found at the nearest large international airport, in Valencia.
Find cheap car hire in Valencia Airport
Castellon Airport – difficult start and uncertain future
Although officially inaugurated in 2011, Castellon Airport didn't start operating regular commercial flights until 2015, being, from the very beginning, involved in a great deal of controversy. The viability of another airport in an area which already has several established international airports (amongst them Valencia, Reus, Alicante and Barcelona) was questioned. Also the lack of transparency in the financing of the new enterprise was criticised, especially after the airport's promotor, a local politician Carlos Fabra was accused of corruption and tax evasion.
At the moment of writing of this article, only two carriers, both low-cost, were active at Castellon Airport: the Romanian Blue Air, on route to Bucharest and Ryanair, flying to Castellon from London-Stansted, Sofia (Bulgaria) and Poznan (Poland).
It is yet to see if Castellon Airport stands a chance to compete with the popular, established airports of the southern coast of Spain.
Costa del Azahar attractions
The name 'Costa del Azahar' derives from the plentiful orange groves which can be found in this part of Spain. In the spring time, the scent of orange blossom fills the air and the petals of orange flowers cover the land and the towns streets in a fragrant, white blanket. A curious fact: in the town of Burriana a whole museum has been dedicated to orange trees).
Measuring roughly 60 miles in lengths, Costa del Azahar (or Costa Azahar) has plenty to offer to the nature lovers, as well as to those interested in the fascinating history of Spain. Apart from beautiful, clean and not too crowded beaches, two nature parks are found in the area (Desierto de Las Palmas and Prat de Cabanas-Torreblanca) as well as a mountain range, Sierra de Irta.
Historic monuments are plentiful in Costa Azahar, especially in its most popular tourist centers: Castellon de la Plana, Vinars and Peniscola.

Erected on a promontory, the Castillo del Papa Luna castle in Peniscola is known as the Gibraltar of Valencia.
The Orange Blossom Coast hosts a number of cultural events attracting both locals and tourists, amongst them the August culinary festival Fiesta del Lngostino in Vinaros, the medieval and baroque music festival in Peniscola and, for a younger public, the summer music festival in Benicassim.
---
---