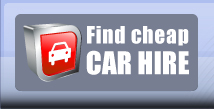 Rent a car at Ponta Delgada Airport – range of cars for rental on São Miguel Island
Get quotes for Ponta Delgada Airport car rental online
The Portuguese archipelago of the Azores, in the Atlantic Ocean, has been thriving as a tourist destination for many years now. The main gateway to the Azores is Ponta Delgada Airport on São Miguel (S. Miguel) island. The largest island of the archipelago, and the most populated one, is a great road-trip destination offering good roads and stunning, varied landscapes. Find below useful information and advice on Ponta Delgada Airport car rental.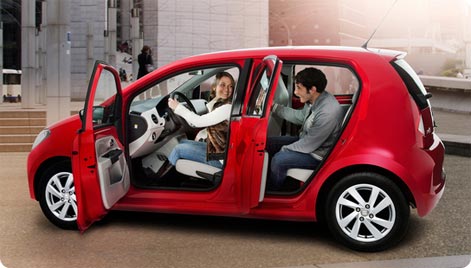 Azores car rental - cheap small cars as the VW Up! Are amongst the most common
Ponta Delgada Airport – location
Ponta Delgada Pope John Paul II Airport - PDL (in Portuguese Aeroporto João Paulo II) is the official name of Azores' main airport. The airport is located very close to the city centre, approx. 1.5 miles west of Ponta Delgada and along the a major coastal road which allows access to different parts of Sao Miguel -see map.
Ponta Delgada Airport:
Cars to rent in the Azores (main island São Miguel)
The Azores car rental business consists of a number of car rental companies out of which Avis Rent-A-Car, Ilha Verde Rent A Car (Green Island car rental), Hertz, Europcar, Autatlantis Rent-A-Car and MicAuto are amongst the most popular.

Azores Airport car rental counters in the arrival hall. © Photo: Find-cheap-car-hire.co.uk
In Ponta Delgada Airport, you will find all of the above as well as Thrifty . In Ponta Delgada city centre, some car rental companies will offer to pick you up at the airport. One of them: Varela Rent-A-Car, will charge you additional €20 for this service.
Same office for Europcar and Avis – different rates
In a quite unusual cooperation, the world renowned companies Avis and Europcar share offices in the Azores and in São Miguel Ponta Delgada Airport.
Rates between them and the third car hire partner Ilha Verde can differ and often do.
Ponta Delgada Airport – rental cars available
The standard of the cars in Ponta Delgada Airport – PDL varies.
When looking at the cheapest option for Azores car rental, you may find your rental vehicle to be slightly older than in mainland Portugal, where cars for hire rarely reach the age of 3 years before they are sold on and new vehicles are purchased for the fleet.
In the Azores, however, some of the cheaper cars for rent soldier on for 4-5-6 years and you may find even older vehicles. This is due to the limited scope for doing any kind of high mileage on São Miguel and indeed on the other Azores Islands.
The layout of roads on the island does not inspire to do more than 80 km/t (50 miles per hour) anyway, so going for the cheaper cars may not cause concern. Maybe the only downside to the aging fleet is that you, obviously, very rarely will get the newest models. Nissan Micra seems to be popular as a small rental run-about and so do various versions of Fiat Punto, Fiat Panda and Nissan Note rental cars. Quite unusually for rental fleet, the Honda Jazz seems to be popular too – possibly due to extremely good reliability records for this model. If you book the cheapest rental car in Ponta Delgada Airport, a Kia Picanto, VW Up! or Hyundai i10 may be your vehicle.
For the more expensive mid-size cars and estate cars, usually the standard is higher. The Ford Focus Estate is a good example of a larger rental car in the Azores Island.

Estate car hire at Ponta Delgada Airport - Ford Focus is a relatively big rental car on the Azores. © Photo: Find-cheap-car-hire.co.uk
Flights to Ponta Delgada
The major carrier at Ponta Delgada Airport is SATA, which provides both international connections (to Boston, Frankfurt, London, Paris and Toronto, amongst others) as well as inter-island flights within the Azores archipelago. From the UK, flights to Ponta Delgada are available with the already mentioned SATA (departures from London-Gatwick) and with the low-cost carrier Ryanair (departures from London-Stansted).
The main airport of Azores is well connected to the Portuguese capital. Lisbon-Ponta Delgada flights are operated by TAP Portugal, SATA, Ryanair and Easyjet. The duration of the flight is approx. 2 hours.
São Miguel – what to see
Car rental on São Miguel island gives you an unlimited freedom of exploring the island at your own pace and according to your own interests. Apart from the capital, Ponta Delgada, which is best visited on foot, recommended stops on São Miguel tour are:
Sete Cidades (Seven Cities) lakes
Furnas volcanic complex
Miradouro do Escavaldo / Escavaldo Viepoint
Miradouro Lagoa do Fogo / Fire Lake Viewpoint
Caldeiras da Ribeira Grande thermal water pools
Caldeira Velha Natural Reserve
Arrunda Açores pinapple plantation
Gorreana tea plantation
See map of Sao Miguel tourist attraction (click to enlarge).
Get the taste of the landscapes awaiting you in São Miguel:
---