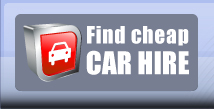 Car hire Paris-Orly Airport - compare rental prices in Paris
Cheap car hire Paris-Orly Airport - Compare prices online
Paris has got 3 major airports. The Paris airports are Paris-Charles de Gaulle (Paris CDG), Paris Beauvais and Paris Orly.
Paris Orly is Paris' second largest airport after Paris-CDG, and the largest domestic airport in France.
Paris-Orly airport (ORY), which used to be France's largest airport, is situated a mere 9.4 miles from Paris city centre, in an area called Orly and in French the airport is called Aéroport de Paris - Orly.

In economy class, a Peugeot 208 is popular amongst Paris Orly car rental deals; often with a new model guarantee.
From Paris you can get to Paris-Orly by following the A6/E15/E50 or the smaller yet more direct carriageway N7.
At Paris-Orly airport you will find a wide range of car hire providers, amongst them Avis, Budget, Europcar, Hertz, Dollar, Sixt, Enterprise Rent A Car, Thrifty, Firefly and Flizzr.
Cheap car hire at Paris airport Orly
Hiring a car from Paris-Orly is cheap. New and reasonably sized vehicles are available for a relatively small amount of money in comparison to other airports situated so close to a major European city.
As an example a Ford Fiesta will often cost from around £130 to hire for one week at Paris-Orly.
It is however unlikely that you will be provided with a Ford when you collect the keys from the counter. The local car hire companies display their French patriotism by purchasing primarily Renault, Peugeot and Citroen to support the countries car industry. As such, if you reserve a Ford Fiesta, you are more than likely to be provided with a Renault Clio, Peugeot 208 or even the new Citroen C3.
The more expensive VW Golf vehicle group (in France more often Renault Megane, Citroen C4 or Peugeot 308 hire car) will usually cost around £150 to hire for one week in Paris.
People Carriers are cheap to hire from Paris-Orly
If you require a more spacious family vehicle a VW Touran sized vehicle (in France more likely to be a Citroen C4 Picasso or Renault Espace) is a good option.
This type of vehicle (MPV – multi purpose vehicle) with space for up to 7 people can be hired at Paris-Orly starting at £260 for a week. It is worth keeping in mind that the 7 person MPV usually has 5 adult seats and 2 seats of a smaller size, not to mention the reduced luggage space when all 7 seats are in use.

Renault Espace, a French 7-seaters, in the fleet of, for example, Sixt and Avis at Paris Orly Airport.
If you require an actual minibus with space for up to 9 people as well as luggage the prices can sometimes start at £339 for a week's hire. A minibus can at times, particularly during the peak of the tourist season, cost considerable more.
Prestige vehicles often expensive to hire in France
Larger vehicles (with large engines) are expensive in France due to the high vehicle tax.
You can sometimes be lucky and find an Audi A4, BMW 3 series and other similar vehicles at around £375 for a week's hire from Paris-Orly airport.
You may however 'risk' being presented with a French prestige vehicle such as the Renault Vel Satis or Peugeot 607, which despite the high comfort level feels a lot heavier and in most customer's eyes somewhat less exclusive.
Remember to check the hire contract (excess on insurance)
Car hire in France is usually straightforward and without pitfalls.
You can however expect the excess on the hire vehicle's insurance for theft and accidental damage to be high in France compared to Spain and Portugal.
You will find the insurance details under the 'price details' section of all hire quotes provided by the Cartrawler search engine.
It is not unusual to see an excess of €1000 or more, even when hiring a small vehicle in France. It is in instances like this where it may be a good idea to consider purchasing an additional insurance, which will eliminate the excess. This can be done online by making you booking via the Cartrawler search engine, usually at a very competitive price.
It is however possible to find a hire car in France where the excess is for example only €500 for accidental damage or theft. Even in cases like this it is a good idea to consider the collision damage waiver as a chipped windscreen, lost keys, pumping incorrect fuel into the fuel tank (expensive), damage to the undercarriage, tyre damage etc. are often not covered by the hire provider's standard accidental insurance.
Even if you chose not to pay for the collision damage waiver it is worth mentioning that all hire vehicles in France are of course fully insured as required by law.
Please note that in France it is often permitted to drive the hire vehicle to other countries. Each country permitted should however be specifically mentioned in the 'rental conditions' section of your hire quote.
Paris Orly Airport – map and basic information
The Orly Airport consists of two terminals: South Terminal (Terminal Sud) and West Terminal (Terminal Ouest).
See the general map of Paris-Orly Airport.
Major European carriers, as well as some of the low-costs are housed in Terminal West, amongst them Air France, British Airways, Alitalia, Iberia and Easyjet.
The South Terminal is used mainly by regional, low-cost and charter airlines, such as for example: Air Caraibes, Pegasus Airlines, Norwegian, Transavia and TUI.
Orly Airport offers convenient connection to Paris rapid transit system RER. The automated shuttle Orlyval links the terminals with the RER B train line, via Antony train station.
Other transportation alternatives include Tramway T7 line which connects to Paris metro Line 7, a dedicated shuttle service and a variety of public buses.
Low price flights to Paris Orly
The choice of airlines operating routes to Paris Orly changes frequently. In mid-2017 direct flights from the UK to Orly were available from the Spanish low-cost carrier Vueling, with departures from Birmingham and Cardiff, as well as from British Airways linking Orly to Heathrow.
Hire vehicle Paris-Orly Airport
---