Paris Airport car hire - rent a car at Paris Charles de Gaulle Airport in France
Compare prices of car hire at Paris Charles de Gaulle Airport
Paris Charles de Gaulle Airport - CDG is the main airport of France and the second largest airport in Europe, after London-Heathrow.
The airport is named after General Charles André Joseph Marie de Gaulle, who led the French forces during the World War II and later became president of France (1959-1969). Due to the airport's location, approx. 16 miles northeast of Paris city centre, near Roissy-en-France, it is also commonly referred to as Roissy Airport.
See map of France (roadmap) in high resolution.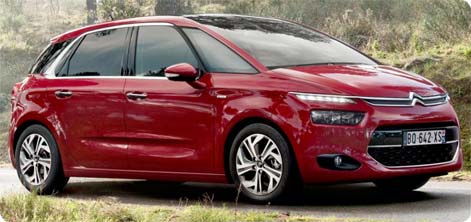 Citroen C4 Picasso MPV - popular family car to rent in Paris-CDG airport.
Paris CDG Airport (Roissy Airport) – airlines
Charles de Gaulle Airport is the main base for the French flag carrier, Air France, offering a vast selection European and intercontinental routes.
Amongst other major CDG Airport carriers are:
Delta Airlines (USA routes to Paris)
Easyjet (low-cost routes within Europe)
XL Airways France (intercontinental flights to USA, South America and Africa)
UK flights to Paris – CDG, Orly and Beauvais airports
From the UK, flights to Paris CDG Airport are available with Air France, British Airways, Easyjet, Flybe, Jet2 and Vueling.
The French capital is also served by Orly Airport and a low-cost Beauvais-Tillé Airport, the latter situated in a considerable distance from
Find cheap car hire in Paris Orly Airport
See location map of Paris Charles de Gaulle and Paris-Orly airports.
Best car rental deals Paris Beauvais Airport
Paris Air Show in Le Bourget
The French capital is served by one more airport: Paris Le Bourget – LBG receiving only private aircraft traffic (business jets). This Paris airport is known to wider public mostly due to the Paris Le Bourget Air Show held every two years, in June.
Paris Charles de Gaulle car hire companies - great selection of car rental providers
Passengers arriving at the main Paris Airport will have opportunity to rent a car from a number of car hire companies, amongst them Avis Rent A Car, Budget Car Hire, Enterprise Rent A Car, Hertz, Europcar, National/Citer, Sixt, Firefly Car Rental and TT Car Transit.
Car hire desks are distributed between Terminals 1 and 2 of CDG Airport.
Cheap rental car from Paris Airport (CDG) - an electric car Mitsubishi MIEV
Paris Airport CDG terminal guide
Paris Charles de Gaulle Airport occupies a very vast area, spreading across three different departments, namely: Seine-et-Marne, Seine-Saint-Denise and Val d'Oise.
The airport is divided into three main terminals (see general map of Paris CDG Airport terminals):
Terminal 1
Terminal 1 is a multi-level, circular structure surrounded by seven satellites, where the gates are located. In the central area, apart from check-in desks and baggage belts and customs, passengers will find a variety of shops and restaurants. The CDGVAL shuttle allows access from Terminal 1 to others terminals of the airport and, furthermore, a connection to TGV and RER train stations located in Terminal 2.
Terminal 2
Terminal 2 of the main Paris Airport consists of seven halls: 2A, 2B, 2C, 2D, 2E, 2F connected to each other, and a separate 2G hall. It is possible to transfer between the first six halls on foot, via designated passageways. Hall 2G can only be accessed by provided airport bus.
In the central section of Terminal 2, between the halls 2C/2D and 2E/2F, there are train station of TGV and RER rail systems.
See general map of Terminal 2 CDG.
Terminal 3
The single-hall Terminal 3, dedicated to low-cost and charter airlines, is located near the building of Terminal 1 and can be accessed via CDGVAL light rail (stops approx. 300 meters from the terminal) or by a walkway.
Drive from CDG Airport to Paris city centre - Paris Airport car hire
Charles de Gaulle Airport is situated approximately 16 miles northeast of the city centre.
If you are hiring a car at Paris CDG, do not be discouraged by a confusing, at the first glance, map of road access from the airport to the city centre. Charles de Gaulle Airport (Paris-Roissy) is located near a major motorway Autoroute 1 (also known in France as Autoroute du Nord) which connects to Paris Ring Round - Boulevard Peripherique. See map of Paris ring road.
Depending on which part of Paris you are heading to, you may choose to leave A1 and take A3 motorway in direction to Montreuil, which will take you to southeastern part of the city.
The best thing to do is to decide which rout is the most convenient for you before driving off the airport and than follow closely the signposting.
See map of road links between Paris Charles de Gaulle and A1 motorway.
View detailed map and road network between CDG Airport and Paris city centre (click to enlarge).
Autoroute 1 is one of the busiest motorways in France; do expect heavy traffic when driving out of CDG Airport during the peak hours. Depending on the traffic conditions, it may take between 30-60 minutes to get to Paris city centre from the airport.
If you head north of CDG Airport, the A1 will take you to Lille. The distance to cover is approx. 120 miles.
Transportation from Paris Charles de Gaulle to Disneyland
A large part of all the passengers landing at Paris Charles de Gaulle Airport (Paris-Roissy) is heading to Disneyland Resort Paris, also known as Euro Disney.
There is a variety of means of transportations between CDG and Disneyland available, including shuttle busses, rail and taxis.
VEA/Magical Shuttle bus
The red VEA busses, which recently changed name to 'Magical', offer a regular shuttle service between Paris airports and Disneyland, running 7 days a week. The trip takes approximately 45-60 minutes, depending on the traffic conditions, and costs from around 16 euros. For the lowest rates on CDG-Disneyland transfers book your trip online, well ahead on VEA website.
Disneyland by TGV from Paris Airport
A popular way of travelling from Paris CGD to Disneyland is the high-speed TGV link available from Terminal 2.
Although the trip itself is quick, indeed, taking approx. 12 minutes, getting on the train might be a bit of a hassle. If your flight to Paris CDG is not landing at the Terminal 2, you will first need to find your way to it, taking the CDGVAL monorail. When travelling with small children and luggage, changing the train twice, after a sometimes tiresome flight, is hardly an ideal solution.
Please be aware that at the peak times, tickets for TGV train at the airport may not be available at the station: make your arrival to Disneyland Paris a more relaxed experience by booking the TGV tickets from CDG Airport in advance. When booking the trip as early as 90 days ahead, you are likely to benefit from considerable discounts. TGV fares vary, starting from 17.5 euros for second class tickets.
See user's experence of travelling by train from CDG Airport to Disney Paris:
Get off the TGV train at Marnee laVallé - Chessy and look for transfer busses to your Disneyland hotel.
You can also travel from CGD Airport to Disney Paris Resort by a normal speed train, RER. This trip, however, require changing trains at Châtelet Les Halles, takes around 80 minutes in total and is not much cheaper than a TGV train.
Euro Disney transport - private shuttle or rental car
Several private shuttle companies offer dedicated transfers to Disneyland from Roissy Airport. The prices are rather steep, starting from around 60 euros per person one way, but can sometimes be negotiated when more than 3 people are travelling.
The shuttle vans are usually comfortable, equipped with proper child and booster seats and, frequently, with video screens keeping the children entertained during the approximately one hour trip.
Paris Charles de Gaulle Airport car hire - compare prices with Cartrawler
Compare prices and find cheap car hire at Paris-CDG Airport
Frequently, the most competitive prices of Paris Airport car hire can be found online, through internet search engines, such as Cartrawler.
Outside the peak season, in early October, for example, Cartrawler offers of a one week rental from CDG Airport are often available from around £100. For this price you will be offered a small city car, a Peugeot 107, or similar, which is just enough to transfer from the airport to your Disneyland hotel and to travel to Paris city centre for sightseeing. For comparison, a one way taxi trip from Paris-Roissy to Disneyland will frequently cost you just about the same.
For more comfort of travelling and more luggage capacity, a wide choice of vehicles is available in Paris airports car hire fleet, including economy, compact and MPV cars to transport up to 7 people.
Minivan and minibus car hire Paris Charles de Gaulle Airport
The cheapest minivans to rent from Paris CDG can often be found on Cartrawler from around £230 for a week car hire of a VW Touran (5+2), or for approximately £280-300 in case of a full size MPV 7-seater, such as Ford Galaxy, VW Sharan, or similar.
For larger groups of travellers, the offers of minibuses to rent in Paris - such as, for example, a Mercedes Vito Traveliner, or similar with capacity for up to 9 people - are frequently available on Cartrawler at rather competitive prices, approx. £310-330 for a week of Paris car hire.
Large French diesel station wagon Citroen C5 Tourer - often inexpensive to rent in Paris.
Read also Driving in France in a hired car - facts about French car hire.
---
---