Nuremberg Airport rent-a-car Germany - a guide to Nürnberg Airport Car Rentals
Nuremberg Airport - NUE is the second major airport of Bavaria in southeastern Germany (after Munich Airport) and the 10th busiest airport on the national scale.
Compare prices of car hire at Nuremberg Airport in Germany
Officially known as Albrecht Dürer Airport Nürnberg, in honour of the famous painter and printmaker born in Nuremberg, the airport serves approximately 4.1 million passengers per year on a variety of domestic and international routes.

VW Passat Estate, often available at competitive rates to rent at Nuremberg Airport.
Arriving passengers at Nuremberg Airport have at their disposal a large choice of rent-a-car services allowing them to continue their journey comfortably and, often, at modest costs in a hire car.
Nuremberg - business location in Germany
Nuremberg, or Nürnberg in German,is the second largest city of the German state of Bavaria, after Munich, and the major city of the administrative region of Middle Franconia (Mittelfranken, in German).
Nuremberg, is also an important economic and service centre of Northern Bavaria.
Headquarters of several internationally recognized brands, such as Bosch, Siemens, Puma or Adidas are located in Nuremberg area, taking advantage of the well developed motorway and railway networks. When it comes to international air freight , Nuremberg Airport is one of the most important cargo hubs in Germany, with two large cargo facilities, known as Cargo Centre Nuremberg (CNN) and Cargo Centre Nuremberg II (CNN II)
A planned Business Centre of the Nuremberg Airport will be a state of the art events and conferences centre to serve the needs of the increasing business travelers to Nuremberg.
Car hire companies at Nuremberg Airport - Nürnberg Flughafen Autovermietung
At Nuremberg Airport car hire is available from some of the largest rent-a-car providers, amongst them Budget Car Hire, Europcar, Alamo, Sixt Mietwagen, Thrifty, Enterprise Rent a Car and Avis Rent A Car. The cheapest Nuremberg Airport rental cars are usually available from the low-cost rent-a-car providers, such as Keddy, Interrent and Flizzr.
Upon arrival at Nuremberg Airport look for signs pointing to Autovermietung - 'car hire' in German. Mietwagen stands for 'hire car'.
Although rental cars at Nuremberg Airport are usually readily available at the desk, you can save yourself a lot of stress and avoid overly inflated prices by booking in advance. While contacting each of the car hire companies directly is time consuming, internet search engine, such as Cartrawler, allow you to get price quotes from all the major car hire suppliers at the airport.
Nuremberg Airport rent-a-car - compare prices online with Cartrawler
Usually, the prices of the cheapest rental cars at Nuremberg Airport start from around £150 for a week car hire of a smallest city car, such as a Ford Ka, VW Up or similar.
In order to travel in Bavaria in a larger and more comfortable vehicle, use Cartrawler to compare prices within the whole range of car hire classes. Often you will find out that there is only a small price difference between the cheapest cars and the economy class cars, such as a Renault Clio, Ford Fiesta or similar.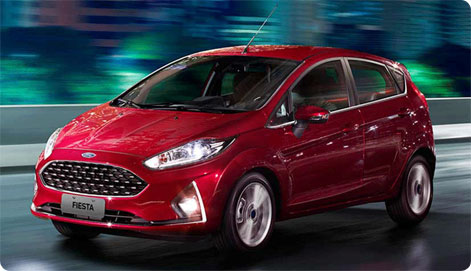 Ford Fiesta – the newest model of Ford's economy class car provides plenty of comfort or a moderate price.
Even the ever so popular VW Golf, in the fleet of every car rental company in Nuremberg Airport, is frequently available to rent at prices below £200 for a week.
Mercedes car hire Nuremberg Airport
The German made Mercedes seems to be very popular in the car hire fleet at Nuremberg Airport.
On Cartrawler you will find the whole range of reasonably priced Mercedes models to hire, starting from the Mercedes A Class (Automatic) from the standard/intermediate class, from approx. £190 for a week, through fullsize Mercedes C Class at around £ 230 for a week, to Mercedes E Class Automatic from luxury/premium segment of hire cars. For the latter, expect to pay from approx. £ 500 for a 7 days car hire from Nuremberg Airport.

Mercedes E Class to rent in Nuremberg Airport, often with the guarantee of the new model.
Also in the class of large people carriers (van/minivan class), you are very likely to be offered a Mercedes, being the most popular models Mercedes Vito Traveliner and Mercedes Viano 8-seater.
Drive from Nuremberg Airport to the city centre - Nuremberg Airport distances
Nuremberg city is easily accessible from the airport via A3 motorway connecting to A9 and A73 motorways.
See map of major motorways around Nuremberg (the airport is marked as Flughafen).
If you are heading to the strict city centre of Nuremberg, the shortest way, however, leads through Flughafenstrasse - Marienbergstrasse - Bayreutherstrasse streets. In normal traffic conditions it usually takes between 15-20 minutes to drive from Nuremberg Airport to the city.
If you are planning to drive from Nuremberg Airport to other cities in Germany, see below the approximate road distances:
distance from Nuremberg to Munich: 170 km / 106 miles
(approx. 1h 45 min by car)
distance from Nuremberg to Stuttgart: 210 km / 130 miles
(approx. 2h 10 min by car)
distance from Nuremberg to Frankfurt: 223 km / 140 miles
(approx. 2h 15 min by car)
distance from Nuremberg to Wurzburg: 108 km / 67 miles
(approx. 1h 15 min by car)
distance from Nuremberg to Berlin: 440 km / 275 miles
(approx. 4 hours by car)
The distance from Nuremberg to Prague, in the Czech Republic is approx. 300 km / 187 miles. However, when travelling outside of Germany in a Nuremberg Airport hire car, always check beforehand what is the applicable cross-border travel policy of your car hire offer.
See road map of Germany (click to enlarge).
Nuremberg - cultural attractions
Nuremberg is not only a destination for business travelers. Tourists in Nuremberg will find plenty of cultural attractions, including historic monuments, dating back to the era of Roman Empire.
Many of the historic landmarks of the city are related to science, especially astronomy flourishing in Nuremberg in the past, as well as to printing which revolutionized Europe in the XV century. The fine arts were also important in Nuremberg's past, as they continue in the present.
When visiting Nuremberg, do not miss out on: the National Museum (Germanisches Nationalmuseum), Nuremberg Toy Museum (Spielzeugmuseum), Nuremberg Castle (Kaiserburg Nurnberg), Albrecht Durer House and Modern Art Museum (Neues Museum Nurnberg), amongst other cultural attractions of the city.
In modern history Nuremberg is remembered as the site for the trials of the Holocaust World War II crimes, the so called Nuremberg Trial. Visit the Nuremberg Palace of Justice (Justizpalast) and Nuremeberg Nazi Party Rally Ground.
UK flights to Nuremberg
Flights from the UK to Nuremberg Airport (NUE) are availalable from the low-cost carrier Ryanair with departures from London-Stansted as well as Manchester and, seasonally, from British Airways, departing from London-Gatwick.
---
---