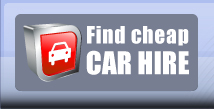 Marseille Airport car hire – visit Provence in a rental car
Cartrawler France - Compare car hire companies in Marseille Airport
Marseille Provence Airport -MRS is the second busiest airport of Provence-Alpes-Cote d'Azure region in southern France.
The airport is located in approx. 16 miles distance northwest of Marseille in Marignane, for which it is frequently referred to as Marseille-Marignane Airport.
A new, modern terminal for low-cost aviation and a wide selection of airlines and destinations, make Marseille Airport particularly interesting for tourists on holiday in the South of France. With a Marseille Airport hire car some of the best ski resorts of the Alps, as well as the iconic sea side resorts of Côte d'Azure, such as Cannes or St. Tropez, are at an easy reach.
Terminals at Marseille Airport
There are two terminals at Marseille Provence Airport. The main Terminal 1, comprising halls 1, 3 and 4 serves the regular airlines on international and domestic routes. All Air France flights at Marseille Airport arrive at and depart from Terminal 1.
The second, more recent terminal of Marseille Airport, known as MP2 is destined exclusively for budget airlines.
Marseille Airport – low-cost flights from the UK
Cheap flights from the UK to Marseille Airport (MP2) are available with two low-cost carriers, Easyjet and Ryanair.
Ryanair operates flights to Marseille from London-Stansted, East Midlands and Edinburgh. Easyjet budget flights depart from London-Gatwick and Bristol.
Alternatively, slightly more expensive flights to Marseille-Marignane are available from British Airways, with departures from London-Heathrow.
Marseille Airport is a regional hub for Air France. The French flag carrier offers a selection of destinations worldwide a number of domestic flights to Marseille Airport, from cities as Bordeaux, Biarritz, Lille, Nantes, Paris-Charles de Gaules, Paris-Orly and Nantes.
Car hire Marseille Airport – compare prices
Car hire is a popular solution for travelling in southern France. The roads are very good and the landscapes along the way stunning, varying between the endless blue of the Mediterranean coast and the green and white of the Alps.
The prices of car hire in Provence, however can be quite steep, especially along the glamorous Côte d'Azure. It is always best to shop around and compare rates for car hire from different providers before booking your southern France hire car.
With Cartrawler, an internet search engine of car hire offers, in a single search you can access the current car rental offer at the destination of your choice, including Marseille Airport. In many cases, rental cars booked online are cheaper, than the ones offered directly at the desk of car hire agencies.
At Marseille Airport, car hire is available from a large number of rent a car companies: Hertz, Budget, Avis Rent a Car, Sixt, Europcar, Advantage Rent a Car and National/Citer – Enterprise Rent a Car, amongst others.
Marseille Airport car rental stations are located on the ground floor of the car park area.
Driving in Marseille – main tourist attractions
Marseille is a city filled to the brim with tourist attractions, ranging from historic monuments, through cultural and sports events, such as the famous Marseille opera, or Marseille sailing races, to the some of the best French gastronomy.
Although the road access to and from Marseille Airport is very good - it only takes around 30 minutes drive to get from Marignane to Marseille - traffic within the strict city centre gets much slower. Marseille is struggling with a heavy congestion problem and frequently the visitors to the city opt for switching to public transportation, for Marseille sightseeing.
Provence in a rental car – driving distances from Marseille
Take advantage of the well developed road network in Provence to visit the most iconic sites of southern France.
See map of motorways in Provence-Alpes-Cote d'Azure region.
Find below the approximate road distances between Marseille Marignane Airport and some of the interesting cities in Provence:
Distance from Marseille Provence Airport to Aix-en-Provence: 16 miles/26 km
Distance from Marseille Provence Airport to Salon-de-Provence: 23 miles/37 km
Distance from Marseille Provence Airport to Toulon: 53 miles/86 km
Distance from Marseille Provence Airport to Avignon: 56 miles/90 km
Distance from Marseille Provence Airport to Cannes: 105 miles/170 km
Distance from Marseille Provence Airport to Nimes: 66 miles/107 km
Distance from Marseille Provence Airport to Nice: 121 miles/195 km
Marseille Provence European Capital of Culture 2013
In 2013, there is one more reason to visit Marseille. Together with Kosice in Slovakia, Marseille Provence is holding the title of the European Capital of Culture 2013.
Over 400 events of all sorts are scheduled to take place in Marseille and 80 other Provençal towns and cities throughout the year, amongst them spectacles, concerts, exhibitions, street parades, wine and food tasting.
Marseille Airport, along with the large Nice Côte d'Azure Airport and the smaller Montpellier, Nimes and Toulon airports will be receiving a great part of the visitors to the cultural events in Provence in 2013.
Find cheap car hire in Nice Côte d'Azure Airport
Find cheap car rental in Marseille Airport
---