Malmo Airport car rental – compare Sweden rent-a-car deals
Malmö Airport - MMX is the fifth busiest international airport of Sweden. It is located in Svedala municipality, 17 miles east of Malmo. Another large city in the airport's catchment area is Ystad, in approximately 22 mile distance.
Sturup Airport (Sturups Flygplats in Swedish) is the former name of Malmo Airport, still in use in Sweden.
Get quotes for Malmo Airport car hire online

A large Volvo V70 family car - often cheap to rent in Malmö Airport.
Airlines and destinations at Malmo Airport
Malmo-Sturup Airport is very well connected on domestic routes, offering services to Stockholm-Bromma, Stockholm-Arlanda, Borlange and Orebro.
On international routes, Malmo Airport is very well served of flights to Central Europe. Its main carrier, Wizzair, provides routes to Belgrade, Bucharest, Budapest, Debrecen, Gdansk, Katowice, Poznan, Skopje, Sofia and Warsaw-Chopin, amongst others.
Norwegian Air Shuttle, SAS and Malmo Aviation are other carriers with significant presence at Malmo Airport.
Malmo Airport - close to Copenhagen
Due to its relative proximity to the Danish capital, Malmo Airport can also be, and often is, used for travelling to Copenhagen. Only about 37 miles separate the airport from Copenhagen city centre. The crossing over the sea done by the Oresund Bridge is a tourist attraction by itself:
Since car hire in Sweden is often cheaper than in Denmark, travelling via Malmo Airport may often be a more budget-friendly solution, especially if you managed to combine cheap flights with competitive car rental deals. Most Malmo Airport car hire deals allow cross-border to Denmark and other Scandinavian countries.
Car rental companies Malmo Airport
At Malmo Sturup Airport rent-a-car services are offered by international brands, such as Avis, Budget, Europcar, Hertz, Sixt, as well as by the Swedish car rental company Mabi.
Internet search engines, such as Cartrawler are often the simplest way to compare offers from many suppliers before booking. Apart from competitive prices, often lower than rates quoted directly by the car rental companies, Cartrawler provides possibility to compare also rental conditions (mileage and fuel policy, insurance conditions, excess amount, driver's age, etc..).
Distances from Malmo Airport
If you are planning to travel in a Malmo Airport rental car, you may find useful the road distances below:
Malmo Airport distance to Lund: 27 km / 17 mi
Malmo Airport to Copenhagen: 59 km / 37 mi
Malmo Airport to Ystad: 37 km / 23 mi
Malmo-Sturup Airport to Tomelilla: 50 km / 31 mi
Distance from Malmo Airport to Trelleborg: 29 km / 18 mi
Premium car rental Malmo Airport
The cheapest car rental deals at Malmo Airport are hardly ever available below £140-150 for a week. For this price you can usually find only small city cars (often 3-door), such as Toyota Aygo or Ford Ka.
On the other side of the scale however, premium car rental in Malmo is often surprisingly affordable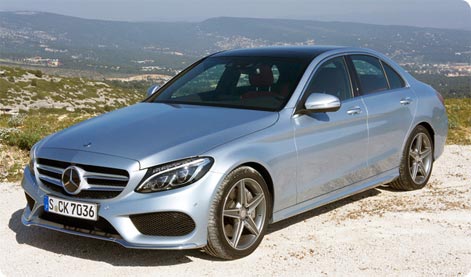 Mercedes C-Class - comfort and elegance at an affordable rate amongst Malmo Airport rent a car deals
Luxury makes - Audi (A4) or Mercedes (C-Class, E-Class) can be rented in Malmo-Sturup Airport from around £250 for a week, also in the estate version.
About Malmo
Malmo is the major city in Scania, the southernmost province of Sweden and the third largest city in the whole country. Thanks to the construction of the Oresund Bridge, which connected the region to Denmark, Malmo strengthened its position of an important industrial and academic centre of Sweden. Eight of Sweden's largest higher education facilities are located in Malmo, amongst them Malmo University, Malmo Art Academy and the Faculty of Medicine. Nearly half of Malmo's population of 318,000 inhabitants is under the age of 35.
---
---