Ibiza Airport car hire comparison - find the best rates in Ibiza car rental
Compare prices of Ibiza Airport car hire with Cartrawler Spain
Ibiza is the third largest island of the Spanish Balearic Islands. Although perceived mostly as a party destination for young people, Ibiza has quite a versatile tourist offer. Over 24 miles of sandy beaches and great weather ally here with historic heritage and unique natural beauty. In order to enjoy Ibiza's diversity, take advantage of the competitive car rental deals available at Ibiza Airport to travel on the island at your own pace.
Ibiza Airport - IBZ is the main gateway to both Ibiza and the nearby island of Formentera.
See map of Ibiza and Formentera.
The airport, locally known as Aeroport d'Eivissa is located approx. 4 miles south west of Ibiza Town, the island's capital.
5-door Ford Fiesta - a popular hire car in Ibiza Airport.
Ibiza Airport car hire providers
Major international rent a car brands, as well as local car hire providers operate at Ibiza Airport.
When searching for Ibiza Airport renal cars on Cartrawler, you are likely to find offers from: Avis Rent A Car, Europcar, Bravo Rent A Car, Budget Car Hire Spain, Atesa, Goldcar, Interrent, Centauro, Hiper Rent A Car.
While car rental desks on many car hire companies are located conveniently at the airport, is sometimes worth to consider renting from an off-site provider. The minor inconvenience of having to transfers to the rental location on a shuttle bus is often compensated by more competitive prices.
See Cartrawler's offer description for pick-up location details.
The cheapest car rentals Ibiza Airport - book well in advance
Waiting too long before booking car hire in such a busy tourist destination as Ibiza is never a good idea is you are planning to visit the island in the busiest months of July and August.
Apart from the limited availability of rental models and classes, you will most likely encounter rather steep prices, in high season rarely ever below £230-250 for a week car hire of a small city car from Ibiza Airport. When booking outside the peak season, prices for a 7-days rental of the smallest cars in Ibiza can be easily halved.
The most frequently offered models within the cheapest rental class at Ibiza Airport are: Fiat 500, Citroen C1, Hyundai i10, Ford Ka, VW Up and Fiat Panda.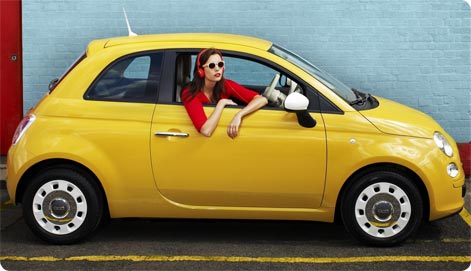 "Where is the party?" - Fiat 500 is one of the cheapest hire cars in Ibiza.
Car hire Ibiza - young driver's fee
Ibiza, the favourite destination for young holidaymakers sets the driver's age limits for car hire quite high, usually at 25 years of age.
If you are in your early twenties, you will still be able to rent a car in Ibiza; however an additional charge – the young driver's fee – will apply. Please check in 'Rental conditions' of each offer displayed on Cartrawler what are the age limits and extra charges for young drivers in different car hire companies in Ibiza Airport.
Ibiza nightlife and music festivals
Often referred to as "the clubbing capital of the world", Ibiza is known for its extravagant nightlife and lively music scene.
Ibiza offers an incredible choice of nightclubs, discos and bars, being Il Divino, Pacha, Amnesia Ibiza, Privilege and Space are some of the most iconic nightlife venues on the island.
Although Ibiza is traditionally associated with electronic music, hosting many world famous events, amongst them Ibiza 123 Festival, other musical genres also thrive on the island. Held since 2005, the Ibiza Rocks Festival has brought whole new audience to Ibiza. The Eivissa Jazz Festival featuring local and international musicians is a real treat for jazz music fans.
Ibiza sightseeing
Although a large part of Ibiza's tourist offer is directed to younger, party-seeking public, it is worth to know that there are also notable natural attractions and historic monuments in Ibiza.
Several areas of Ibiza have been declared a UNESCO World Heritage Site in the category 'Biodiversity and Culture'. Those include:
archaeological sites of Sa Caleta and Puig des Molins
fortifications of Ibiza Town's Vila Alta (Upper Town)
Ibiza's Posidonia sea grass colonies and their ecosystem.
Much like other Balearic Islands, Ibiza is blessed with a raw natural beauty, still well preserved outside of the busiest tourist centres. If you happen to rent a car while in Ibiza, take time (and maybe advice from the locals) to drive along the ragged coast to explore the unique rock formations, hidden coves and caves. Cova de Can Marça near Puerto de San Miguel or Es Vedra, the island rock located off the coast of Cala D'Hort beach in south-western Ibiza are some of the island's most notable landmarks. Also, do not miss out on a trip to the nearby Formentera, where you can enjoy many excellent, unspoiled beaches. Aferry crossing to Formentera is available from Ibiza port.
UK flights to Ibiza
Ibiza is connected to a very large number of domestic and European airports. A large majority of all flights to Ibiza are scheduled for the summer season.
Direct flights from the UK to Ibiza are available from many different airlines, amongst them: British Airways, Easyjet, Jet2, Monarch, Norwegian, Ryanair and the charter carriers, Thomson Airways and Thomas Cook Airlines.
---
---