Faro Airport – cheap car hire Algarve
This article is about Faro Airport car rental on the Algarve coast.

See current car hire rates in Faro Airport

Faro Airport - FAO is the third largest airport in Portugal after Lisbon Airport.
It is situated on the central Algarve coastline approximately 3 km west of Faro city and is the main gateway for millions of tourists visiting Southern Portugal.
Cheap Faro Airport car hire - Drive On Holidays offers the Nissan Qashqai SUV.
Car rental rates in Portugal have seen a steady decline over the last few years. The rental car prices have declined so much that a compact SUV like the Nissan Qashqai is now possible to rent for about the same as used to be the cheaper rates for a Ford Fiesta, Citroen C3, Renault Clio, VW Polo or Opel/Vauxhall Corsa.
Rental car companies in Faro Airport
You are spoiled for choice of rental car companies in Faro Airport. The number of operators, large, medium sized and small is rather staggering.
The below list is, by no means, exhaustive, but covers the well know car hire companies and a few of the smaller ones.
Faro Airport - car rental centre / pavilion on the parking.
All large branded car hire companies are present in Faro Airport. Most have a low cost brand or two as well, and some even own brands that they do not tend to admit. Example: Europcar is the proud owner of Goldcar, Rhodium and Interrent – the three most likely companies to receive complaints from customers.
Some have offices in the terminal and others operate from the pavilion very close to the terminal. Some even operate out of a minivan on the parking. A few companies operate by meet & greet service. A selection of the total of 30-40 Faro Airport car renters are listed below.
List of car rental companies in Faro Airport:
Air Rent / Air Auto Car rental – small local company
Alamo – part of Enterprise Group, quite often cheap rental cars, recommended
Auto Rent – small company
Best Deal Algarve Car Hire – rather unknown company
Bravacar – small company in business for many years, recommended
Budget – part of Avis Group, normally cheaper cars than at Avis
Cael – well established Portuguese company
Centauro – large Spanish owned outfit, recommended, keen rates, can be very cheap
Discovery – very small Faro rental car company
Dollar – owned by Hertz Group, usually cheap car hire
Drive On Holidays – excellent nationwide company, recommended
Enterprise - large US-owned car hire company
Europcar - also Keddy By Europcar, which tends to be cheaper
Firefly – Hertz owned low cost brand, not the best of customer reviews, avoid
Flizzr - Sixt low cost brand, can be cheap, but watch T&C's closely
Guerin – Portuguese company bought by the Enterprise Group
Goldcar - bad service, lots of complaints, avoid at all costs (cars are cheap)
Hertz + Hertz Dream Collection
Interrent – warning: part of Goldcar now. We would avoid!
Masterkings - small company with VW Polo XX link XX and VW Golf in the fleet
Payless – cheap car rental from low cost version of Budget/Avis
Rent A Star - Mercedes and Smart cars only, cheap rates on luxury/premium cars
Rhodium – part of Goldcar – avoid at all cost! – lots of complaints
Sixt - good cars, in high end range in particular, not cheap
Surprice – low cost car rental, watch out for extra fees – it might not be so cheap
Thrifty - good offers for Faro Airport car rental, reliable company owned by Hertz
Turisprime – recommended Portuguese company bought by Sixt
Yes – franchise based, read T&C's carefully!, sometimes very cheap
Out of the above, Masterkings, Surprice, Bravacar, Discovery, Rent A Star and Yes Car Rental use meet and greet service.
Meet & Greet cars are delivered personally to customers in the airport, which in high season may be the quickest way of receiving the keys to your Faro rental car. When handing back the keys, coordination with the rental representative is obviously needed, but some companies use a drop-box making things much easier, but also slightly more riskier with respect to damage sheet check-in – see link below.

Cheap hire cars i Faro - FAO
Car rental in Faro Airport can be extremely cheap to rent compared to hiring a car in other airports in the southern parts of the Iberian Peninsula.
A small economy car like the Ford Fiesta or VW Polo can be yours at very cheap daily rental rates, even in July-August – if booking takes place well in advance. Outside peak season, the list prices for renting one of the abundance of smaller cars in Faro Airport have no lower limits. Do, however, remember that fee's for additional driver, child seat, cross border travel etc. tend to run up.
The cheapest rental car in Faro Airport will, frequently, be a Toyota Aygo or Fiat 500 microcar / city car. We recommend booking a slightly larger vehicle as the savings on small cars are very slim with off season bookings.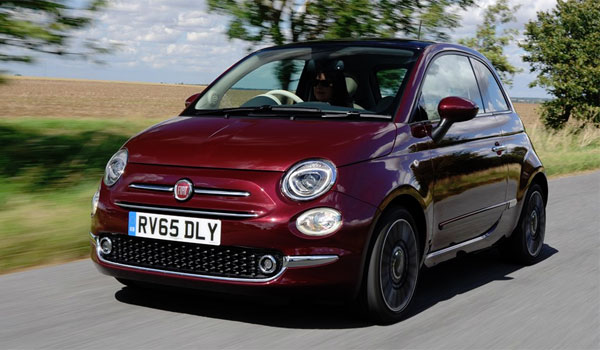 Fiat 500 – cheapest car in Faro Airport but not the best of deals. ​
Fuel administration fees in Faro Airport – what kind of of fuel policy?
Fortunately, less car rental companies are trying to charge an additional fee for fuel administration; the exceptions (May-19) being Goldcar, which will still charge a fee. In case of Goldcar, the fee is €28 for a smaller car. This fee cannot be avoided and ads considerably to the price of renting with Goldcar
Other companies try their luck with stating that the car must be returned with as much fuel as it was picked up with – or the customer must pay a fee. In this way, many customers will fill the car with more fuel to be on the safe side – directly into the pockets of the car rental company.
The best policy for the customer is always full/full. In this way, there is no 'beating around the bush' cheating customers with fanciful fuel policies as everybody know how to fill up a car at the gas station.
Charge for mileage/charge per kilometre - Faro Airport car hire
In this very competitive market, companies will do everything to earn money. New ways of squeezing profit out of customers are tried with various degrees of success.
In summer-19, the low cost company Flizzr is charging for kilometres exceeding 80 km per day. An 80 km per day allocation of free kilometres may be enough for many customers, whilst others will get caught out not having read their terms & conditions before booking.
Charges like this come and go. Some company might try the same 'trick' next month and Flizzr might end charging for kilometres soon. Conclusion: always pay attention to the terms and conditions before booking. Look under 'Important' in the list of offers, where all the information can be found.
Get your list of cheap car hire offers in Faro Airport

Security deposits for car rental – large deposits on small cars in Faro
Each and every car renter will demand a deposit to cover the excess before being able to release rental cars to customers. The security deposit takes the form of a blocked amount on the customer credit card.
In Faro Airport in Algarve, the security deposit has taken enormously inflated proportions, even for simple run-of-the mill economy cars and compact cars.
In summer-19, a smaller car will demand €2000 in deposit when booking at Flizzr, €1845 at Goldcar, €1599 at Surprice car rental. Car rental advice Faro Airport: Our recommendation: Chose Centauro and be charged only €1150 security deposit for a smaller car.
Turisprime demands a very reasonable €370 blocked on the customer credit card on a car with €1550 excess. Also recommended is Drive On Holidays, which will block €880 as security deposit for a smaller car.
Crazy demands for security deposits can be found in the slightly larger compact size of rental car – the Golf-class. A selection for summer-19 bookings for VW Golf, Ford Focus, Renault Megane or similar:
Surprice: €2450 – totally unreasonable, do not book a Golf and get a bad Surprice
Centauro: €1150 – reasonable, recommended car hire in Faro Airport
Drive On Holidays: €1500
Firefly: €2460 - crazy – avoid Firefly in Portugal, if you are renting a Golf
Dollar: €2460 – crazy – we cannot recommend Dollar rental of a VW Golf
Discovery: €1150 - acceptable
Rent A Star: €2200 for the A-Class Mercedes – better deals elsewhere!
Bravacar: €2000
Goldcar: €1600 - okay, but Goldcar has a very bad reputation XX link XX and additional 'hidden' fuel administration fee.
We cannot find any logic in the above security deposits, which more often than not will reflect the excess of the insurance of the car. The figures only prove that car rental companies are desperate for profit. This is how it works:
WARNING - The unreasonably high security deposits serve the following purposes:
1) Some companies are looking to charge for small damages and scratches. It becomes easier to bill the customer a high amount for a small damage if the security deposit is a large one. Based on the number of complaints, we would not trust Goldcar, Rhodium and Interrent. Sometimes, the listed rental rates offered by these companies are so low that customers are tempted anyway – and sometimes there will be, indeed, no trouble with the rental, but beware.

2) Lots of customers will have insufficient funds to draw or block €2500 or even €2000 on their credit card. In this case, the car rental company is ready and will offer an additional insurance (quite expensive) in order to let the customer rent the car at all. This procedure is a Goldcar special – now copied by a lot of other companies.
Please also see our guide to avoiding expensive car rental bills:
How to check your rental car – the damage sheet is of outmost importance.

Cross border travel – fee for travelling to Spain from the Algarve
It used to be for free, but many companies now charge cross border travel fee for crossing the border to Spain. Flizzr takes the prize for the highest cross border charge at €75. Drive On Holidays charges €37.
At Keddy By Europcar all cross border driving/travel to Spain is for free (sommer-19). Cross border fee's change all the time, so we urge customers to check before booking if your travel plans include a trip to Spain.
We urge to check cross border T&C's before booking as companies are known to change conditions if they see an opening for profit.

Price fluctuation when hiring a car in Portugal - in particular Faro Airport rentals
Any notion of a list price or fixed price has gone with the wind.
The Rental car companies in Faro Airport operate pretty much as low cost airlines giving away some rental cars almost for free and charging a lot for customers booking late or booking when incoming bookings look particularly strong.
In some high season weeks of particular good tourism years in the Algarve, the cheapest cars for rent can cost from 150 to 250 euro per week, where as in other weeks, prices fall to less than 20 euros per week.

From the customer point of view, it pays off to look for good offers and book as soon as possible. As opposed to flight tickets, with car rental you can cancel up to 24/48 hours before pickup and book another car; possibly at a cheaper rate. Late bookings, however, very rarely pay off.
Ford Fiesta new model – larger and better as is the new model VW Polo.

Very cheap Faro Airport car rental rates outside peak season
Should you want to experience the Algarve Coast as a holiday destination from October to March, you are in for a treat when you book your rental car.
We have seen rock bottom base car hire rates down to 10-15 euro per week. 30 euro per week is not unusual even for a Golf size car or maybe, if lucky, a SUV. Autumn and spring will, normally, be slightly more expensive.
Fiat Tipo Estate - good deal as estate rental / golf-rental car.

The VW Golf class of rental cars will frequently be the Golf mk 7 or one of the following: Seat Leon, Renault Megane, Peugeot 308, Ford Focus, Citroen C4 or Opel Astra.
SUV are the new trend with small crossovers like Renault Captur, Opel Crossland and Peugeot 2008 being offered for rent for Ford Fiesta rates.
In the estate car rental class, the Fiat Tipo is a popular choice – as it is a very cheap car to buy in Southern Europe. You do not get much luxury in the Tipe Estate, but the car has a lot of luggage space and looks good despite being cheap.
Please note that rental car companies are allowed to hand customers any brand in the car class booked unless the offer specifically says 'car model guaranteed'.
Minibuses for rent in Faro Airport can cost from under 250 euro per week if they are very cheap. Be sure always to book your minibus rental in Portugal well in advance as prices skyrocket when few minibuses are available.
Citroen C4 Space Tourer – minibus alternative MPV/minivan with 7 seats.

Save money by booking a minivan with 7 seats. The minibus rental in Faro Airport for 8 or 9 people may be considerably more expensive. The 7-seaters, however, do have very limited luggage space with all seats in use.
Official tourism link: Visit Algarve in Portugal.
Plenty of flights to Faro Airport
Main gateway airport into Southern Portugal offers a wide range of connections to the UK and Northern Europe.
Low cost airlines include Easyjet, Transavia, Wizz Air, Ryanair, Norwegian, Vueling, Jet2 and Eurowings.
---
---