Compare Newcastle Airport car hire deals on Cartrawler UK
Get quotes for Newcastle Airport car hire online
Newcastle Airport car rental can be made cheap when booking online, with the help of an online search engine, Cartrawler UK. Partnering with many major and local rent-a-car providers, Cartrawler allows to compare rates and rental conditions from a large number of car rental companies through one simple search and to carry an online booking after you have chosen an offer which best suits your needs.

Hyundai i20 is a popular hire car in economy class, available in the fleet of Interrent, Avis and other car rental companies at Newcastle Airport
When searching for car hire from Newcastle Airport on Cartrawler you will be presented offers from both on-site companies, such as, Avis Rent A Car, Alamo, Europcar, Keddy, Enterprise, Budget, Firefly, Interrent and form the off-site providers, for example Easirent.
About Newcastle Airport
Newcastle International Airport – NCL is located approx. 6 miles north-west of Newcastle upon Tyne, in North East England. The Greater Tyneside and Wearside (see map) are the primarily catchment area of the Newcastle Airport.
With the rapid growth registered in the last decade, triggered largely by leisure tourism, the airport is amongst the ten busiest airports of the UK, serving approx. 4.5 million passengers per year. Amongst the largest airlines operating at Newcastle Airport are the low-cost carriers Easyjet and Jet2, as well as the charter operators Thomas Cook Airlines and Thomson Airways. In late 2015, Ryanair will also start operating at Newcastle Airport, initially offering only a route to Alicante in southern Spain.
Alicante and Palma de Mallorca, as well as Amsterdam are the busiest international routes from Newcastle. As for the domestic flights, London Heathrow, Belfast International and Bristol are amongst the most popular.
Getting to and from Newcastle Airport
Newcastle Airport can be easily reached by road: two major roads, the dual carriageway A696 and the A1 motorway are in the airport's vicinity – see map.
The airport offers a variety of public transportation solutions for arriving and departing passengers, amongst them the direct access to metro line to Newcastle, train (linked to the North East rail network), buses (to Newcastle city centre, Kingston Park, Hexham, amongst others) and airport taxi service.
Newcastle Airport is connected to several North East cycleways and passengers who do not carry heavy luggage can travel to and from the airport by bike, as a dedicated free cycle parking is available for eco-friendly travellers.
If you opt for car hire from Newcastle Airport or are using your own vehicle, the average travel times between the airport and the destination within an easy reach are:
Newcastle Airport to city centre: 15 min
Newcastle Airport to Edinburgh, York, Leeds: 2 hours
Newcastle Airport to Glasgow or Manchester: 3 hours
Newcastle Airport to Durham: 45 minutes
Newcastle Airport to Darlington: 1 hour
Newcastle Airport car hire deals – cheap in all rental classes
The cheapest rental cars at Newcastle Airport – the small city cars, such as Fiat 500, Chevrolet Spark, Hyundai i10 or similar - are usually available from around £80 for a week. The fairly small difference to superior classes, economy and compact, however, often makes it a better deal to rent a considerably larger car. The offers of compact cars, Ford Focus or Hyundai i30 to rent at Newcastle Airport form around £100 for a week are not unusual. Use the quick and efficient internet search engines of car hire to help you find the best quality/price ratio before booking the car in Newcastle.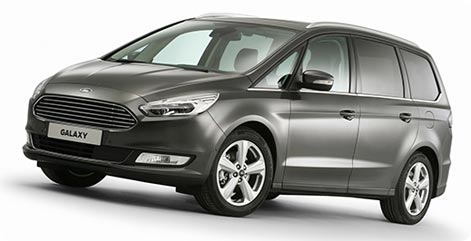 Cheap minivans to rent at Newcastle Airport, as the Ford Galaxy above are available from for example Alamo or Enterprise Rent A Car.
The fleet of rental cars at Newcastle Airport is varied and competitive offers can be found in all classes. Whenever travelling in a larger group consider renting a minivan or a minibus rather than two standard cars; the cheapest minivans are often prices at around £250 for a week.
---
---