Cheap car hire Warsaw Airport - WAW
The international Chopin Airport in Warsaw – WAW is the main airport of Poland.
Find current offers: cheap car hire Warsaw Airport
Book your trouble free cheap rental car in Warsaw Airport by following the advice below.
Customers can benefit from the very cheap car hire Warsaw Airport rates that are available throughout the year.
Best deal on renting a fairly large car - often a Skoda Octavia Estate in WAW.

List of rental car suppliers in Warsaw Airport (RAC's in WAW)
The choice of rental car suppliers in Warszawa-Chopin airport has increased tremendously over the last few years.
All major car rental companies are situated a very short walk from the arrival hall. Turn right to find the offices of the following:
Avis Rent-A-Car - formerly by far the largest car hire company in Poland
Budget - part of Avis-Budget Group (office with Avis)
Car Free - keen prices for hire cars from newcomer
Enterprise - large US outfit with sub-brands Alamo & National
Europcar
Hertz Rent-A-Car - amongst the oldest car hire companies in Poland
Panek - large Polish rent-a-car supplier
Sixt
Your Rent - very competitive rates
See list of the cheapest (and often smallest) car rental providers below.
The VW Polo rental vehicle always with 5 doors.
Car rental price competition in Warsaw Airport is fierce and customers no longer have to accept inflated rental rates from the main international rent-a-car companies.
Everybody in the car hire Warsaw Airport business has to be competitive which has resulted in a much better standard of cars as well as extremely good deals to be had on a frequent basis.
Part of the mezzanine level of the low cost (Wizz Air) checkin area is dedicated to smaller rent-a-car companies.
Car rental list - recent newcomers and smaller car rental companies in Warsaw Airport, usually with keen pricing:
Car-Net - doing lots of business
Carsson
Fox Car Rental - US low cost (very cheapish) car hire company
Global Car Rental Warszawa - franchise based
Green Motion - where they charge extra (and a lot) if you do not wash your rental car yourself, keen rates though and newish vehicles
MM Cars Rental
Rentis - long time in Warsaw Airport, lots of reliable Toyota fleet cars
Right Cars - irregularities with customer deposits have been a problem in some countries with this franchise
SurPrice Car Rental - suprisingly low rates, but do check cross border driving additional fee's
Van Service & Fleet
MWM Cars no longer exists.
For customers who are fine with a meet & greet service, a handfull of hire car Warsaw Airport companies still offer to meet you, do the paperwork, charge any remaining balance, charge/block security deposit on your credit card and give you the key to your rental vehicle.
Cheap SUV: The Suzuki X-Cross SUV is well-priced 4x4 vehicle - available at Express & Hertz.
In the past, before the major renovation of Warszawa Airport, many car rental companies operated on a meet & greet basis. After completion of the new terminal and extention of office space, less do so. Please note that it is a must to be able to communicate in English (or Polish) by phone to coordinate the rental of cars from meet & greet companies.
The procedure is pretty straight forward. You meet with a company representative, do the paperwork, charge your credit card for any outstanding payment and security deposit and are handed over the key tot he rental car. When returning the car, frequently, you will have to arrange a meeting with the representative once again.
The meet & greet service suppliers of car hire Warsaw Airport include:
Autocash - up to 3 year old vehicles
GT Cars
Kaizenrent
Rentacardirect
99Rent - affiliated with Enterprise
Check current rates for car hire Warsaw Airport - WAW
Facts about Warsaw AIrport - WAW
Warsaw's airport is internationally known as Fryderyk Chopin Airport, or simply F. Chopin Airport, in honor of Poland's greatest composer.
The Poles, however, are likely to use the name Okecie, or Okęcie (Polish spelling) given after the part of the city where Warsaw Airport is located. You can also find Warsaw Airport referred to as Lotnisko Chopina w Warszawie in Polish. The airport area is situated within the Włochy-Warszawa district, which directly translated means 'Italy-Warsaw'.
The Polish capital is a high economic growth area.
Poland, a country of rich, diverse culture and dynamic economics attracts a great number of visitors every year: tourists, as well as business people. Warsaw-Chopin Airport handles around 40% of the total air traffic in Poland.
A new airport in the greater Warsaw area is planned. The Warsaw-Modlin airport has not been a success as only Ryanair wants to fly to this rather remote location.
Cheap Warsaw car rental from Car Free in the airport.
Cheap car rental at Okecie Airport in Warsaw
It is a convenient and often inexpensive solution to rent a car while on holiday or when doing business in Poland.
Warsaw, with its wide main communication arteries, clear, regular layout of the city and many parking areas is very easy to drive in.
See roadmap of central Warsaw.
Green Motion offers some of the cheapest cars in Warsaw Airport - but do not expect any Volkswagen vehicles (pictured: Kia Rio).
The prices for cheap car hire Warsaw Airport start from below PLN 200 per week (below EUR 50 / below 45 GBP). Not only is this extremely cheap. Cars also, generally, come with unlimited free mileage, full insurance and even at the low rates, customers might get a VW Polo or even VW Golf sized vehicle.
At the cheapest companies, i.e. Green Motion, however, you will never see a Volkswagen. A Kia or Hyundai car is much more likely to be the cheapest rental car in Warsaw Airport from any price comparison, as low cost rental suppliers in 9 out of 10 cases will use the 'or similar' wording to avoid spending on buying VW Polo or VW Golf for the the fleet.
Polish car hire from Warsaw Airport - language and translation
Car hire is "wynajem samochodów" in Polish and a rent-a-car company: "wypożyczalnia samochodów".
The car hire desks at Warsaw Airport can be found in the area that used to be the older part of Terminal A arrivals hall. Turn right when you enter the main arrival hall from luggage collection.
Cheap car hire Warsaw Airport - best offers at Warszawa-Chopin (Okecie)
The cheapest rental car at Warsaw-Chopin Airport are found by booking in advance.
Renting a Fiat 500, Skoda CitiGo, Hyundai i10, Citroen C1 or similar 'citycar' vehicle may be the cheapest option, but the difference in price for upgrading to a slightly larger economy or compact class car is, usually, small.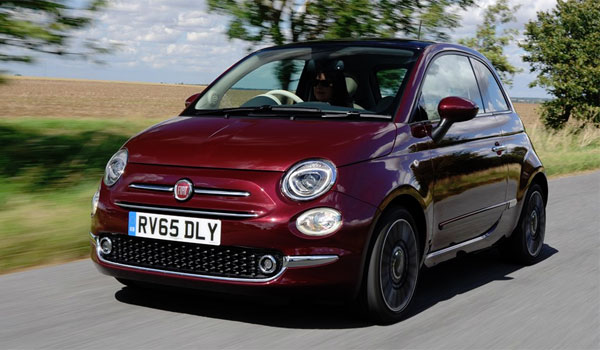 Manufactured in Southern Poland - the 'Italian' Fiat 500.
The smallest of vehicles can carry up to 4 people and 1-2 pieces of luggage. Most customers will be better off with a slightly larger vehicle, which is heavier, more comfortable and safer on the road. As a city run-about, nothing beats the Fiat 500 in terms of easy parking.
For longer trips, the majority of car hire customers opt for larger cars. Due to cheap car hire Warsaw Airport rates, the Ford Mondeo, VW Passat, Kia Optima, Opel Insignia and Renault Talisman are popular cars. Prices can be as low as PLN 500 / EUR 130 / GBP 110 per week.
Nissan Qashqai SUV rental from Green Motion - customers washing the cars to save EUR 16 / PLN 50 fee.
The VW Golf rental class of cars are very popular. Rentis is one of the companies with VW Golf in the fleet. Most others will supply Hyundai i30, Opel Astra, Ford Focus, Renault Megane, Citroen C4 or similar. Prices are about the same or, frequently, only slightly lower than the larger Ford Mondeo/VW Passat type cars. The larger cars are better equipped; in fact quite luxuriously equipped. Avis got a good deal on Renault Talisman for the fleet and Kaizenrent has the new Kia Optima.
All car rental companies and, in particular, the cheaper ones like Green Motion Warsaw Airport, which frequently offers the cheapest rental car, will try to sell up the customer on various 'extra's'. In the case of Green Motion and 99Rent, even car wash is extra - and the customer will be charged if the car is dirty at checkin/handing back the vehicle.
Another 'invention' is that it may be written in the Polish car hire rental conditions, that the car has to be returned with as much fuel as was in it when taking delivery. Important: This is also a Green Motion feature, but staff at the Green Motion office do properly inform customers, so the deal is fair - and Green Motion car hire rates very low.
SUV vehicles are increasingly popular and affordable. Hyundai Tuscon (Car Free), Suzuki S-Cross (Hertz & Express), Nissan Qashqai (Green Motion) and Toyota RAV4 (Kaizenrent) are popular vehicles.
Free milage is included in, virtually, every car rental deal in Poland. If booking an expensive and/or exotic vehicle, a charge for mileage may apply. Good advice is always to check for any mileage charge before booking.
Minibus or large MPV in Poland - 9 seater rentals from Warsaw Airport
When travelling in a group, consider renting a more spacious vehicle.
The cheapest 7-seater, as Volkswagen Touran, Opel Zafira or similar, can be found in Warsaw at cheap rates. However, using the two foldable seats in this type of a car (making us eof all seats in a 5+2 seater) always will take up most of the luggage space.
Full size 7-seaters are available as Ford S-Max/Galaxy, Renault Espace and VW Sharan/ Seat Alhambra. Minibus rental with 9 seats in WAW, however, is often cheaper than the expensive 7-seater luxury cars. All minibusses (up to 9 people including driver) can be driven with a normal valid drivers licence category B (standard passenger car drivers license).
The VW Sharan is a full size 7-seater MPV - more luxurious alternative to a 9-seater minibus.
9 seater vehicles are available in the form of Mercedes Vito, VW Caravelle, Renault Traffic or similar. Rates for 8 or 9 seater minibus rental are quite cheap except when conferences or similar take place in the Polish capital. Our advice: Book your 9 seater minibus rental in Warsaw Airport well in advance to obtain the cheapest rate.
Car rental insurance in Poland
All hire cars are fully insured. You can drive the vehicle without taking out any extra insurance.
The excess on a rental vehicle in Poland is usually between EUR 400 / GBP 350 and EUR 1100 / GBP 1000. For more expensive vehicles the excess can be higher.
Additional insurance is an earning potential for the car rental companies, so you are always asked to take out (sometimes rather expensive) excess insurance at the car rental counter. Please see our advice as to when it makes sense to take out additional car hire insurance.
The often busy Car-Net office at WAW.
On Find-Cheap-Car-Hire.co.uk, we offer optional AXA excess insurance is offered at booking. It is a cheaper excess insurance and usually with better coverage than the excess insurance offered at the counter.
Regulation for winter-tyres - driving in winter in Poland
Road conditions in Poland can require winter tyres.
So far, no regulations have been introduced, but all rental companies will equip cars with wintertyres when conditions require winter tyres at no extra charge.
Salt is used in Warszawa, but even so, roads will be covered in ice, sleet and sometimes snow when winter arrives; particularly in the months of December, January and February.
Premilum SUV rental - the Warsaw SUV of choice at winter-time: Volvo XC60.
Cross border travel in Polish rent-a-cars
You may find it useful that most cars for hire in Poland are permitted to cross borders to Czech Republic, Germany, Hungary, Slovenia, Lithuania and most other Western and Central European countries.
Please check the Cartrawler offer under 'Important information' to see if cross border travel from Poland to a particular country is permitted. You may even find that cross border travel to Ukraine and Russia is permitted in some hire cars in Poland.
For cross border travel in a rental car to Ukraine, Russia and Belarus, the political situation is important. The more 'freeezy' relations, the less good will from insurance companies to deal with possibly costly accidents and court cases on foreign turf; in particular to the east of Poland. As per the start of 2019, cross border driving in a rental car to Ukraine, Belarus and Russia is almost not possible.
Rental VW Golf from Rentis in Warsaw Airport.
Low cost car renters will, frequently, charge for cross border travel to other countries, but it is possible to find companies with free of charge cross border crossing.
Chopin Airport – easy reach from Warsaw city centre
Warsaw Airport is situated 10 km south west from Warsaw city centre and can be easily accessed by car, public transportation, hotel shuttle buses or taxi.
It takes approximately 20-30 minutes and a £9-14 / €10-15 worth regular taxi ride to reach Warszawa Okecie Airport from Warsaw's city centre. The Warsaw Airport main road to the centre of the Polish capital is the dual carriageway 634.
Getting from the airport to the city is easy too. The old era relict, suspiciously looking private taxi entrepreneurs fishing insistently for clients at arrivals terminal and practicing very unclear pricing rules are long gone. Taxis from regular companies with clearly marked fare prices (that is all taxis in the airport) wait in front of arrival terminal day and night. You even have airport staff guiding customers to each taxi so the 'mafia' situation from the past is eliminated.
Warsaw - a metropolis worth visiting
Once you're in Warsaw, take time to explore the city´s rich cultural offer and get to know historical sites.
Take a stroll at the streets of the charming Old Town, fully restored after having been destroyed during the World War II, see the exquisite art collection at the Royal Castle or feed the squirrels and take a gondola ride at the lake in Lazienki Park, an unique example of classicist architecture and landscaping in the very heart of the capital city of Warsaw. See map of central Warsaw.
See travellers' experience video on Warsaw sightseeing experience:

Related article: Weather in Warsaw during the year.
If you are interested in modern history, do not miss out on the Warsaw Rising Museum, probably the finest Warsaw museum, dedicated to a tragic and largely unknown chapter of World War II. The loved and hated Palace of Culture, the perfect example of communist monumental architecture, surrounded by modern skyscrapers and glass surfaced office centres is a symbol of the city's eclectic character and will give you an idea of the changes Poland has undergone. Children of all ages will enjoy Copernicus Science Centre during their visit in Warsaw. As an addition to this hands-on, interactive experience in the world of science, see Copernicus Sky Planetarium.
Minibus rental in Warsaw Airport - VW Transporter 9-seater.
Okecie Airport – central location within Poland and Europe
Warsaw's central location within Poland makes it very convenient to travel to other major Polish cities after arriving at Okecie Airport.
The most sought national destinations are: Wrocław (340 km distance from Warsaw), Gdańsk (330 km from Warsaw) and Kraków (300 km distance from Warsaw). Poznan is well know for its trade fairs and cultural life (320 km distance from Warsaw).
Use Warsaw Airport and its cheap low cost flights as a base for your exploring of what Poland has to offer. See map of Poland. Fryderyk Chopin Airport is by far Poland's largest airport.
Low cost flights to Warsaw main airport
Best avoid travelling with Ryanair to Warsaw. Most Ryanair flights end up 'in the country-side' at Modlin Airport which is a hassle to get to and from.
Cheap and fairly large estate rental car at WAW - Toyota Auris pictures next to construction of the new Warsaw Airport.
Plenty of other options are available. Low cost carriers Wizz Air have a large number of routes to WAW-Chopin. You will also find Easyjet, Norwegian, LOT and other airlines offering cost effective air transport to Warsaw - without ending up in Modlin!
There have been serious changes in the layout of Warsaw-Okecie Airport in recent years. The old terminal has been developed and merged into a very modern and spacious 3 storey structure. The initial names of different phases of modernization works - Terminal 1 and Terminal 2, were replaced by the current name, Terminal A, announcing future expansion of the Warsaw Airport.
The Terminal A serves arrivals, as well as departures. The car hire companies in the new Warsaw Airport are still located in the same place as they were in the old airport building from 1992.
---
---