Car hire Tel Aviv Ben Gurion Airport - cheap car rentals with Cartrawler Israel
Find cheap car hire in Tel Aviv Airport with Cartrawler Israel
Tel Aviv Ben Gurion Airport - TLV is the main airport of Israel and one of two airports serving Tel Aviv.
See Ben Gurion Airport location map.
The airport is named after Ben Gurion, the founder and the first prime minister of Israel.
In Hebrew, Tel Aviv Ben Gurion Airport is often referred to as Natbag, which is an acronym from 'international airport'.
Israel by car – distances from Tel Aviv Airport
Tel Aviv Airport is an excellent base for exploring the rest of Israel.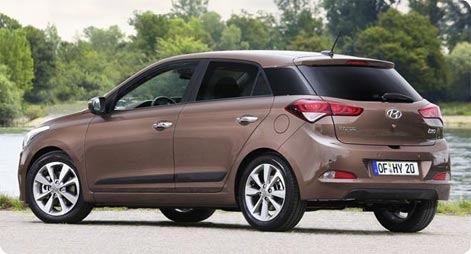 Hyundai i20 - a cheap hire car in Tel Aviv Europcar fleet.
Travellers, who opt for car hire from Tel Avivi Ben Gurion Airport, will find it easy to travel to a variety of fascinating locations in Israel. It takes less than an hour to drive from Tel Aviv to Jerusalem; other places of interest are at an easy reach from Tel Aviv, too:
distance from Tel Aviv to Nazarth: 62 miles / 99 km (1h 15 min by car)
distance from Tel Aviv to Haifa: 55 miles / 88 km (1h by car)
distance from Tel Aviv to Jerusalem: 45 miles / 72 km (50 min by car)
distance from Tel Aviv to Sea of Galilee: 84 miles / 134 km (1h 25 min by car)
distance from Tel Aviv to Eilat: 215 miles / 345 km (3h 30 min by car)
See map of Israel.
Tel Aviv Ben Gurion Airport is located approx. 12 miles south-east of the city centre. The secondary airport of Tel Aviv, Sde Dov Airport which serves primarily domestic flights, is located on the northern limits of the Tel Aviv-Jaffa metropolis.
Car hire Tel Aviv Airport
At Tel Aviv Ben Gurion Airport car hire is available from on- and off-site rent-a-car companies.
Car rental desks are located in Terminal 3, on the first floor of the Greeters' Hall. There you will find the counter of Avis Rent A Car, Budget, Dollar Thrifty, Eldan, Europcar, Hertz Car Hire Israel and Shlomo Sixt.
Other car rental companies which don't have offices at the airport, as for example Cal Auto, provide services at Tel Aviv Ben Gurion on 'meet &greet basis'.
Tel Aviv Airport car rental rate comparison – Cartrawler Israel
It usually pays off to compare prices of Tel Aviv Airport hire cars from many providers before booking.
Tel Aviv is not the cheapest place to rent a car and you will rarely ever find any offer below £100 for a week of Ben Gurion Airport car hire. For this prices usually only the smallest city cars, for example a Suzuki Alto, a Hyundai i10, Nissan Micra, Fiat Panda (or similar) are available.
If you are looking to travel in more comfort, do consider renting a larger vehicle from the economy class – in Tel Aviv often a Ford Fiesta, a Hyundai i20, a Chevrolet Aveo or similar – as there usually will be only a small price difference when compared to the cheapest rental cars in Israel.
Internet search engines of car hire, such as Cartrawler, display offers from all the major car hire companies at the destination of your choice, including TLV airport. The prices available online are often more competitive than when hiring directly at the counter of a car hire company. Also, extras are sometimes included in the rate quoted by the search engine. In Tel Aviv Airport car hire it can be, for example the option of a free additional driver.
Minivan rental Tel Aviv
A wide choice of minivans is available to rent at Tel Aviv Ben Gurion Airport.
Within the minvan category you will find small MPV, of the 5+2 type, amongst them Opel Zafira, Mazda 5 or Mitsubishi Grandis with capacity for 7 people and a limited amount of luggage with full passenger occupancy.
Opel Zafira (5+2) – a popular hire minivan in Tel Aviv Airport.
Much more spacious are full-size 7-seaters, such as Ford Galaxy, or similar, which allow for up to 7 people to travel comfortably having still a reasonable baggage space.
Usually, the prices of the cheapest hire minivans at Tel Aviv Airport start at around £300 for a 7-days rental period.
Tel Aviv Airport terminals
Ben Gurion Airport is known for its very developed security system implemented on all levels, starting from the taxis or private vehicles bringing travellers to departures terminal.
In spite of very thorough and repeated security checks, the main Israeli airport rates very high in passenger satisfaction rankings.
Ben Gurion Airport has two operational terminals: Terminal 1 and 3.
Terminal 3 TLV
Inaugurated in 2004, the large and modern Terminal 3 is Israel's main international gateway. With capacity to receive 10 million passengers per year, the Terminal 3 is very spacious, offering a vast choice of passenger services, amongst them a small shopping centre, known as Buy & Bye.
There are three concourses at TLV Terminal 3, named B, C and D, comprising the total of 30 gates. The planned addition of two new concourses is expected to increase the airports capacity to 16 million passengers per year.
Terminal 1 TLV - Easyjet
The original main terminal of Tel Aviv Airport, the Terminal 1 handles nowadays domestic flights, seasonal charters and some low-cost flights to Tel Aviv. Easyjet, as well as Vueling budget carriers operate at TLV Terminal 1.
The terminals of Tel Aviv Airport are connected by shuttle busses.
Tel Aviv-Jaffa – the city which never sleeps
Tel Aviv attracts tourists, business people and diplomats.
Although Israel's largest city and capital is in Jerusalem, Tel Aviv is considered the country's financial centre. Due to the ongoing conflict with Palestine and the fact that United Nations do not recognise Jerusalem as the official capital of Israel, many embassies are located in Tel Aviv and so are headquarters of international companies in Israel.
The history of Tel Aviv dates back to the early 11th century when a town was founded on the outskirts of Jaffa port city. Shortly after the founding of Israeli Independent State in 1948 and due to the rapid development, Tel Aviv and Jaffa merged forming one municipality, locally referred to as Tel Aviv-Yafo.
The city build on sand dunes, unviable for agriculture, developed over the year within areas as business, education, science and culture. Nowadays, Tel Aviv has the second highest per capita income in the Middle East (after Dubai) and a dynamic economy, characterised by the culture of 24/7 service (meaning permanent availability of commercial and some public services).
Tel Aviv's university, research institutes and cultural scene are thriving. And so is the city's night life: Tel Aviv is often referred to as 'the city which never sleeps'.
Tel Aviv's modernist neighbourhood known as White City is inscribed on the list of UNESCO World Heritage sites and in the old centre of Jaffa tourists will have a chance to visit plentiful historic monuments.
Clean, white sanded beaches stretching along the coast add to Tel Aviv's versatility as a city break destination.
Tel Aviv weather
Tel Aviv enjoys Mediterranean climate with hot, dry summers and temperatures reaching 30 degrees Celsius.
Beach season in Tel Aviv lasts since April till October, but a mild winter temperatures, rarely ever dropping below 15 degrees Celsius, make Tel Aviv-Jaffa a year-round destination.
Find more information about Tel Aviv climate.
UK flights to Tel Aviv
Ben Gurion Airport is a hub for Israeli flag carrier El Al and for two other airlines, Israir and Arkia Israel Airlines.
The network of flights available to and from Ben Gurion Airport covers major airports in Europe, Middle East and Asia.
Flights from the UK to Tel Aviv are available from British Airways and El Al airlines (departures from London-Heathrow and Luton), as well as from the low-cost carrier, Easyjet (departures from London and Manchester).
---
---