Car hire Norway – Offers on car hire Stavanger Sola Airport
Cartrawler Norway - find cheap car hire in Stavanger Airport
Measured on passenger traffic, Stavanger Sola Airport is Norways third largest. Stavanger Sola Airport is located in the county of Rogaland in southern Norway. In Norwegian county is called fylke and Stavanger is Rogaland Fylke largest city
One of Norway's wealthiest cities, Stavanger, is well known for its oil industry and is sometimes even referred to as "Norway's Petroleum Capital ". Oil giant Statoil's headquarters are located in Stavanger in the suburb of Forus (only some 3 miles away from the airport), which is also known as one of the financial centres in Norway

Hyundai i10 - amongst the cheapest hire cars in Stavanger Airport
Stavanger is also a popular leisure tourism destination and a perfect base for hiking, trekking and mountain climbing. In the summer time holidaymakers flock to the sandy Solastranden beach and in the winter to the Stokkavannet lake which freezes becoming a giant ice skating rink. A mandatory stop for visitors to Stavanger is the Preikestolen rock shelf and a vantage point, allowing breath taking views over the fiords.
In Stavanger the visitors benefit from a great number of gourmet restaurants taking the size of the city into consideration. Also the culturl offer of Stavenger is impressive; together with Liverpool, Stavanger was European Capital of culture in year 2008.
Stavanger Sola Airport – SVG is a civilian airport sharing some of its facilities with the Norwegian air force as well as the coastguard.
Car hire Norway – Not cheap in Stavanger either
In Stavanger Airport hire cars are available from Avis-Rent-A-Car, Sixt, Hertz, Europcar, Budget Bilutleie and Enterprise Rent A Car.
As with many other car hire locations in Norway competition between hire car companies is only modest. Therefore car hire rates in Stavanger are generally higher than in most of Europe regardless of which car hire company you go to.
However, in most cases there will be great savings booking hire cars in Stavanger in advance on the internet. If the car hasn't been pre-booked upon arrival in the airport in, the price for walk-in customers at the hire car desk is almost guaranteed to be substantially higher.
Stavanger Car Hire in Sola Airport
As in most places in Norway, car hire doesn't come cheap in Stavanger either.
The smallest hire car, typically a Hyundai i10 or Peugeot 108, is rarely priced below £190-200 for one week car hire in Norway.
Though in most cases it's possible to rent the slightly bigger VW Polo, Opel Corsa or similar for only a marginally higher price. If travelling with more than 1 passenger with luggage the upgrade is certainly worth considering as boot luggage space in the mini class barely accommodates for a trolley.
In some cases there will be promotional offers available where a Golf or similar will be available at almost the same price. In the compact class in Norway most car hire companies will provide a Fors Focus or Opel (Vauxhall) Astra.
Comparing car hire prices across the board, some of the best value in Stavanger would probably be in the small prestige hire cars. Often smaller AUDI, BMW and Mercedes-Benz are available from less than £450 a week.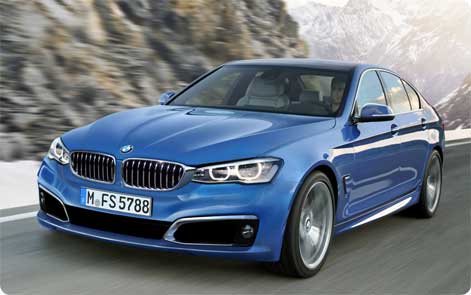 BMW 5 Series - premium class car hire at Stavanger Airport
PLEASE NOTE: Capped mileage on Norwegian hire cars
It is important to note that occasionally there are mileage limitations in car hire in Norway and oher other Scandinavian countries.
When searching for car rental on Cartrawler search engine, it is possible to check if there is a daily mileage cap on a particular offer. If the mileage is capped the norm is 250 km (155 miles) per day, and hereafter each km is charged at a rate of approximately £0.4-£0.5 per kilometre. In Cartrawler please refer to "Rate details" or "Rental conditions" for mileage policy.
Bus to Stavanger from the Airport
If a hire car isn't a requirement, taking the Flybussen bus from the airport to Stavanger is a solution. The bus takes approximately 30 to arrive to the city centre (the terminal stop at the ferry port) minutes and cost approximately £10 for a one way ticket. Child tickets are half price. The Flybussen service is avaialble al week round. Find more informaton on: www.flybussen.no/stavanger.
A much cheaper alternative is a municipal bus, line 9, at the price of around £3. This bus, however, runs only on the weekdays.
Fly to the Stavanger from the UK
Stavanger Airport Sola is connected to London-Gatwick and Manchester, being the service offered by Norwegian, as well as to London-Heathrow, via Scandinavian Airlines.
---