Car hire Pico Airport - Azores car rental deals on Cartrawler
Compare Pico Airport car hire offers on Cartrawler Portugal
Pico is the second largest island of the Portuguese archipelago of the Azores on the Atlantic Ocean.
The island, often referred to as 'Black Island' due to its black volcanic soil is great to be visited by car: the beautiful landscapes, dominated by the volcano Pico and extensive vineyards, provide unique settings for a road trip.
The main road of the island, the ER1 circles the island, while the EN2 connects the south and north coasts, passing through the interior of the island. See map of Pico, Azores.
The first stop for the vast majority of tourists visiting Pico is the island's airport. Given the location, the great choice of car hire suppliers and competitive rates, Pico Airport (PIX) is, probably, also the best place to rent-a-car on the island.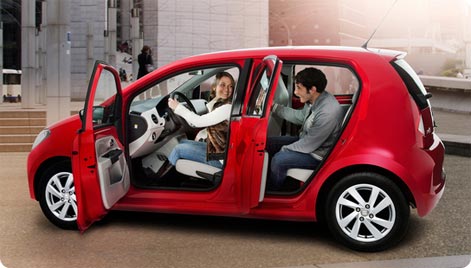 VW Up – one of the cheapest hire cars avaialble at Pico Airport (mini class)
Pico Airport is located on the northern coast of the island, in the council of Bandeiras, in approximately 5 miles distance from the village of Madalena.
The best deals on Azores car hire - book online
Much like on the other larges islands of the Azores, the prices of car hire services can be surprisingly high, especially compared to the level of prices in mainland Portugal.
In order to find the best deals on Pico car rental, we strongly recommend that you compare offers from several providers, before booking. With the help of internet search engines, such as Cartrawler, the little extra time spent on analysing offers from different suppliers is most likely to pay off. Additionally, the car hire rates available online are usually quite more competitive, compared to prices quoted directly by the car rental agents.
Pico car hire companies
Amongst Pico car rental companies - partners of Cartrawler are both international brands, such as Avis, Europcar and Hertz and local suppliers, for example, Ilha Verde.
All of the above mentioned rent-a-car companies provide services at Pico Airport.
The range of hire cars at Pico Airport
With the help of Cartrawler, you will be able to find the best deals in a wide range of rental vehicles, from the smallest (and cheapest) city cars, through the very popular economy and compact classes, to people carriers - MPVs (7-seaters) and minibuses (with capacity for up to 9 people).

Renault Trafic - rental minibus in Pico Airport; in the fleet of Ilha Verde Rent A Car
Flights to Pico
SATA is the only carrier operating at Pico Airport. Flights to Pico are available from Lisbon, as well as from other islands of the Azores - Ponta Delgada and Terceira.
Pico Airport is also an alternative airport for the neighbouring island of Horta: in case of adverse weather conditions, SATA's and TAP's flights to Horta are diverted to Pico.
---
---