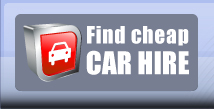 Car hire Lihue Airport Kauai - find the best car rental deals in Hawaii
Enhance you Hawaii holiday experience by renting a car at Lihue Airport on Kauai Island. With your own means of transportation you will be able to explore the island independently and at your own pace. In order to benefit from the most competitive rates on Lihue Airport car hire, compare offers from many car rental providers. For your convenience, and also for the best rates, use internet search engine of car hire, Cartrawler.
Lihue Airport car rental – compare prices with Cartrawler Hawaii

Cheap car to rent in Hawaii - try Chevrolet Sonic (same as Chevrolet Aveo)
Lihue Airport – LIH is the primary airport of Kauai Island in Hawaii. The name 'Kauai Airport' is often used interchangeably with 'Lihue Airport'.
The airport is located on Kauai's eastern coast, in about a mile distance from the island's capital, Lihue, and close to several attractions of Kauai: Puakea Golf Course, Kalepa Mountain Forest reserve and Kauai Lagoons Resort.
Kauai as a tourist destination:
Car rental companies in Lihue/Kauai Airport
Car hire is a popular solution in Kauai and many major car rental companies are represented at Lihue Airport, the major gateway to the island. Amongst the major car rental providers at Lihue Airport are: Avis Rent A Car, Advantage, Alamo, Budget, Dollar, Enterprise Rent A Car, Hertz and National Car Hire Hawaii.
Desks of Lihue Airport car hire companies are located across the street from the terminal. See map of Lihue Airport terminal.
Cheap car hire Lihue – book in advance
Lihue Airport car hire deals are available in a wide range of rental classes, from economy, through compact, standard, cabriolets and SUV cars, to minivans and luxury vehicles to rent for your Kauai holiday. The only rental class poorly represented in Kauai are the smallest city cars to hire, very difficult to find in Hawaii.
Usually the cheapest rental cars in Lihue Airport are Chevrolet Aveo, Hyundai Accent, Chevrolet Spark, or similar economy class vehicles. The prices of cheap car rental in Lihue start from around £ 130 for a week, outside high season. Please note, that apart from the traditional summer holiday, Hawaii is also a popular destination for sun-craving tourists in the winter months, especially in December and January. During those months expect tourist crowds in Kauai and higher prices of any tourism-related services. Booking well in advance is recommended to avoid overpaying.
Find more information about weather in Kauai.
Kauai convertible and premium car hire
Holiday-makers who would like to enjoy the splendid climate of Hawaii in an open top car, may find Lihue Airport convertible car hire relatively cheap, often available from around £250 for a week car rental of a Ford Mustang Convertible, or similar, outside high season in Kauai.

Cabriolet rental Lihue Airport - Ford Mustang from Budget, Europcar or Avis at low rental rates
The top shelf hire cars, in luxury/premium segment, to rent from Lihue Airport are often similarly priced. Amongst Kauai luxury hire cars are: Chrysler 300, Buick Lacrosse, Lincoln MKS, Cadillac CTS and Nissan Maxima.
Flights to Lihue Airport, Kauai
Lihue Airport handles Hawaii inter-island flights to Honolulu and Kahului, flights to mainland USA, as well as international routes to Canada. Amongst carriers operating at Lihue Airport are United Airlines, Hawaiian Airlines, Delta, American Airlines and WestJet.
---