Biarritz Airport car hire - France car rental comparison
Compare rates for car hire at Biarritz Airport and book online
Biarritz Airport, or Biarritz Pays Basque Airport -BIQ is located some 5 miles southeast of Biarritz city centre, in the Pyrénées-Atlantique department. Because of the proximity to Anglet and Bayonne, the airport is also referred to as Biarritz – Anglet – Bayonne Airport. The name 'Biarritz Parme Airport' is also in use.
Biarritz is a part of the French Basque Country.

Fiat 500, one of the cheapest cars to rent from Biarritz Airport will easily accommodate for the needs of a single traveller or a couple on holiday in the Bay of Biscay.
The airport is served low-cost airlines Ryanair and Easyjet, as well as by the regular carriers Air France, British Airways and SAS, amongst others. Cheap flights from the UK to Biarritz are available from London-Gatwick (Easyjet) and London-Stansted (Ryanair).
For many tourists disembarking in Biarritz Airport, car hire is the most convenient way of traveling in the area of the Bay of Biscay.
Biarritz Airport hire car hire companies
Car rental services at Biarritz Airport are offered by several major car rental brands, amongst them Avis, Enterprise, Europcar, Hertz, Sixt and Thrifty. With the help of an online search engine of car hire (such as for example Cartrawler) it is possible to compare rates from many suppliers and choose the most advantageous offer.
Biarritz has a fame of a posh destination, which often reflects in the prices of tourist services, amongst them, car hire. When searching for best car rental rates in Biarritz, it is usually possible to find offers from around £110 for a week hire of a small city car, often a Fiat 500, or similar.
If you are planning to drive along the Bay of Biscay coast in search of a perfect surf spot and require a larger car to bring your equipment along, consider renting a 7-seater, which, with some of the seats folded will provide comfortable space for your travel companions and luggage.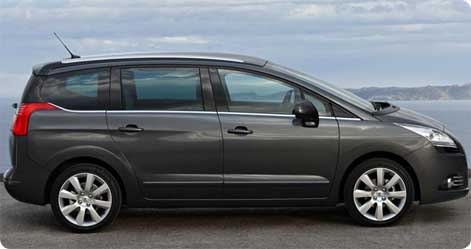 Peugeot 5008 with room for up to 7 people, a common rental MPV in Biarritz
The cheapest people carriers, with space for up to 7 people are usually available to rent at Biarritz Airport from approximately £300 (off-season rates).
Compare rental conditions
If you are heading further on, for example to Spain in your Biarritz hired car, confirm in advance that rental conditions allow cross border travel and which countries are listed as permitted destinations.
Approximate road distances from Biarritz/Biarritz Airport:
Biarritz Airport to Bayonne: 10 km / 6 mi
Distance from Biarritz Airport to San Sebastián (Basque Country/Spain): 50 km / 31 mi
Biarritz to Bilbao (Basque Country/Spain): 150 km / 94 mi
Biarritz to Lourdes: 160 km / 100 mi
Biarritz to Andorra: 400 km / 250 mi
Biarritz to Pamplona (Spain): 103 km / 64 mi
Biarritz to Bordeaux: 208 km / 130 mi
Biarritz, a seaside resort in southern France
Once a quiet whaling village, Biarritz became an important location on the coast of the Atlantic in the 18th century due to supposedly therapeutic properties of its waters said to cure a variety of ailments.
The fame of Biarritz was perpetuated by the preference of the European royalty; Queen Victoria and King Edward VII were some of the most notable visitors to the French resort. The glamorous casino opened in early 1900s only added to Biarritz's fame and sophistication.
Nowadays, Biarritz is still a seaside resort; its fame of a sanatorium, however, has been replaced by the surf culture. The Bay of Biscay offers excellent conditions for the practice of aquatic sports, especially surf and Biarritz is considered a birthplace of this sport in Europe. Surf lovers from all over the world arrive to Biarritz every year, attracted by the excellent setting and the many surf events, amongst them the Quicksilver Roxy tournament.
---
---