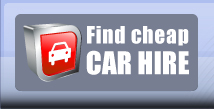 Articles about low cost car rental in specific airports:
Find cheap car hire at Dusseldorf Airport with Cartrawler Germany Düsseldorf International Airport - DUS is the third largest airport in Germany, operating a wide choice of domestic, European...
---
Find the most competitive car hire deals at the second major German airport, in Munich. Click here to compare the prices of Munich Airport car hire Flughafen München (Munich Airport in German...
---
Find cheap car hire in Bydgoszcz Airport Bydgoszcz Airport serving the 8th largest city in Poland is situated in Kuyavia-Pomerania region of northern Poland. See Bydgoszcz on a map of Poland...
---
Find cheap car hire in Budapest Airport Budapest, the capital of Hungary remains one of the most popular destinations for a short city break in Europe. The city offers an array of cultural attractions...
---
Compare prices of car hire at Barcelona-El Prat Airport Barcelona, one of the most popular tourist destinations in Spain is served by three international airports. Reus and Girona airports -...
---
Find cheap car hire at Szczecin Airport with Cartrawler Szczecin is them major city of the West Pomerania region in north-western Poland, located on the River Oder, near the border with Germany...
---
Travel low-cost in south-eastern Poland and take advantage of cheap flights and economy car hire available at Rzeszow Airport. Toyota Aygo - one of the cheapest hire cars available at Rzeszow...
---
Wroclaw Airport, the 5th busiest Polish airport, serves the region of Lower Silesia in southwestern Poland. Find Wroclaw on a general map of Poland . The airport in Wroclaw is considered to be...
---
Find cheap car hire in Katowice Airport with Cartrawler Poland Katowice Airport - KTW is one of the top five international airports in Poland. It is located approx. 19 miles north of Katowice...
---
Compare prices of Gdansk Airport car hire The third busiest Polish airport is located on the coast of the Baltic Sea, in northern Poland. Gdansk Airport - GDN serves the metropolitan area of...
---