What to see in Funchal, Madeira
Madeira is rumored only to appeal to people over 50 years of ages. But the truth is Funchal that has activities for all age groups - children, youngsters, adults and seniors.
The charming flower island with exotic colors and beautiful blue sea is worth a visit.
Find cheap car hire at Funchal Airport
When you are visiting Madeira you are most likely to stay in the capital, Funchal.
Find below a few suggestions on what to see while in Funchal
Ronaldo Museum
Funchal's CR7 Museum was established in 2013. The CR7 Museum is a trophy exhibition of the world-famous Portuguese soccer player Cristiano Ronaldo.
In 400 square meters, 170 trophies are displays. Photographs and videos that portray Ronaldo's carrier it is part of the trophy exhibition. Perpetuate the visit by taking a photo with one of his wax statues.
You can let your eyes travel though Cristiano Ronaldo's Golden Shoes 2007/2008, Golden Ball 2008, Golden Shoes 2010/2011, Golden Ball 2013, Golden Shoes 2013/2014 and Golden Ball 2014.
CR7 Museum is open from Monday to Saturday from 10am to 6pm. The entrance ticket cost 5€ per person and children under 10 years old have free admission.
CR7 Museum's exhibition is located at Princesea Dona Amelia N 10, 9000-019 Funchal, Portugal.
Madeira diving
Madeira is one of the best places in Europe for diving.
Jump into the crystal clear water of Madeira and observe corals, anemones and colorful fish such as groupers, mantas, monk seal and morays. At Madalena do Mar you will find the 'Bowbelle', a ship sank a few years ago which is now an artificial reef.
Mercado dos Lavradores
The lively market Mercado dos Lavradores offers everything under the sun.
Fresh foodstuffs, tasteful wine and exotic colored flowers, besides the traditional arts and crafts from the island Madeira.
You will find the market Mercado dos Lavradores at Rua Dr. Fernao Ornelas in the northeastern part of the city. It is located on the border between the districts Sé and Santa Maria in a huge Art Deco building, which dates back to the 1940s.
Sé, Sao Pedro, Santa Maria and Zona Velha - Funchal's old quarters
Sé, Sao Pedro, Santa Maria and Zona Velha are all part of the old districts in Funchal. In connection with your vacation to Funchal you should call a visit to one or all of the quarters.
Many tourists visit these parts of Funchal just to enjoy the unique atmospheres.
Sé - the old town in Funchal
Admire the beautiful cathedral in the Sé quarter. It is also known as Sé in Portuguese.
Sé quarter is the oldest quarter in Funchal due to its foundation in 1490.
In former times the open space Largo do Pelourinho was the city center of Funchal.
Sao Pedro
Should your time in Funchal allow it, take the opportunity to visit the Sao Pedro quarter.
The district is characteristics by its narrow streets house, the convents Santa Clara and Sao Francisco. Admire the Sao Pedro Palace, which used to be a hotel, international club and meeting place for rich Portuguese businessmen. Today the Sao Pedro Palace operates as a museum and archives.
Santa Maria
The smallest of Funchal's districts is Santa Maria.
Here you will find the Santiago Fort which was built to protect the city from the pirates. Back in the 1500s, when Portugal dominated the Atlantic Ocean West of Afria, the Portuguese kings did not think it was necessary to establish a fort on Madeira Island. In 1566 the pirates plundered Madeira and left a huge deadtoll, which should have been a wake-up-call. But it was not. The Santiago Fort was built in 1614, 48 years later.
Zona Velha's colorful quarter
Zona Velha, which can be translated into 'the old area', is Funchal's historic quarter which recently experienced a serious transformation.
Take a walk along Rua de Santa Maria and be seduced by the colorful and extraordinary images, as the major parts of the street's doors, stores and fronts have been converting into an outdoor art gallery. The art project is about painting and decorating doors, stores and fronts and transform the district to a more attractive and cultural centre of the city of Funchal.
Botanical Garden - Jardim Botanico
You do not have to be a flower enthusiast to enjoy by Funchal's sumptuous botanical garden.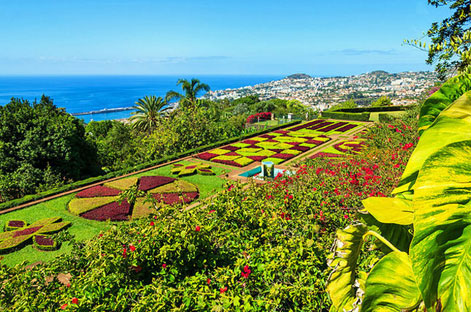 Jardim Botanico contains more than 2000 different plant species exibiting flowers in all the colors and shapes you could ever imagine. From Jardim Botanico you have a beautiful view of Funchal city.
Funchal Casino - what to see in Funchal at night
For a bit of nighlife entertainment, visit Funchal Casino.
Funchal Casino is one of the island's entertainment centres. Seize the opportunity to demonstrate your skills by playing Black Jack, Poker and Roulette. The Casino is located at Avenida do Infante 9004-513.
The Nossa Senhora da Paz Sanctuary (Our Lady of Peace)
In Terreiro da Luta stands the largest monument on Madeira.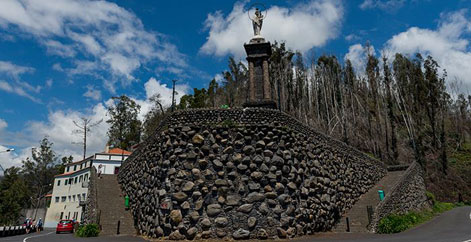 Nossa Senhora das Paz Sanctuary is the biggest monument on Madeira declared so due to its 5-metre-high marble statue. The monument was built after Funchal was bombed by Germans in 1917.
The green island of Madeira
The Madeira Island is located on the Atlantic Ocean, 700 kilometers from Morocco's coast and 400 kilometers north from the Canary Islands. The island was created as the result of a volcanic eruption. The highest mountain top raises 1862 m while there is three kilometers to the bottom of the Atlantic Ocean. The authorities have built more than 200 tunnels across the hilly island to facilitate traffic.
The mild, sub-tropical climate of Madeira favours lush vegetation and aboundance of exotic flowers. Madeira's yearly Flower Festival is amongst the island's major attractions.
---
---