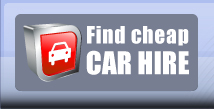 Travel guide to Milan - tourist attractions Milano, Italy
Milan is the capital of the Lombardy region in northern Italy.
Compare prices of car hire in Milan with Cartrawler Italy
Rent an Alfa Romeo in Italy - here an Alfa Romeo Giulietta 5-doors and plenty of luggage space.
Why visit Milan?
While Milan is undisputedly a modern city it is also one of the most ancient in Europe.
Partly destroyed by bombings during the Second World War, Milan (or Milano in Italian) managed to rebuild itself into the prosperous cosmopolitan city that it is today.
Although some may not consider it as beautiful as other Italian cities like Rome, Florence or Venice and its cultural charms may not be as obvious at first sight, but Milan is a city of many hidden treasures and surprises.
In essence, what makes Milan truly interesting for a tourist, compared to other places, is the lifestyle of worldly pleasures: it is a paradise for shopping, dining, nightlife, opera and of course also football which is of big importance to the Milanese people.
Milan tourist attractions
The classical Milan tourist attractions are in great shape.
The Duomo (Il Duomo), which has recently been restored, is one of the biggest Gothic cathedrals in the world and the second largest in Italy after the Saint Peter's Cathedral in Rome. It is an absolute must-see.
See a video on the most popular tourist attractions of Milan:
Right acrossThe Duomois the famous Galleria Vittorio Emanuele II, an ancient and glamorous arcaded shopping gallery.
Behind the cathedral in the narrow streets in the center one finds La Scala,one of the best opera houses in the world and also the BreraArt Gallery,with some of the finest artistic works in Europe.Other beautiful sights are the PirelliTower, a majestic example of modernist Italian architecture; Castello Sforzesco, a grand medieval castle and the inevitable UNESCO World Heritage Site Santa Maria alle Grazie Basilica that contains one of the world's most famous paintings: Leonardo da Vinci's The Last Supper (La Ultima Cena).
See map of Milan historic centre.
Milan Fashion Week
Milan is the second largest city in Italy but financially the most important.
It is also the marketplace for Italian fashion and a shopping "mecca" for international fashionistas. Twice a year for the spring and autumn fairs, Milan is visited by thousands of people from all over the world. A myriad of celebrities, international paparazzi and industry icons arrive, transforming the city into an oozing chaos of fashion shows and events.
After the financial crisis hit the city´s fashion and design industries in 2008, Milan has fought to get back on its feet and the old industrial areas have been transformed into fashion and photography studios and an entire fashion city has been taking shape near the Garibaldi railway station.
Stylish car hire Milan - rent a Fiat 500 with folding roof in Milan (Fiat 500C). © Photo: Find-cheap-car-hire.co.uk.
The Navigli District - the best Milan restaurants
Another interesting part of town is the Navigli District, named after its network of interconnected canals and remains one of the most exciting and unique areas of Milan.
Its a favorite of both travelers and locals, because of the vast amount of cafes, restaurants and bars. Guests can stop in to one of Navigli'smany restaurants with delicious Italian cuisine or fine wine bars, and hot nightspots are not hard to find either.
Milano Expo 2015
Currently the preparations for Milano Expo2015 have begun carrying the theme "Feeding the Planet, Energy for Life".
The exhibition will explore topics like healthy, safe and sustainable food to the entire world population and when it comes to food and food production, the Italians are on their home turf.
Milan sightseeing suggestions
After spending a few days getting to get to know Milan you will be the best of friends! Weather you are there for sightseeing, splurging or partying this three-day trip guide introduces you to fabulous Milan and a traveler's ultimate cosmopolitan dream.
Day 1: The Last Supper, a City Tour, and a Glass of Wine.
In the morning, enjoy a guided visit to the Pinacoteca di Brera in Milan and see the famous masterpieces by Piero della Francesca, Giovanni Bellini, Mantegna, Raphael, Tintoretto and Caravaggio. The gallery's collection is housed in a 19th century former monastery.
In the afternoon, devote some time to Leonardo da Vinci's The Last Supper and a comprehensive city sightseeing. Marvel over the beauty of the Duomo and La Scala and see Arco della Pace, Cadorna, and the bustling Piazza Fontana.
End the day by enjoying a glass of luxurious wine from Lombardia in one of the typical wine bars located in the heart of the city.
Day 2: Shopping and Nightlife in Milan.
Vicolungo Outlet
The Vicolungo Outlet is a shopping center near Milan where all clothing and fashion items enjoy 30% to 70% off the retail price.
You will find more than 130 italian and international brands such as Benetton, Enrico Coveri, Levi Strauss & Co, Rifle, Fornarina, Samsonite, Fila, Nike Factory Store, Yamamay and Zucchi, just to name a few. Try to get hold of a shopping card to get additional discounts of up to 15%.
Be ready by 10:30 am for the daily bus service, from Foro Bonaparte 76.
Shopping in Central Milan
If you prefer to stay in the center of the city, pass by the magnificent Galleria Vittorio Emanuele II, known as Il Salotto di Milano (Milan's living room) because it connects Piazza del Duomowith Piazza della Scalain grand style. Shopping is, and always has been, the Galleria's main activity, and fashion flagships radiate out from the twin powerhouses of Prada and Louis Vuitton in the centre.
Watch video guide to shopping in Milan:
Milano Nightlife
After a full day of shopping, Milan by night awaits.
Sample some real Milanese goodness in the posh cafés and restaurants in the center, drop by the famous "La Scala" Theater for a spectacle or join the Happy Hour at the trendy Corso Comoand Corso Garibaldi districts.
Day 3 : Lake Como day trip from Milan
Out of Milan and into Lombardy you can find LakeComo, one of Europe's deepest lakes surrounded with breathtaking mountain views.
Lake Comogained its fame in the last century because of Alessandro Manzoni's novel "The Betrothed," which was set on the Lecco branch of the lake. Nowadays Lake Como still has a reputation for being a vacation spot for celebrities, especially after the famous actor George Clooney bought a house on Lake Como in 2002.
A boat cruise on the lake is an unforgettable experience. Before visiting Bellagio with its grand villas and exotic gardens, explore Sant' Abbondio Abbey, a beautiful Romanesque church with magnificent frescoes.
Find cheap car hire in Milan city centre
---