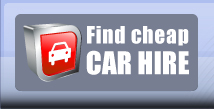 Easter in Tenerife - cheap car hire for Easter break in the Canary Islands
Tenerife, the largest of the Spanish Canary Islands, is a popular beach resort for tourists from northern Europe, amongst them holidaymakers from the UK.
Located in the Atlantic Ocean, off the coast of north-western Africa, Tenerife can be reached by plane from the UK in just about 4 hours. Low-cost airlines Easyjet, Ryanair, Jet2 and Monarch Airlines, as well as the charter Thomson Airways and Thomas Cook Airlines are some of the carriers providing year-round and seasonal flights from different UK airports to Tenerife. The departures are available from London, Bristol, Leeds/Bradford, Birmingham and Manchester, amongst other British cities.
VW Polo, Opel Corsa or similar models in economy class are a popular choice for holiday car hire in Tenerife.
With the splendid climate of the Canary Islands, Tenerife can be visited at different times of the year. Widely accessible Tenerife car rental services allow explore the island thoroughly, even during a short stay. Find out what are your options for Tenerife car hire during Easter break.
Related article: Tenerife scenic drives - rent a car in Tenerife.
Tenerife car hire locations
A large proportion of all car rentals in Tenerife occurs at the island's two airports.
As a tourist from the UK you are most likely to arrive at Tenerife South Airport (or Tenerife South Reina Sofia Airport - TFS), located on the southern coast of Tenerife.
Find cheap car hire in Tenerife South with Cartrawler Spain
The other, smaller airport, known as Tenerife North - TFS handles primarily domestic flights from continental Spain. Car hire is also available here.
Compare car rental deals in Tenerife North Airport
Tenerife car rental stations can also be found in the island's capital, Santa Cruz, as well as in other places of interest for tourists, such as Costa Adeje.
Santa Cruz de Tenerife car hire - get quotes online
Costa Adeje Tenerife car rental comparison
Internet search engine Cartrawler on find-cheap-car-hire.co.uk is a useful tool allowing you to get quotes for Tenerife car hire in different locations across the island. Start typing 'Tenerife' in the pick-up field in the search engine and choose one of the locations from the list provided.
See a rough guide to Tenerife:
Tenerife car rental companies
In Tenerife, car hire is available from a wide range of providers, including well known rent a car companies, as well as local brands.
By searching on Cartrawler for Tenerife car rental deals, you are likely to get deals from: Hertz Tenerife, Europcar, Avis Rent-A-Car, Sixt, Goldcar, Atesa, Interrent, Orlando Rent a Car, Namcar Auto Reisen andCicar Canary Islands.
In Tenerife minibus hire the cheapest option is often a Citroen Jumper (9 seater).
Compare rates for Tenerife Easter 2014
Competitive deals in Tenerife car hire are available within all rental classes, from the smallest city cars, through economy, compact, full-size, to vans and minivans to rent in Tenerife. Convertibles, popular hire cars on the sunny island of Tenerife, are also available to rent through Cartrawler search engine.
Outside the high season, the cheapest offers usually start from around £80 for a week of Tenerife car hire of a small city car (mini class), such as a Hyundai i10, a VW Up, or similar. Please note, however, that during the holiday season, at Christmas and Easter, prices of Tenerife car hire increase, as there are more tourists on the island.
For example, when booking the cheapest car for Tenerife Easter 2014 break, three week in advance, you may expect prices from around £110.
Weather in Tenerife
2014 is a particularly good year to combine Easter break with a short holiday in Tenerife, as there is more guaranty of pleasant temperatures in late April.
It is for a reason, however, that Tenerife is called 'The Island of Eternal Spring'. If you would like to repeat the experience, the date for Easter 2015, 5 of April, should not leave you disappointed. Usually temperatures in Tenerife reach and/or exceed 20 degrees Celsius already in early April.
Tenerife enjoys moderate climate and in the summer, the heat hardly ever becomes uncomfortable, with temperatures usually oscillating between 24-28 degrees Celsius.
Should you visit Tenerife in the winter, for instance around Christmas break, you will still be able to enjoy many sunny days and mild temperatures. Rainfalls, however, are expected in Tenerife in the winter.
Please note, that there are variations of temperature between the eastern (Santa Cruz de Tenerife) and the western part of the island (Buenavista del Norte). Also, usually, Tenerife climate is much milder in the coast area, than in the interior.
Easter in Tenerife
Easter celebrations are of a big importance in the predominantly Catholic Spain, also on the Canary Island.
Palm Sunday processions are the beginning of the Easter season. Known as Donkey Processions (in memory of Jesus riding on a donkey into Jerusalem), the Palm Sunday processions on Tenerife usually attract great crowds, through their spiritual but also artistic dimension.
More celebrations follow on the Holy Thursday (the Eucharist of the Last Supper) and on Holy Friday, when a so called Procession of Silence takes place in La Laguna de Tenerife. In Adeje, on the southern coast of Tenerife, the recreation of Death and Passion of Jesus Christ is an event popular with locals and tourists.
Children spending Easter on Tenerife, will surely be delighted with coral de los conejitos, the rabbit enclosure in the Loro Parque, on the outskirts of Puerto de la Cruz, where activities for children, amongst them Easter egg hunt, are held.
Please be aware that most of the museums in Tenerife, will be closed on Easter Friday (national holiday) Sunday and Monday.
---