Driving holidays in Crete – cheap car hire in Greece
Crete is the biggest of the Greek islands measuring nearly 162 miles (260 km) in length and 37 miles (60 km) in width. It is also known to be the most diversified Greek destination in terms of tourist attractions.
Over 1000 km of spectacular coastline, luxurious beach resorts of Chania, Heraklion and Rethymnon, quiet villages such as Kato Zakros in the east or Falassarna in the west of the island, historic heritage of the Minoan civilisation, dating as far as to 2600 BC and pristine nature are waiting to be discovered by almost 3 millions tourists arriving to Crete every year.

Fiat Panda is a popular and one of the cheapest rental cars in Crete
If you are an independent traveller and don't like to be confined to one holiday resort or depend on organised tours schedules and programmes, car hire in Crete is an excellent option to explore the island freely and at you own pace.
Crete self-drive holiday video - Crete landscapes
Car hire Crete - compare rates of hire cars in Greece
Crete car hire is very popular and available from a very wide selection of companies, renowned international brands as well as from small local renters.
Among the major rental car suppliers in Crete are: Avis Rent A Car, Sixt, Budget, Hertz Car Hire, National and Auto Union.
Good car hire deals can also be found at Mega Rent Crete, Athens Cars, Traffic Car Rental, Antena Rent a car and Elite Car Rent, just to mention a few from a very extensive list of local car hire companies in Crete.
Finding good car hire deals in Crete can be quite easy if you use an online search engine, such as Cartrawler, to compare car hire rates from the many different car rental companies in Crete.

Suzuki Jimny Cabriolet 4WD on Crete
You will find car hire stations at both of Crete's major airports, Heraklion Airport – HER and Chania Airport – CHQ, as well as the city centres and popular tourist locations on the island.
Compare rates of Crete car hire at Heraklion Airport
Compare rates of Crete car rental at Chania Airport
Car hire rates in Crete
Car hire in Crete is relatively cheap, when compared to other popular destinations in Greece.
At the peak of the tourist season in July or August, the smallest hire car in Crete is available at rates starting from around £130 for a 7-days rental. For this price you can expect a small city car, such as a Peugeot 107, or similar. Expect to pay slightly more for a supermini class vehicle – a Ford Fiesta, or similar.
Please remember though, that the three Crete mountain ranges: the Lefka Ori, also known as the White Mountains, the Idi mountains and the Dikti mountain range make large parts of the island quite hilly. Also, the countryside roads, many of them dirt tracks, may offer sometimes challenging conditions for driving in a standard passenger car.
To be able to enjoy fully the diversity of the island's landscapes, consider renting a larger and more powerful car, or even a 4 wheel drive. A 7-days Crete rental of a Toyota Rav (4x4), a Suzuki Gran Vitara (4x4) or similar will cost from around £450 in high season.

Suzuki Grand Vitara - large and often well-priced Crete 4x4 rental
Car hire in Crete gets considerably cheaper from September onwards and, as the weather continues pleasant, with temperatures rounding 20 C until late Autumn, you might find it worthwhile to plan your holiday in Crete outside the tourist season.
Crete climate – a sunny Greek island
Crete enjoys temperate Mediterranean climate with hot dry summers and mild, rainy winters. In the summer, the temperatures in Crete range from 30 C during the day to 22 C at night.
The winter in the coastal zone of the island is a lot milder than inland. Until late November you can expect plenty of sunny days and only occasional rainfall.
Car hire Crete – young drivers
The minimum age required for drivers in Crete hire car varies a lot.
Be aware that in many car hire companies in Greece there will be an extra charge, payable at the counter, for drives under 23 years old, and in some cases also for those under 25 years old. The bigger/better the hire car, the more restrictive Crete car rentals companies will be regarding the driver's age.
In most regular passenger car hire offers in Crete the charge for young drivers is of around EUR 4,5 to a maximum amount of EUR 35.
Always check under "Price details" of your Cartrawler car hire offer, what driver's age policy applies in Greece.
Why hire a car in Crete - experience the best roadtrips
Driving in Crete is more than just getting from A to B. Even the shortest roadtrip in Crete may offer quite an unusual experience.
Many, but fortunately far from all of the island's roads are in poor condition or in different stages of repair. In some parts of the island the mountainous terrain can be challenging for a regular 2WD (two-wheel-drive) car. It is not uncommon while driving in Crete, to encounter flocks of sheep and goats crossing the road in most unexpected places. Also, the very relaxed approach towards road regulations by local drivers may confuse the first-time visitors to this Greek island. Yet, many will still find it worthwhile to rent a car while on holidays in Crete and Crete car hire businesses are thriving. Why?
With a hire car at your disposal you can visit freely the most remote places of Crete and get a taste of the local culture, many times inaccessible for the tourists who tend to stick to "touristy" places only or limit themselves to the hotel or resort where they are accommodated. Crete has a lot to offer in terms of historic heritage in the cities and towns and places of a singular natural beauty, both inland on the scenic coastline.

Enjoy Crete's sunny climate in a convertible car - here a VW Beetle
In a Crete hire car you can comfortably visit the archaeological sites and museums to be found in geat variety in Crete's major cities, such as Chania, Rethymnon, Heraklion and Sitia for a comprehensive tour back to the cradle of one of Europe's most ancient civilisations.
See the map of Crete.
Active holiday in Crete
For active holidaymakers who enjoy great outdoors there are plenty of interesting sites, scattered all over the island of Crete.
Hiking, trekking and mountain climbing are only some of recreational activities to be enjoyed in Samaria Gorge, a national park and a World's Biosphere Reserve in the south-western part of Crete.
Crete, as many other Greek islands, offers multiple possibilities of water sports practice. Windsurfing, canoeing, jet skiing, water skiing and yachting are just some of the activities available in different locations on the island. Snorkelling and scuba diving in the warm and crystal clear waters surrounding Crete are extremely popular amongst tourists and the 'sunken city' of Olous near Elounda is a real treat for experienced divers.

Minibus rental Crete. Find a great selection of people carriers in Crete car rental fleet, including Oel Vivaro, Ford Trasit/Ford Torneo and Renault Trafic. © Foto: Find-cheap-car-hire.co.uk.
Family attractions in Crete
Family-friendly attractions of Crete include excellent public playgrounds and the Limnoupolis Water Park in Chania, the Water City Park, as well as the Aquaworld aquaria near Heraklion.
Best beaches in Crete
Should you decide to rent a car in Crete, even if only for some part of your holidays, you don't have to be limited to the beach closest to your holiday resort and can freely explore many wonderful beaches along the Cretan coast.
Beaches in Crete are plentiful. You can find a beach setting for every taste and mood, ranging from very popular and busy sandy beaches with plenty of activities, restaurants and bars, through family-friendly quiet locations, to secluded sea inlets set in dramatic mountainous scenery, not listed in most of the tourist guide books to Crete.
The most popular Crete beaches are: Elafonisi, Falassarna, Frangokastello and Stavros in Chania, Georgioupoli, Plakias and Preveli in Rethymnon, Agia Pelagia, Fodele and Gournes in Heraklion and Makriyialos and Vai Beach in Lassithi.
See the map of popular beach areas in Crete.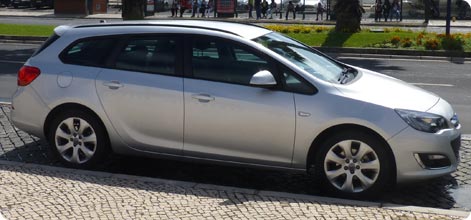 Need lots of space in the car? Estate cars are often cheap to rent in Crete. © Foto: Find-cheap-car-hire.co.uk
Driving in Crete
Driving in a regular city traffic in Crete requires a certain dose of open-mindness and understanding of the unwritten rules of the Cretan road conventions. It can also be a way of understanding the locals a little better.
Crete drivers use the horn a whole lot more than you would think necessary. Horn honking is a way of signalising their approach, especially on narrow roads, a reminder of the traffic lights that have just changed green and a warning for pedestrians on the street, even if on a zebra crossing.
Excessive horn honking is an expression of the Greek effusive personality and will be used and abused in the city traffic in Crete; no need to read anything offensive to it.
Observing road regulations is not Cretan drivers' strongest suit. Stay alert and assume nothing as far as double white lines or stop signs are concerned; they will be of a minor concern for most local drivers.
The road signs are in both Greek and English - you should not have problems with finding your way around. Internationally recognised traffic control signs are used in Crete. Mind, though, the flashing amber arrow signs: together with the red light they allow you to turn into the direction indicated, but without the right of way over the pedestrians crossing on the street you have turned to.
Driving in the countryside in Crete, however, can be quite a relaxing experience. Outside the centre of bigger towns or cities there is no congestion and the low volume of traffic makes up for the sometimes challenging condition of the roads.
Like in the continental Greece, in Crete you drive on the right-hand side.
Crete driving tips
Please, mind that on the more narrow roads it is a common practice in Crete to drive on the hard shoulder in order to let the faster driving cars to take over. Rather than a traffic violation it is a sign of traffic courtesy towards other drivers.
You will not see much traffic police in Crete. The island has a low crime rate and, generally, the police is not as visible as in other popular tourist destinations. In the non-urban areas, though, you can expect marked and unmarked road police patrols with quite sophisticated speed measuring equipment.
In the busy tourist centres traffic police will frequently ask drivers to take alcohol-tests. The allowed blood alcohol limit in Crete is of 0,05.
A UK or any other European Union drivers licence is accepted in Crete.
Speed limits in Crete
If not indicated otherwise, the speed limits in Crete are of 50 km/h (30 mph) in cities and build-up areas and of 90 km/h (60 mph) on the main roads outside of build-up areas. On some stretches of the newest E75 motorway the speed limits were raised to 100 km/h (62 mph).
The National Road/E75 in Crete
The island is divided into 4 administrative areas, called prefectures in Crete, in the following order from west to east of the island: Chania, Rethymnon, Heraklion and Lassithi.
The E75 motorway, also referred to as National Road, connects all four of them, stretching from Kissamos in the west to Sitia in the east.
See the E75 on the map of Crete.
The E75 in Crete is a part of European Route 75, starting in Vardo, Norway.
Although in some parts it hardly complies with western-European standards of a motorway, the E75 is the best and the fastest way to travel by car in Northern Crete.
The roads in the southern mountainous part of Crete will allow you to appreciate the spectacular, wild scenery of the island, but require much more attention while driving and many times are accessible only with 4 wheel drive vehicles.
Distances between major cities in Crete
Two international airports, Heraklion Nikos Kazantzakis Airport and Chania Souda Airport, receive travellers to Crete. Car hire is widely available in these two locations.
Find below the approximate distances from Chania and Heraklion to major cities and places of tourist interest in Crete:
Distance from Chania to Kissamos: 23 miles /38 km
Distance from Chania to the entrance of the Samaria Gorge near Omalos: 23 miles / 38 km
Distance from Chania to Rethymnon: 37 miles / 60 km
Distance from Chania to Heraklion: 86 miles / 140 km
Distance from Chania to Sitia: 164 miles / 264 km
Distance from Chania to Kissamos: 22 miles / 36 km
Distance from Heraklion to Samaria Gorge: 106 miles / 172 km
Distance from Heraklion to Rethymnon: 49 miles / 80 km
Distance from Heraklion to Sitia: 78 miles / 127 km
Distance from Heraklion to Agios Nicolaos: 37 miles / 60 km
Distance from Heraklion to Kissamos: 108 miles / 174 km
---