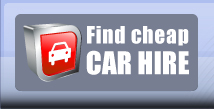 Articles about car hire in specific locations:
With its selection of great beaches and an exquisite cultural heritage, Barcelona is one of the most versatile tourist destinations in Europe. Thanks to the mild, warm climate, Barcelona and...
---
The largest European city on the Mediterranean coast and the second most populous city in Spain, Barcelona is an nearly inexhaustible source of attraction for all types of tourists. Relaxation...
---
The capital of Germany is one of the most iconic city destinations in Europe. Sought after due to its unique historic heritage and thriving cultural life Berlin receives over 5 million tourists...
---
Dubai is undoubtedly the most visited of the seven United Arab Emirates. Located in the Persian Gulf and thriving on oil production, Dubai attracts tourists from all over the world with its ostentatious...
---
The state of New York is the 27 largest in the United States. The climate in the state which stretches for over 320 miles east to west and 330 miles south to north, varies considerably, depending...
---
Guernsey, one of the two bailiwicks which constitute the crown dependency of the Channel Islands, has been a tourist destination since the Victorian times. Only an hour away by plane from London...
---
Gdansk ( Danzig in German and Gdańsk in Polish), the major city on the Polish Baltic coast is at the forefront of city destinations in Poland, just after Warsaw and Krakow. Popular amongst both...
---

The third largest Island of the Mediterranean (after Sicily and Sardinia), Cyprus owns it popularity greatly to the mild and reliable climate with plenty of sunshine hours across all four seasons...
---

Although commonly associated with beach holiday, Portugal has plenty to offer to holidaymakers who are willing to venture beyond the coast, looking for more diverse landscapes. Alentejo region...
---

When thinking about weather in Poland usually 'cold and cloudy' comes to mind. There is a good reason for that, as the country lies in the temperate continental climate, exposed to...
---